DJI FPV Goggles V2 are the perfect investment for pilots who want to start flying with digital HD cameras in their drones. With DJI FPV goggles, you can see what your drone sees in crisp, high-quality resolution on your screen, making it easy to fly safely and confidently. 
Whether you're a racing or freestyle drone pilot looking to switch to digital airspace or a beginner who wants the best fpv goggles, DJI FPV Goggles V2 provides the best experience in flying.
DJI FPV Goggles V2 Specs: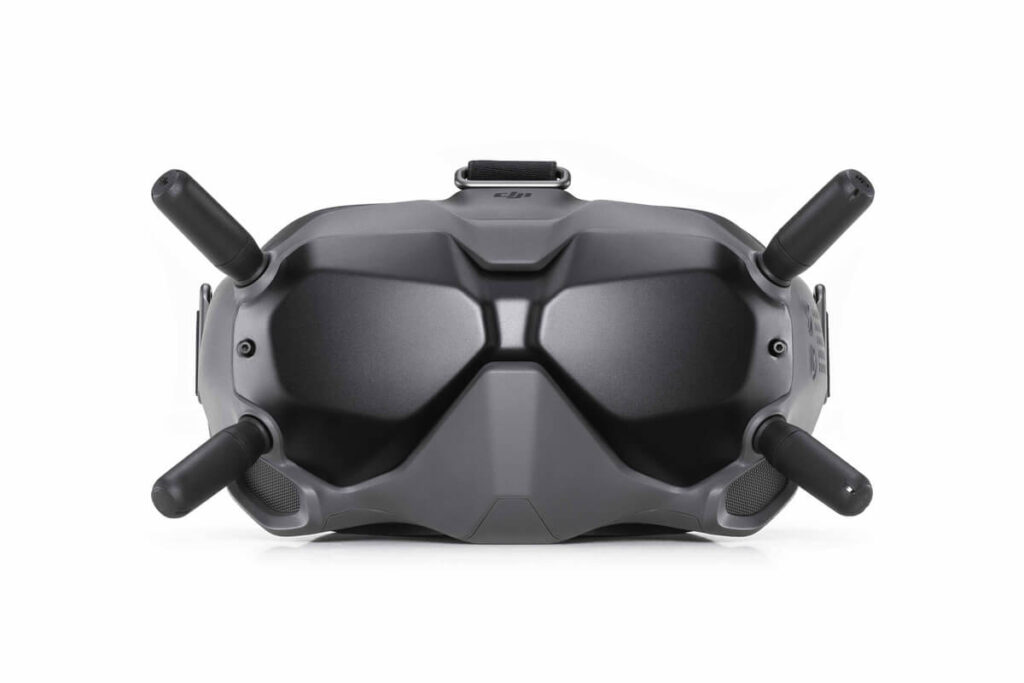 Weight: Approx. 420 g (headband and antennas included)
Dimensions:

202 × 126 × 110 mm (antennas included)
184 × 122 × 110 mm (antennas excluded)

Screen Size: 2-inch × 2
Screen Resolution (Single Screen): 1440 × 810
Screen Renew Rate: 144 Hz
Communication Frequency: 2.400 – 2.4835 GHz*; 5.725-5.850 GHz *Only supports 5.8Ghz when used with DJI FPV Air Unit
Transmitter Power (EIRP) : 

2.400 – 2.4835 GHz FCC/MIC: ≤28.5 dBm; CE: ≤20 dBm; SRRC: ≤20 dBm; MIC: ≤20 dBm
5.725-5.850 GHz FCC/MIC: ≤31.5 dBm; CE: ≤14 dBm; SRRC: ≤19 dBm

Live View Mode: Low Latency Mode (810p/120fps) High-Quality Mode (810p/60fps)
Video Format: MP4 (Video format: H.264)
Supported Video Play Format: MP4, MOV, MKV (Video format: H.264; Audio format: AAC-LC, AAC-HE, AC-3, MP3)
Operating Temperature: 32° to 104° F (0° to 40° C)
FOV: Adjustable from 30° to 54°. The adjustable image size from 50%-100%
Interpupillary Distance Range: 58 -70 mm
Supported Storage Card: microSD cards with capacities of up to 256GB
DJI FPV Goggles Battery
Capacity: 1800 mAh
Voltage: 9 V (Max.)
Type: LiPo 2S Charging Temperature 0℃ to 45℃
Energy: 18 Wh
Max Charging Power: 10 W
Battery Life: Approx. 110 minutes (measured in an environment of 25°C at maximum brightness level)
Description
The DJI FPV Goggles V2 are light and comfortable and have excellent features like multi-antenna technology for stable video transmission. It also has two screens and two easy-to-use buttons for changing channels, which makes FPV flying fun for the user. It has a high definition, low latency, powerful anti-interference, and long-distance transmission capabilities.
There isn't much of a noticeable upgrade between the DJI FPV Goggles v1 and the DJI FPV Goggles v2 in terms of how they look, and the weight is also almost identical. Both have 2-inch LCDs and optics with a field of view (FOV) that can be changed from 30° to 54° and a screen resolution of 1440x810p. All DJI FPV accessories from V1 are compatible with the v2, like the foam padding, antenna and adapters.
But if you look at the other technical specs, you'll see a few changes, like the screen refresh rate has gone up from 120 Hz to 144 Hz, and the v2 now supports dual-band frequency (2.4Ghz and 5.8Ghz).
Best Features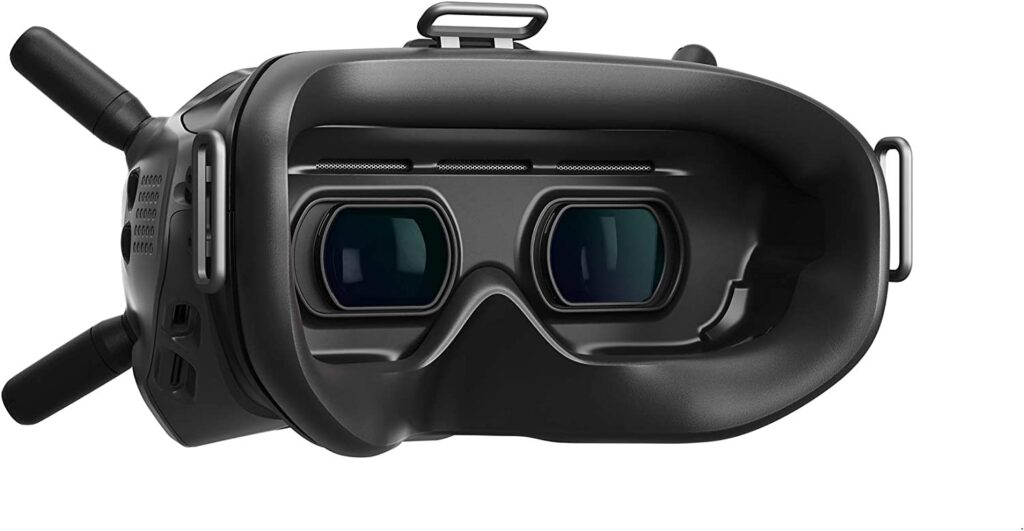 Dual Band Support
Better signal penetration and range than 5.8GHz are made possible with the addition of support for the lower frequency of 2.4GHz.
Image Quality in HD Format
The DJI FPV Goggles are capable of recording in 720p at 60 fps. This high-definition (HD) image and latency of fewer than 28 milliseconds give consumers a clear view and improved performance.
Direct Playback on the Spot
The DJI FPV Goggles can instantly play back videos that have been recorded and saved on the microSD card.
Audience Mode
Pilots can share their camera views with DJI FPV Goggles users operating in the Audience mode. This enables spectators to see exactly what the racers see.
Compatible with the Transmission of Analog Video
The DJI Digital FPV System is compatible with analog image transmission using a third-party receiver, enabling users to switch between analog and digital video broadcasts.
Consistent and Crisp Video Transmission
Most pilots still rely on analog video transmission, which is prone to signal interference and low-quality footage. However, DJI Goggles V2 has you covered with a fresh new digital transmission mechanism that ensures a smooth flight with a reliable connection every time.
What is the difference between DJI FPV Goggles V1 and V2?
The V2 supports dual-band 2.4GHz & 5.8Ghz, but the V1 does not, and it also comes with an additional battery. Both support USB-C output.
What drones are compatible with DJI FPV Goggles V2?
The DJI FPV Goggles V2 is compatible with the DJI FPV drone but also works with drones that come with either the FPV Air Unit or the Vista Unit. Also, you can use these FPV goggles with your analog quads, but you will need an adapter and a module.
Can you wear glasses with these goggles?
Yes, you can use the DJI goggles even if you wear glasses.
Are the DJI FPV Goggles the way to go for digital FPV systems?
Other new digital FPV goggles are available on the market, such as the Fat Shark Dominator, the Orqa FPV One Pilot, and the Walksnail Avatar Digital FPV goggles.
Can DJI goggles V2 be used for anything else?
The DJI FPV Goggles allow a quick replay of videos captured and saved on the microSD card. Pilots may let other DJI FPV Goggles in audience mode to share camera views, allowing spectators to see what the racers see. Although it will need additional components, you may also use this when playing drone simulators.
Can I connect FPV goggles to my smartphone?
It works on mobile devices and PCs (Windows, Linux and macOS). You will need a data-capable USB-C to USB-C cable and an Android application from the Play Store to use this.
Is a 6s battery suitable for usage as a power source?
Yes. The updated goggles have an input voltage range of up to 26 volts, whereas the V1 model only had a range of 17 volts. They also come with a rechargeable battery in the box for power. This DJI FPV goggles battery pack can be charged via a USB-C cable, providing enough power to run the goggles for around 110 minutes.
What is the latency of the DJI FPV Goggles V2?
The Low-Latency Mode has a delay of only 28 milliseconds, whereas the High-Quality Mode has a latency of 40 milliseconds.
Can I use FPV goggles with a simulator?
Yes, because it includes an AV input, it is doable. You'll need an HDMI2AV HDMI TO AV/RCA Converter, although the quality and latency may be lower than on your display.
Are DJI FPV Goggles v2 worth it?
Yes, DJI FPV Goggles v2 are definitely worth the investment! They provide low latency and a crystal-clear view of the world around you, making it easy to fly your drone safely and efficiently.
Can you use DJI Goggles V2 with Mavic Series Drones?
This FPV goggle's compatibility with the Mavic Series is not feasible.
Is this compatible with the DJI fpv air unit module?
Yes, however, you will need to rebind each time you swap modes, such as when you go from drone to air unit and back again.
Where to buy DJI Digital HD FPV Goggles V2?
You may purchase this item from Amazon, GetFPV, Banggood, and other specialized FPV retailers.
In conclusion, the DJI FPV Goggles V2 are an excellent addition to any drone enthusiast's toolkit. They provide clear, immersive footage and are a cost-effective way to improve your flying experience. If you're looking for a quality pair of goggles to make your aerial adventures even more enjoyable, buy yourself a set of DJI FPV Goggles V2 today!
Related