If you're looking for the best FPV goggles, look no further than the Fatshark Goggles. These goggles are ideal for taking your flying to the next level. With incredible resolution and a wide field of view, these goggles will help you see everything in your flight path and make flying more enjoyable. So, to get the most out of your FPV experience, check out the Top Best Fatshark Goggles!
What are the top 5 best Fatshark Goggles in 2022?
Fat Shark Dominator HD Digital FPV Goggles
Fatshark HDO 2 FPV Goggles
Fatshark Attitude V6 FPV Goggles
Fatshark HDO FPV Goggles
Fatshark Scout HD FPV Goggles
Fatshark Goggles Comparison
Specs
Dominator HD
HDO2
Attitude V6
HDO
Scout HD
Field of view
46°
46°
39°
37°
44°
Display
Full HD OLED
OLED
LCOS
OLED
3.5 inch TFT
Resolution
1080p
1280×960
1280×960
960×720
1920×1080
IPD
57-70mm (adjustable)
54-74mm (adjustable)
54-74mm (adjustable)
59-69mm (adjustable)
55-76 (fixed)
Focus
2 to -6
2 to -6
2 to -6
NA
Receiver Module
Built-in Receiver
Modular RX
(receiver to be bought separately)
Modular RX
(receiver included)
Modular RX
(receiver to be bought separately)
Built-in Receiver
DVR
Yes, HD
Yes
Yes
Yes
Yes
HDMI in
Yes
Yes
Yes
Yes
No
Weight
311 grams
207 grams
199 grams
186 grams
336.5 grams
Fat Shark Dominator HD Digital FPV Goggles
The Fat Shark Dominator Digital HD FPV Goggles are the latest advancement in goggles technology. With Full HD OLED displays and support for a new 1080p video transmission protocol, these goggles provide the highest fidelity video experience. The Dominator also features an ergonomic design that makes them comfortable to wear for extended periods. Whether you're looking for advanced performance or a sleek and compact design, these Digital FPV goggles are the perfect choice for your next FPV system purchase.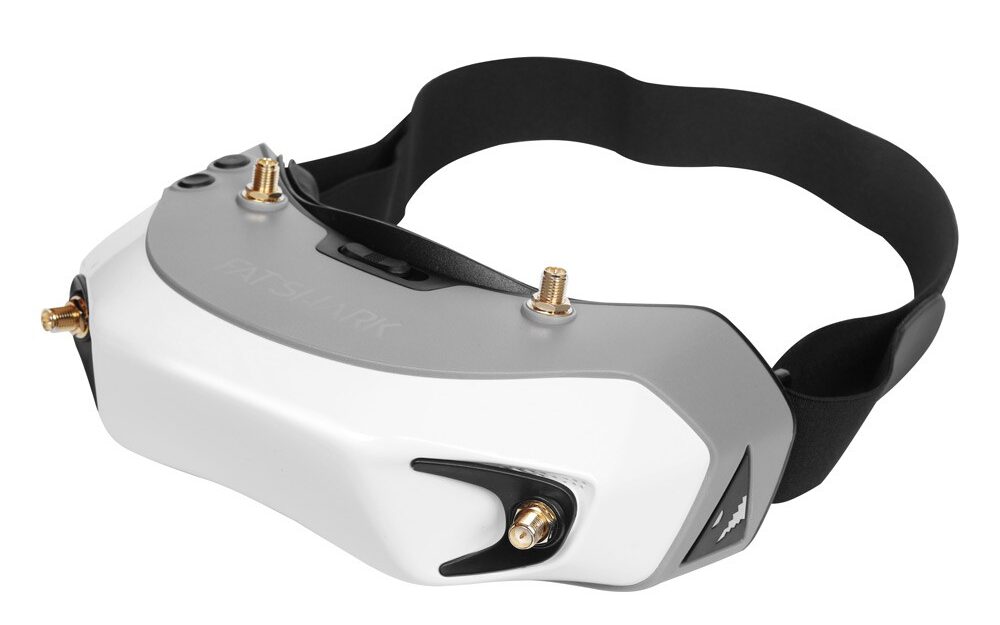 The Fat Shark Dominator HD lets you experience the thrill of FPV drone racing in high definition. With a sleek, full-color GUI and advanced features like USB-C video out and a built-in HD DVR, the Dominator is perfect for anyone looking to get into aerial photography or videography.
These goggles feature an adjustable IPD of 57-70mm, a focus range of 2 ~ (-)6 diopters, and a field of view (FOV) of 46 degrees. This allows for precise aiming and makes it easy to see your surroundings while flying. 
With Betaflight canvas mode support, adjustable anti-fog ventilation, and a sleek design, this headset provides an immersive experience that is sure to impress. Whether a beginner or experienced flyer, the Dominator HD goggles will give you everything you need to take your game to new heights.
Fatshark HDO 2 FPV Goggles
The Fatshark HDO2 FPV Goggles, provide the perfect blend of features, flexibility, and performance for avid FPV pilots. With an adjustable IPD (inter-pupillary distance), customizable face plate curvature, selectable image ratio, and configurable power button, the HDO2 is perfect for any pilot. The HDO2 has everything you need to get in on the action, whether a beginner or seasoned pilot.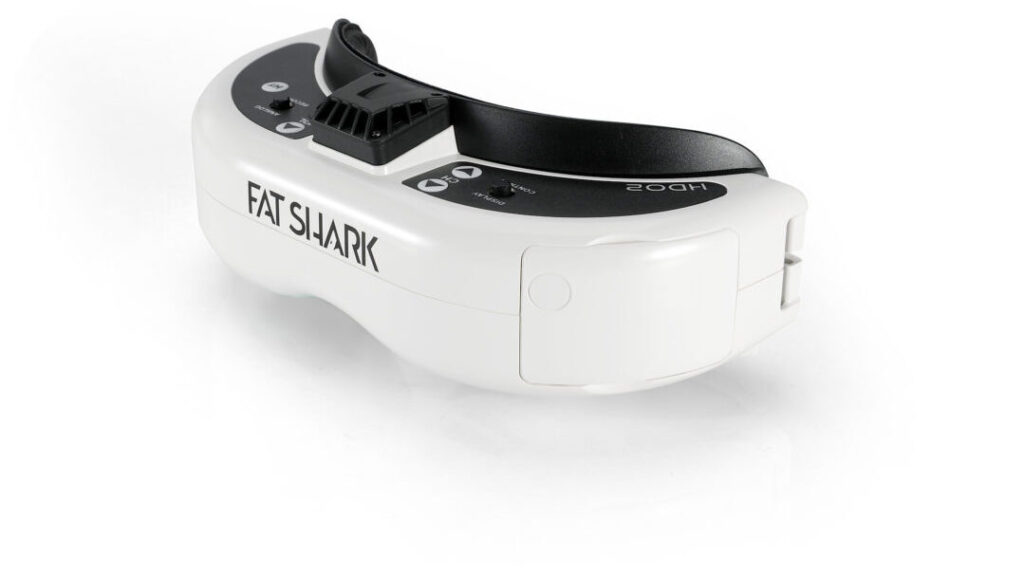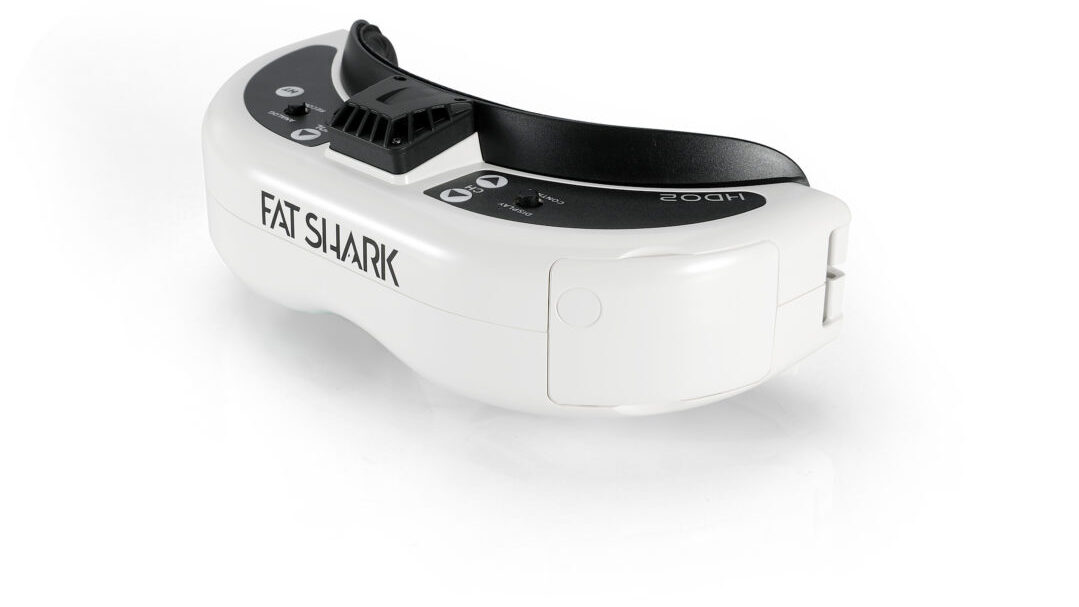 Using the Fatshark HDO 2 goggles gives you an immersive FPV experience like never before. With low latency and a 46-degree field of view, these goggles give you a great perspective of all the action happening around you. Plus, 1280 x 960 resolution ensures that every detail is visible. Finally, because these headsets use OLED panels, they are incredibly bright and clear – perfect for those sunny days or dark environments and better than LCD panels.
The HDO2 FPV goggles provide the best quality and performance. With a built-in analog DVR with MicroSD support to 32 GB, you'll never have to miss a moment of your flights. It has a button for head tracking if you want to use it, but the head tracker has to be bought separately. These goggles are perfect for capturing all your thrilling moments while flying FPV.
Fatshark Attitude V6 FPV Goggles
Introducing the Fat Shark Attitude V6 goggles. These high-definition goggles feature 1280 x 960 resolution and adjustable diopters for an immersive FPV experience. The Attitude V6 is perfect for any hardcore FPV enthusiast with a sleek, futuristic design.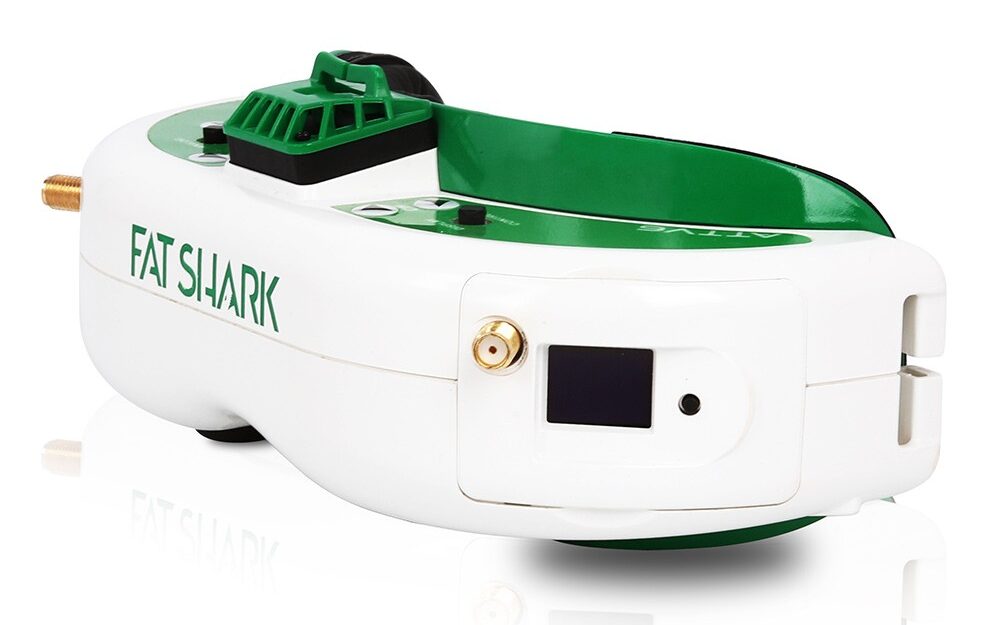 The Attitude V6 goggles are nearly identical to Fatshark's HDO2 goggles, but instead of OLED screens with 46-degree FOV, it uses LCOS display with 39 FOV on each side and include a diversity receiver that comes pre-installed, so there's no need to spend another hundred of dollars on a third-party module bay video receiver, like the TBS Fusion or Immersion RC Rapidfire. Whether a beginner or a seasoned pro, these goggles will give you the edge you need to dominate the competition.
Fatshark Scout HD FPV Goggles
The Fat Shark Scout HD FPV Goggles brings you a high-definition, immersive flight experience. Its ergonomically molded headset and adjustable headband are built for comfort and ease of use. And with its built-in RHCP Patch Antenna, you'll be able to get crystal clear images in any direction.
The Scout HD Goggles are the perfect way to start your FPV racing career. These goggles come with an integrated digital receiver and built-in DVR to capture your amazing flights and moments in stunning clarity. Plus, they feature a fog-proof fan to keep you cool and comfortable during long races. Finally, their lightweight design makes them easy to wear all day long.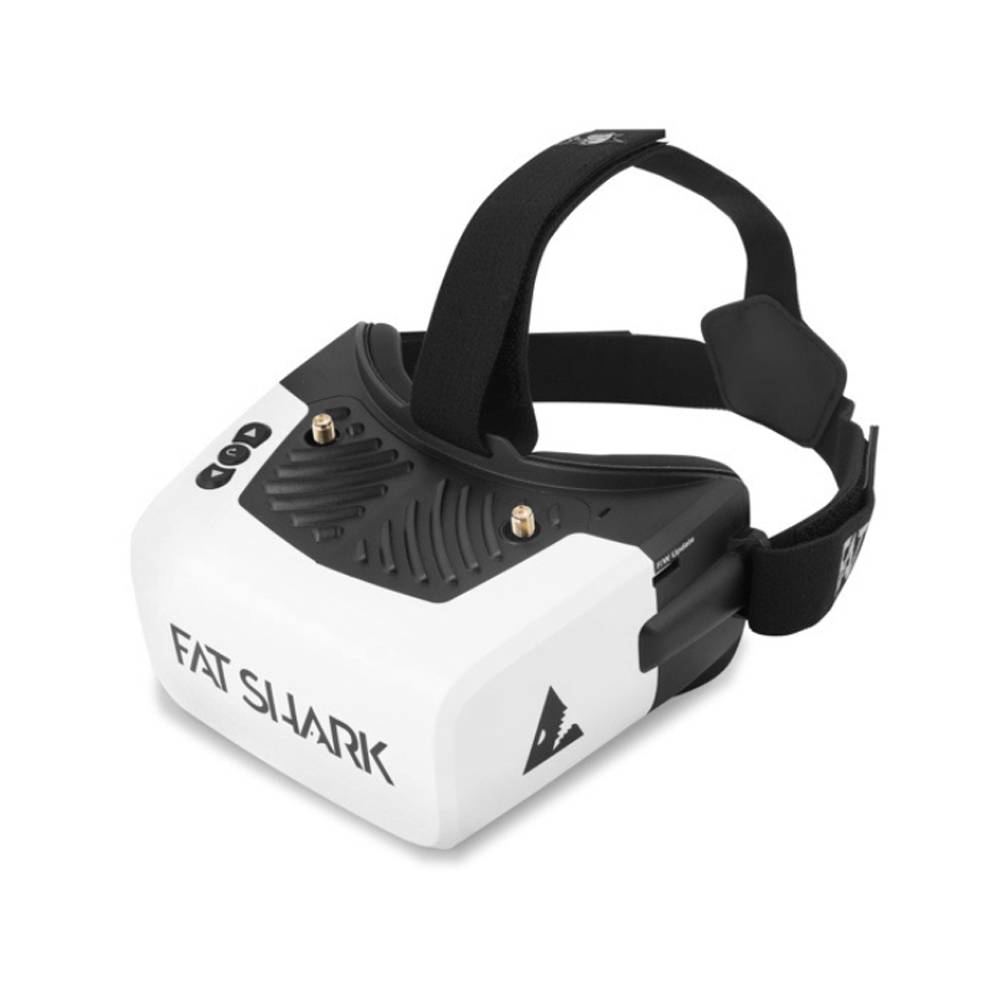 The Scout HD is the first HD digital FPV headset from Fat Shark, and the results are excellent! With a 1080p monitor and the revolutionary foldable optical engine of Fat Shark, the unmatched visual quality is possible. The 3.5-inch panel is compatible with Shark Byte transmitters, offers a clear 44-degree FOV image at 60 frames per second and operates at 5.8 GHz Frequency. With its anti-fog fan functions, cozy form factor, and glasses-friendly faceplate, Scout maintains its reputation as a high-performance and one of the best budget Fatshark goggles.
Fatshark HDO FPV Goggles
The HDO Goggle is the first FPV goggles to use OLED screens by Fatshark. This technology offers a level of detail and sharpness that was never possible in an FPV goggle. 
The HDOs have an HDMI connector that enables HD sources to be connected to the goggle displays. The user interface has been improved with smooth analog and HDMI source switching.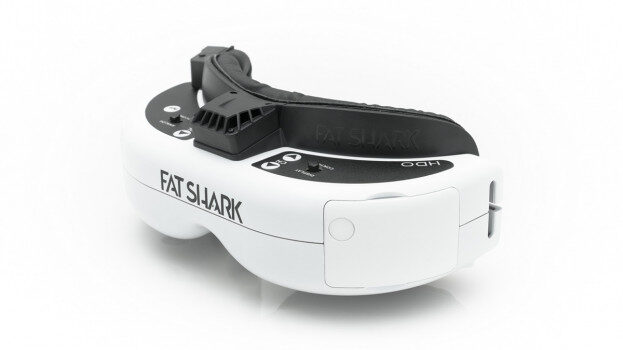 Fat Shark HDO FPV goggles have a resolution of 960 x 720, a field of view of 37 degrees, and an inter-pupillary distance range of 59 to 69mm. This means you have a clear picture of everything in front of you using an HD FPV camera.
The Fat Shark HDO FPV goggles give you an unprecedented immersion into your drone flight. With its high-resolution OLED display and comfortable frame, the HDO FPV headset makes it easy for you to see everything happening around your drone. Whether flying in standard or racing mode, the HDO FPV goggles give you the edge over your competition.
Note: These HDO FPV goggles may already be unavailable from online retail stores such as Amazon or Banggood. However, if you can locate a used pair from an online marketplace such as Facebook, then it is something that should be taken into consideration.
 How to choose an FPV goggles
Price
It is not necessary to spend a lot of money to fly first-person view, but like with drones, FPV goggles can cost as much as $200 or more if you want all of the most outstanding capabilities. However, you shouldn't be concerned because depending on your requirements, there are various excellent and affordable fpv goggles.
You don't want to pay too much for something that you won't use, and you also don't want to spend too little on something that will give you a lot of value.
Resolution
In choosing an FPV goggle, one of the most important to consider is the screen resolution. The higher the resolution, the better the image quality you will see on the screen while flying.
Aspect ratio
There are two standard aspect ratios for displaying video images: 16: 9 and 4: 3. Your FPV camera will provide 16: 9 or 4: 3 video, and you should match the aspect ratio between the FPV camera and goggles.
Field of view (FOV)
The field of view (FOV) of your FPV goggles lets you know how big an image your eyes can see. The picture is more immersive if the FOV is bigger. But if the FOV is too big, it will not work. When the FOV is too big, you must move your eyes a bit to see the edge of the screen. This is especially true when the OSD or text is at the bottom or side of the screen.
IPD
Only goggles with two different screens are relevant for IPD. Your FPV experience will be significantly impacted by it. IPD (inter-pupillary distance), or the distance between the centers of two pupils, varies from person to person.
If you purchase fixed IPD goggles, they might not fit your eyes properly, making your FPV flying experience unpleasant. The most excellent option is adjustable IPD. Additionally, a pair of adjustable-focal-length goggles or lenses that take diopters will be helpful if you use glasses.
Compatibility
You will need to decide whether the goggles you want to buy are compatible with your existing setup or with the setup you intend to use in the future, such as an analog or digital FPV system.
FAQs
How do FPV goggles work?
The VTX inside the drone sends the video signal. Once the FPV goggles' receiver has picked up the signal, the user can see the footage through an electronic display and optics.
What drones are compatible with Fatshark goggles?
These FPV Goggles from Fatshark are compatible with most FPV drones, although this does depend on whether you have an analog or digital setup for your FPV drone.
Can you use Fatshark goggles with a computer?
Yes, Fatshark goggles can be used with a computer. It has an HDMI input or AV In, but depending on your goggles, you may need to purchase a cable and adapters with the correct size connectors on each end.
Where are Fatshark goggles made?
Fat Shark is a well-known brand for FPV Racers. Greg French founded Fat Shark, which is based in Shenzhen, China. In mid-2020, Redcat Holdings purchased the company.
Which ones should I buy?
Regarding FPV Goggles for analog, the Fatshark HDO2 is the best choice. With a 46° field of view, a focus that can be adjusted, and a high-quality finish, these goggles have crisp and clear OLED displays with a resolution of 1280×960. On the other hand, the Dominator HD Digital FPV Goggles with Full HD OLED display are the best Fatshark goggles for digital FPV setup.
Which Fatshark goggles are the most durable?
There is no one-size-fits-all answer to this question because each pair of goggles is unique. Regarding long-lasting goggles, some examples of Fatshark's products include the Fatshark Dominator Goggles and Fatshark HDO2 Goggles.
Which Fatshark goggles have the widest viewing angle?
In this list, the field of view (FOV) of the Fatshark Dominator HD and the HDO2 FPV Goggles is the same at 46 degrees.
What is FOV (Field of view)?
Field of view (FOV) is a person's angle of view when it is pointed in a particular direction. In FPV goggles, FOV is vital because it affects how well you see the surrounding environment. Large FOV provides a more immersive experience.
Which Fatshark goggles are perfect for beginners?
There are no perfect Fatshark goggles for beginners, as everyone's head shape and face size are different. However, some beginner-friendly Fatshark goggles include the Fatshark Scout HD and the FatShark Attitude V6 FPV Goggles.
Are Fatshark goggles digital?
The New Fat Shark Dominator HD Digital Goggles offer high-resolution Full HD OLED displays and support a new 1080p video transmission protocol.
Are there any downsides to using Fatshark goggles?
There are a few potential downsides to using Fatshark goggles:
They can be a bit expensive.
They may not be suitable for everyone.
They may not offer the same level of visibility as other goggles.
What are some of the best features of Fatshark goggles?
A few features make Fatshark FPV goggles some of the best on the market. Low latency means that you can see what your drone is doing in real-time, which is essential for smooth and safe flying. The high resolution allows you to see every detail of your environment, making it easier to avoid obstacles and stay safe. The wide FOV makes it easy to see everything around you, even if the drone is close to the ground.
Is Fatshark Dominator HD better than DJI FPV Goggles?
Between the two FPV Goggles, there is no apparent winner. However, even though the DJI FPV Goggles have several capabilities that the Fatshark Dominator HD does not, the DJI FPV Goggles are still the best choice for some users. You have to decide for yourself what you are looking for in FPV Drone Goggles.
In conclusion, the Fat Shark FPV Goggles are an excellent choice for individuals searching for goggles that are at the top of their class and deliver crisp and clear visuals. They are also offered competitive prices, making them an excellent buy for the money spent. If you are seeking the best first-person view goggles currently on the market, the Fat Shark FPV Goggles are a perfect option to consider.
Related