Are you looking for the best GoPro for FPV drones? Look no further than HERO10 Bones. This camera is perfect for aerial photography and videography, thanks to its excellent stabilization and high resolution.
HERO10 Bones: The Best GoPro For FPV Drone
The HERO10Bones is the best GoPro camera for FPV drones right now. With a 5.3K resolution and HyperSmooth 4.0 stabilization, this action camera takes impressive footage and is perfect for capturing your epic races or freestyle footage. Plus, it's small and light, so it's easy to carry and fly; this makes it an excellent choice for FPV pilots of any skill level.
Hero10 Bones Features: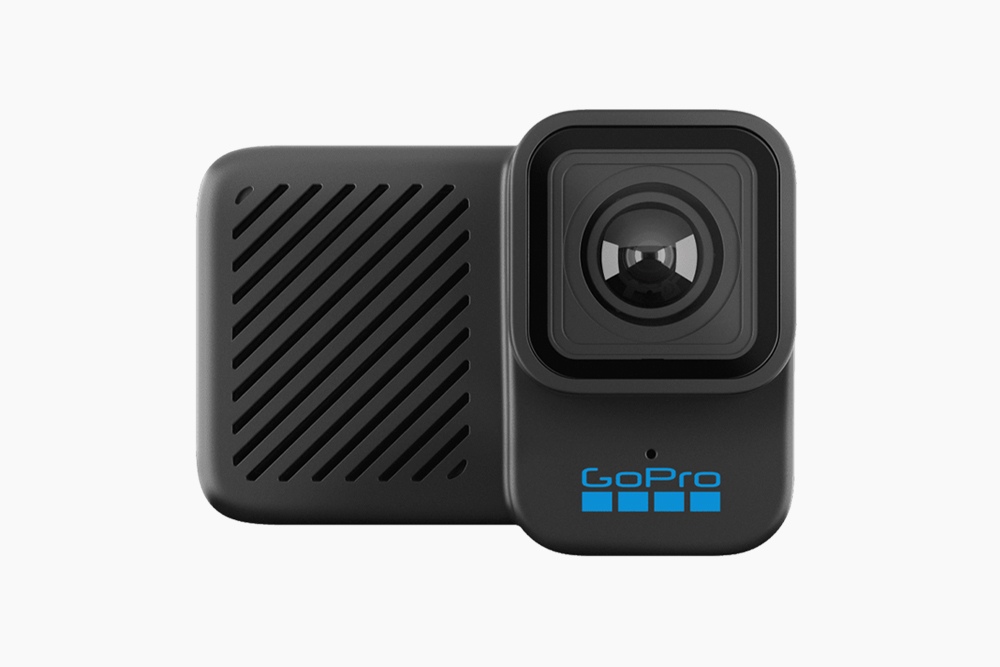 Lightweight
The new GoPro HERO10 Black Bones is designed for FPV drone pilots who want the best image quality and minimal weight. With a total weight of only 54 grams, this action cam is perfect for aerial videography. The Black Bones also has improved low-light performance, making it the ideal choice for high-speed racing or tight aerial shots.
The Hero 10 Bones is much lighter than previous GoPro cameras because it only has the sensor, CPU, and lens. It does not include the LCD, battery, speaker, GPS, or metal case. It continues to support ND filters with a removable lens cover.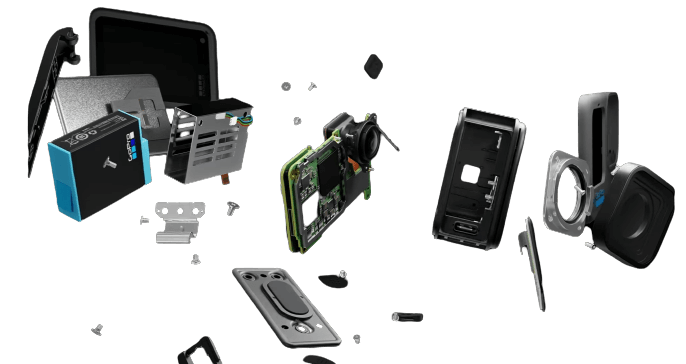 Advanced Stabilization Technology
GoPro HERO10 Black Bones gives you the advanced stabilization technology to keep your footage smooth and perfect, whether filming with in-camera HyperSmooth 4.0 or using the desktop app Player and ReelSteady. This powerful stabilization technology helps to keep your videos crystal clear and stable, even during intense action sequences. With GoPro HERO10 Black Bones, you can capture stunning videos that will impress – no matter the situation.
High Image Quality
When it comes to capturing extreme sports like drone racing, there's no one better than GoPro. The HERO10 Black Bones is the next step in their line of top-of-the-line cameras. With its 1/2.3 inch image sensor and GP2 processor, this camera will capture your footage in stunning detail and speed – ensuring you have plenty of video footage to show for your incredible stunts!
Resolution
GoPro Hero10 Black Bones is the world's most advanced action camera. Its 5.3K/60 fps, 4K/120 fps and 2.7K/240 fps video resolutions are superb, making it perfect for capturing jaw-dropping footage of your adventures. With an integrated stabilization system and ultrafast autofocus, Hero10 Black Bones ensures smooth videos that are sure to impress your friends and family. Captured moments will keep you coming back for more.
Software Package
The latest version of the GoPro Player and ReelSteady software are included with every HERO10 Black Bones camera purchase.
Drone pilots may get the performance they need from their equipment with the help of the desktop app Player + ReelSteady, which offers stabilization that surpasses the already impressive in-camera HyperSmooth. The GPMF video metadata it employs ensures that every shot comes out perfectly.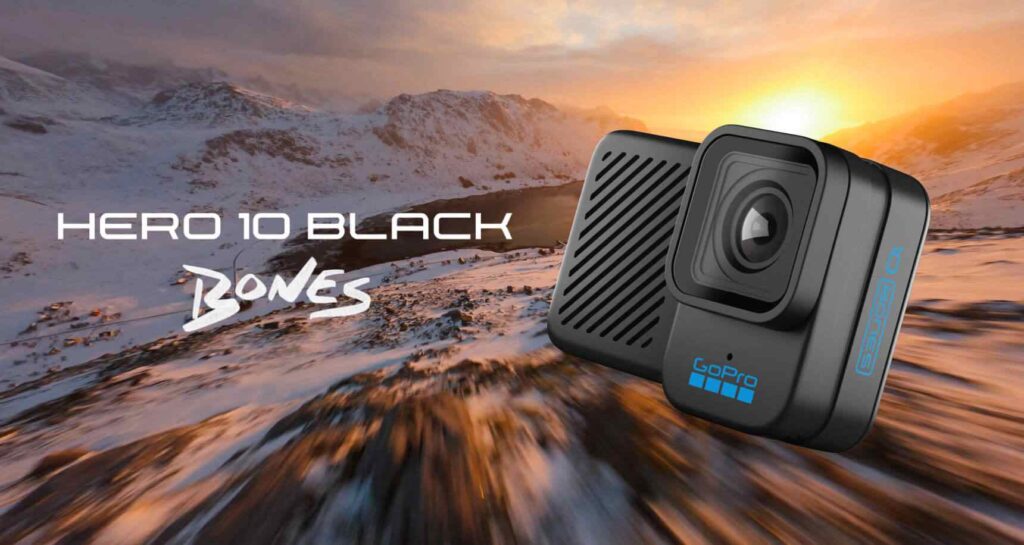 Controls & Runtime
The performance runtime of the Hero 10 Black Bones varies depending on the manufacturer of the drone as well as the battery that is installed.
There are many different ways to control the camera:
Onboard buttons
Quik App
QR codes or your drone transmitter
Signing up for GoPro
Customers enjoy the ultimate HERO10 Black Bones experience with a GoPro Subscription:
Unlimited cloud backup of original-quality images and videos
Unlimited access to the Quik app, which includes Premium Editing Tools
No-questions-asked camera replacement
Discounts on the purchase of new cameras
GoPro.com offers up to 50 percent savings on mounts, accessories, and lifestyle goods.
Live broadcasting in 1080p high definition to a subscriber's GoPro.com account.
HERO10 Bones Specs:
Video Resolution: 5.3K60, 4K120 + 2.7K240 fps
Weighs: 54 grams
Stabilization: HyperSmooth 4.0
Dimensions: 50mm (H) x 68mm (W) x 29mm (D)
Input Voltage: 5-27V (2S-6S Li-Po)
Operating Frequency: 2.4GHZ; 5GHz BLE 4.2
Connectors: 1.5mm pitch 3-pin connector (included)
Available in the U.S. only
Pros & Cons
There are benefits and drawbacks to purchasing a GoPro Hero 10 Bones. The GoPro Hero 10 Bones are lighter than other GoPro models, have a camera with a higher resolution, and are compatible with most GoPro mounts. The GoPro Hero 10 Bones are not as durable as other GoPro models, are more expensive than the previous version, are not waterproof, and are designed exclusively for fpv drones.
FAQs
In addition to the Hero10 Black Bones, what other accessories are required for use?
Unlike previous GoPro models, the Hero 10 Black Bones requires an external battery and compatible FPV attachments to function correctly.
You will need an FPV drone, a remote controller, an FPV headset, and a battery with a voltage rating of 2S-6S and a current of 5-27V to take stunning aerial footage.
How to power GoPro Hero 10 Black Bones on an FPV drone?
The input voltage range for the Naked GoPro 10 is 5V to 27V; thus, it is possible to power the camera straight from a Lipo battery ranging in size from 2s-6s by utilizing a balance connector directly on the battery. 
No need to power it from a 5V pad on FC since the naked GoPros run off a BEC, which has step-down voltage characteristics.
Battery Elimination Circuit is known by the acronym BEC. It's a voltage regulator that lowers the primary LiPo battery pack voltage (e.g. 2S 7.4V, 3S 11.1V or 4S 14.8V to 5V)
What does Naked GoPro mean?
The FPV community started taking GoPros apart to make them lighter. This is where the term "naked GoPro" came from. It's a risky and time-consuming DIY project, and third-party power boards don't always work.
What FPV drone can handle my GoPro?
The GoPro HERO10 Black Bones is made for people who want to fly FPV drones. This camera is designed to fit well on 3 inch FPV drones, but even a 2.5 inch FPV drone is capable of carrying this action camera.
Should I get a drone or a GoPro?
If we are talking about FPV Drones (unlike the DJI FPV drone), most builds do not have a decent camera capable of capturing what GoPro cameras do. Therefore, having both is an excellent option for capturing fantastic aerial or freestyle footage with a high-quality resolution.
The GoPro Hero10 Black Bones is the best GoPro for an FPV drone. With its high resolution and 5.3K video quality, it will be easy to take stunning aerial footage. With its advanced features, like hypersmooth stabilization, you'll be able to take smooth videos even in challenging situations.
Related