Do you want to keep your expensive drone safe when you take it outside or store it? Check out these popular DJI FPV backpacks that will keep your gear safe. With weatherproof, shock-resistant, and anti-scratch features, these DJI FPV backpacks are perfect for anyone who wants to fly their drone outdoors without worry.
PONYRC DJI FPV Drone Backpack
Introducing the PONYRC Waterproof Backpack for the DJI FPV Fly More Kit Drone! This hard case backpack is perfect for storing your DJI FPV accessories like remote controller, motion controller, and FPV Goggles V2. Additionally, it has a large capacity to hold your drone, tripod, props, charger, and battery.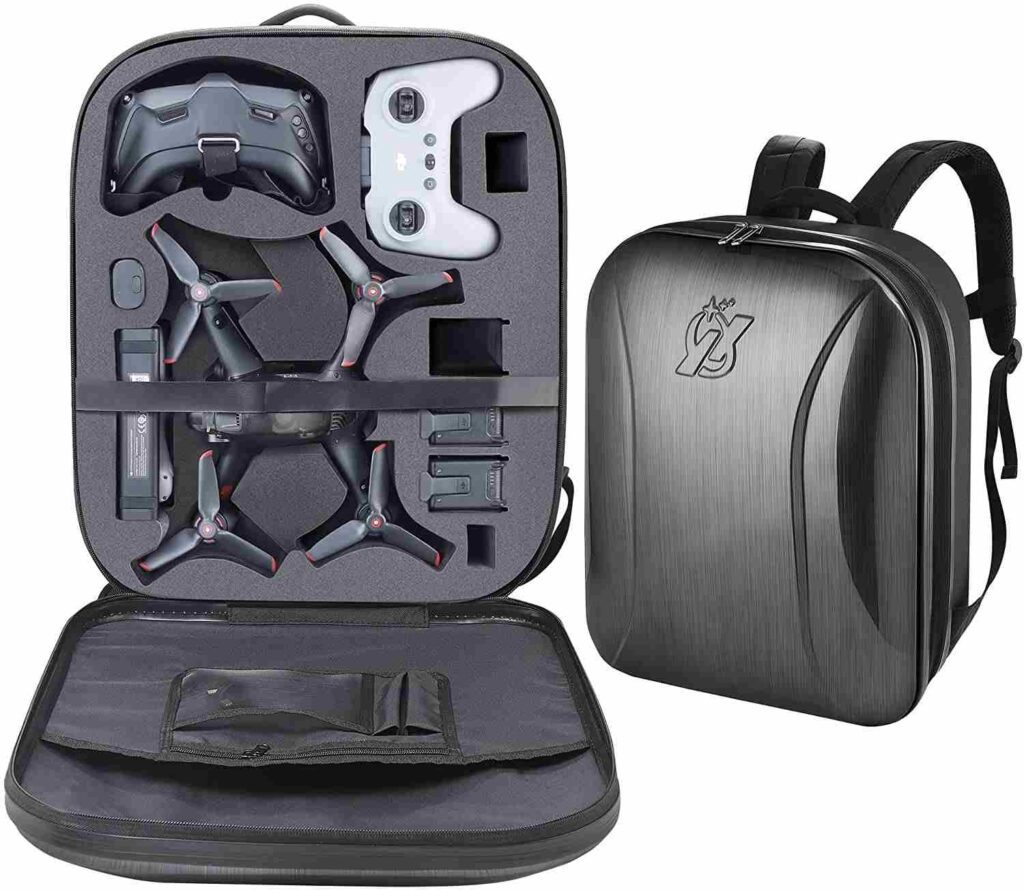 This high-quality backpack is explicitly designed to protect your drone and its contents during transport. The durable canvas provides superior protection against scratches and scuffs, while the secure zip closure ensures your drone remains safe and secure during transport. 
The backpack system features comfortable, user-friendly shock absorption and breathable fabric to help keep you cool and comfortable during long outdoor activities. With back pressure relief, the backpack also helps to alleviate any strain on your back.
Whether flying around town or heading up the mountains, this is one of the best DJI FPV backpacks for keeping your drone safe.
Smatree DJI FPV Combo Backpack
Introducing the Smatree DJI FPV Combo Backpack. This backpack is perfect for those who want a safe and convenient way to transport their DJI FPV drone, remote control, intelligent flight battery, and accessories. The backpack features a durable EVA material that is water-resistant, anti-collision, and anti-scratch.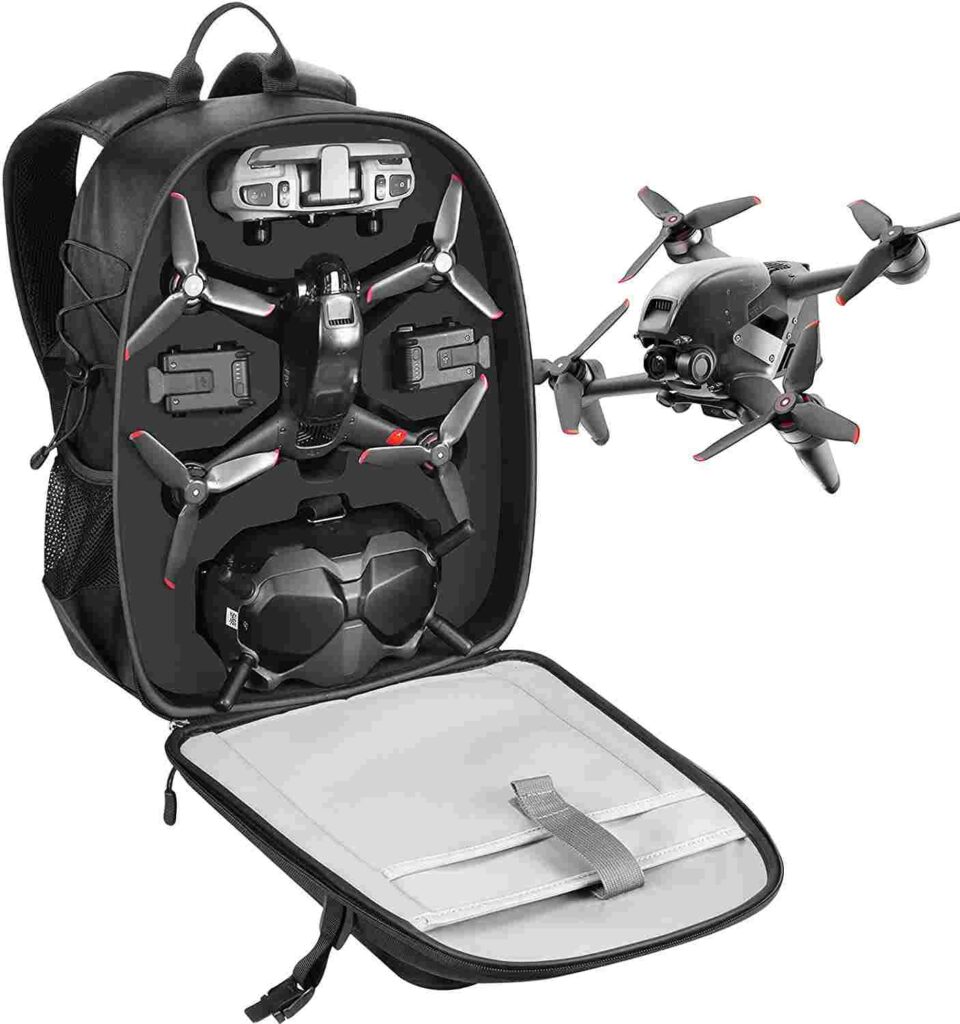 The Smatree DJI FPV Combo Backpack is perfect for flying enthusiasts who want comfortable storage and organization for their gear. With a padded back pad and an adjustable backpack strap, this bag will stay put while you take to the skies.
Plus, it has a dust cover to keep your equipment clean and protected from the elements.This backpack is made with high-quality materials and has a design that includes comfortable padding to make carrying it outside as easy as possible.
MC-Cases Backpack for DJI FPV Combo
The MC-CASES Backpack was designed specifically for DJI FPV Combo Drones and FPV Goggles. It is the perfect companion when traveling, as it offers storage for the drone and goggles. With multiple pockets, this backpack also has a padded shoulder strap and a carry handle for easy transport.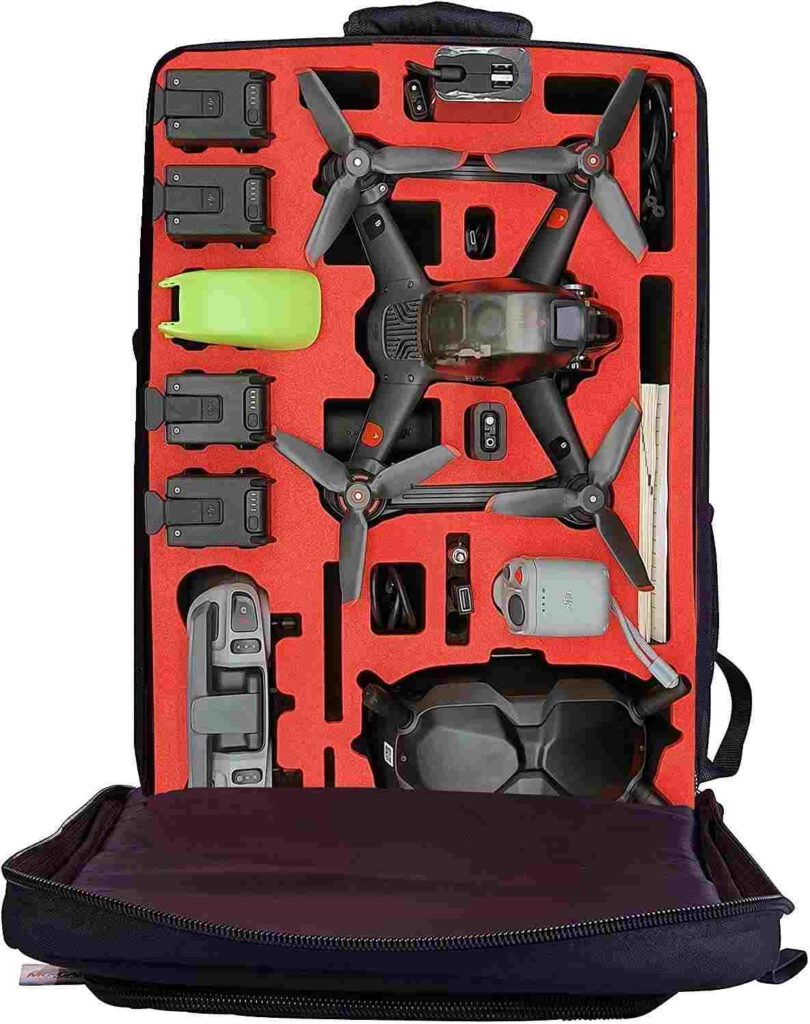 The backpack features top-quality construction, heavy zippers that make it easy to access everything you need, and padded dividers that protect your equipment from bumps and bruises.
Whether you're hitting the road for work or pleasure, the MC-CASES Backpack will make your travel experience more enjoyable.
GPC DJI FPV Backpack
Introducing the GPC-DJI FPV Backpack! This backpack is designed specifically for DJI FPV drones and their associated gear, keeping everything safe and dry in any environment. Built from high-strength, water-repellant 1000D nylon, the backpack features padded shoulder straps and a durable bottom closure to ensure all your equipment stays securely fastened.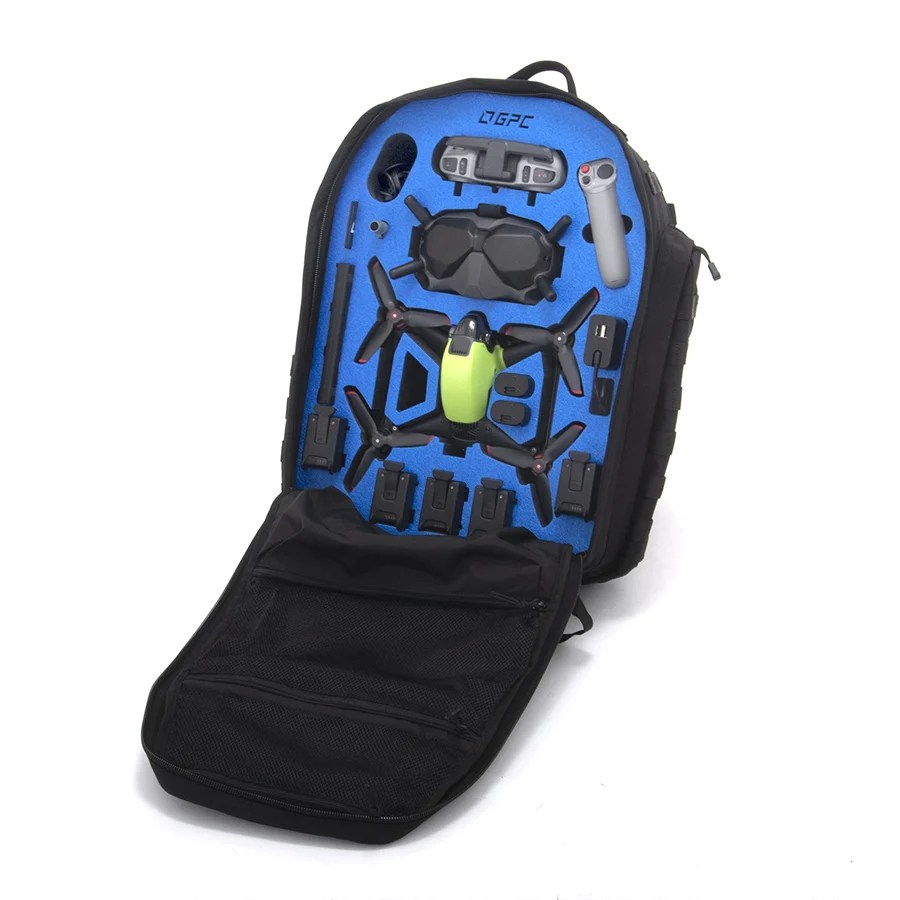 It features water-jet precision-cut closed cell foam to resist water and dust infiltration, which keeps your gear safe while you're capturing fantastic footage. Whether you're shooting videos or photos outdoors, the GPC DJI FPV Backpack will help get the job of protecting your expensive drone done right.
It also has adjustable shoulder straps made of dual-density closed-cell foam. With this backpack, you can travel without worrying and take amazing videos from anywhere.
MAXPAND DJI FPV Backpack
The MAXPAND DJI FPV Hard Case Backpack has everything you need to protect your valuable drone and equipment. This waterproof and shockproof backpack is perfect for those who love to fly. The DJI FPV backpack holds your drone, goggles, remote controller, and other necessary accessories.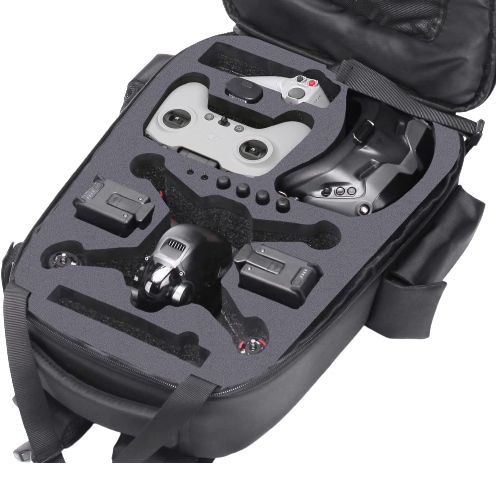 This padded backpack is designed to provide the utmost protection for your equipment so that you can focus on the fun of flying. It also features a high-quality YKK zipper for security and easy access to your equipment. With plenty of room to store everything from the base package and the Fly More kit, this backpack is perfect for any drone enthusiast.
Geekria DJI FPV Backpack
The Geekria DJI FPV Backpack has arrived! This backpack is made specifically for the DJI FPV quadcopter and accessories, making it perfect for those who want to keep their gear organized while on the go.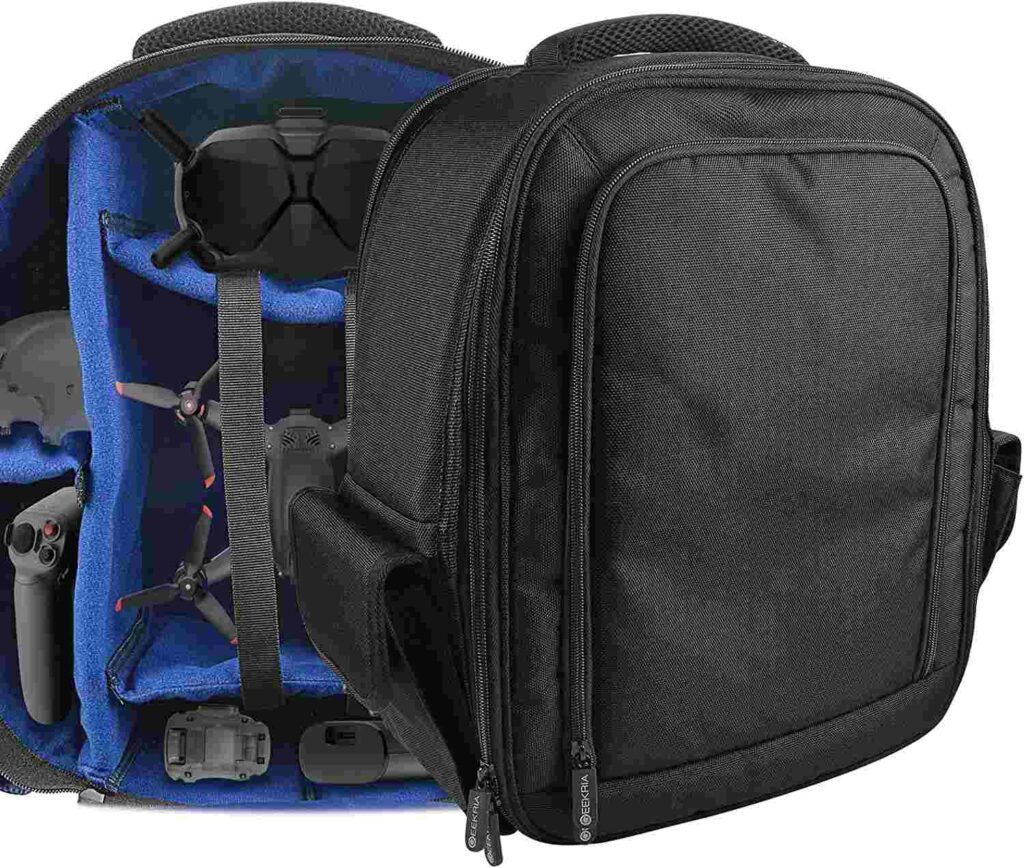 This backpack was created specifically for the DJI FPV Combo, including the DJI FPV Goggles V2 and the DJI FPV remote controller, propellers, batteries, and other accessories.
The water-resistant, shockproof design ensures that your equipment is always protected while in transit, while the shoulder bag provides comfortable carrying even during extended periods of use.
UAVACCES DJI FPV Backpack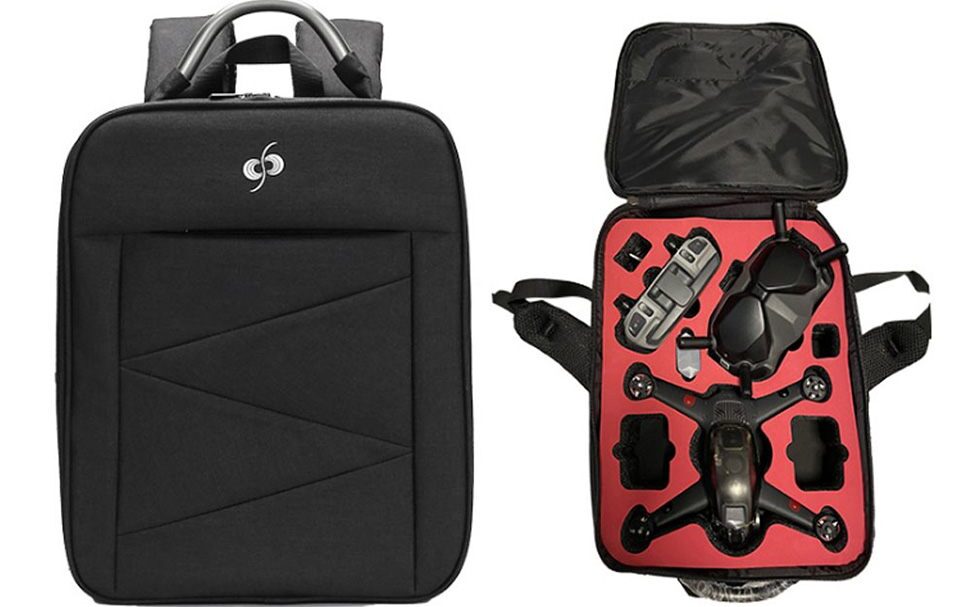 Looking for a backpack carrying your DJI FPV drone and all its accessories? Look no further than the UAVACCES DJI FPV Backpack. It is shockproof, durable and roomy enough to store an extra battery or transmitter. Plus, the unique design allows you to fold up the bottom portion of the backpack to create more storage space when not in use.
HCDSKY DJI FPV Combo Backpack
The HCDSKY DJI FPV Combo Backpack is a shockproof backpack perfect for storing your DJI FPV drone and related accessories. This backpack features a hard case that securely keeps your drone, goggles, remote controller, and other valuables.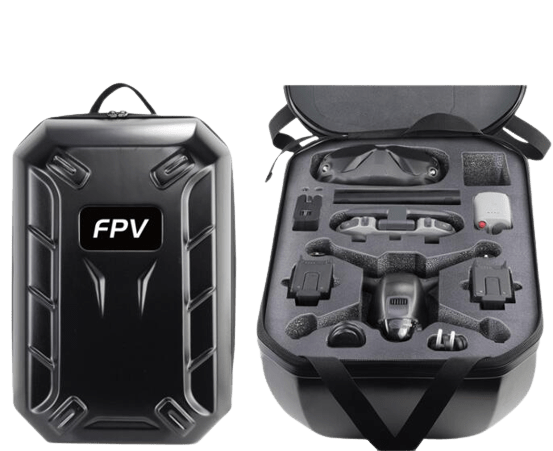 The comfortable straps and padded shoulder straps make carrying this bag easy, whether on the go or at home. This combo backpack is best for beginner flyers who want to store their drone without worrying about damaging it.
HPRC3600 Hard Case Backpack for DJI FPV Combo
Introducing the HPRC3600, the DJI FPV Combo Hard Case Backpack! Explicitly designed to safely transport and protect your DJI FPV Combo, this backpack features a comfortable, padded fit that ensures you can take your drone with you wherever you go.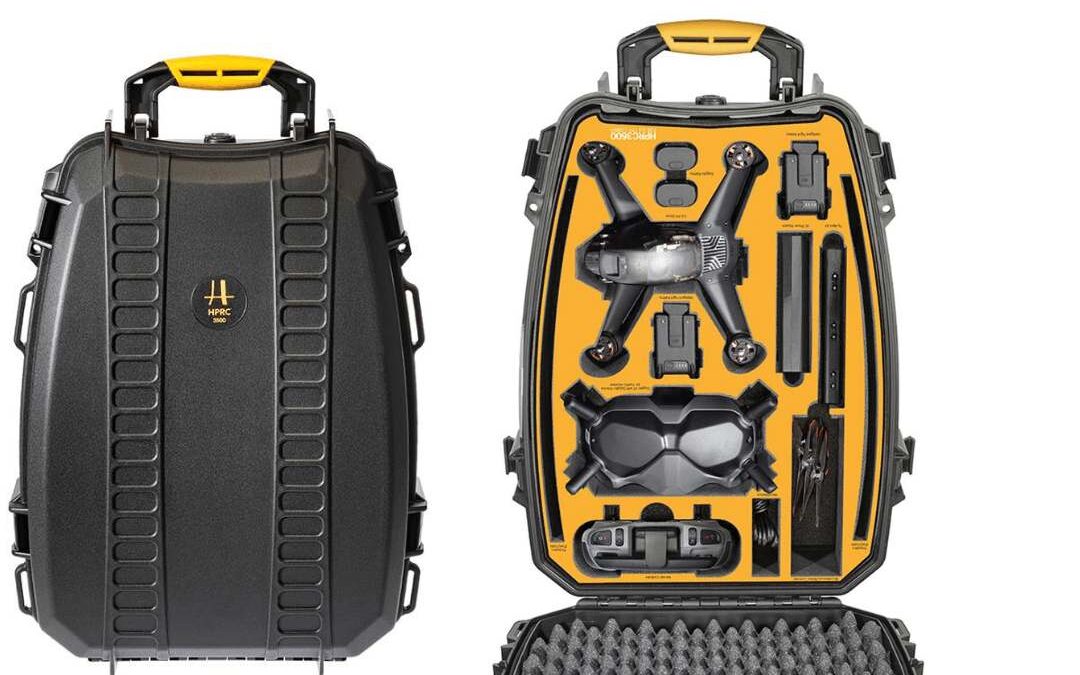 Plus, the hard case construction guarantees that your drone is safe from damage in transit. With the HPRC3600 Hard Case Backpack for DJI FPV Combo, you can be assured of a highly resistant backpack that is air and watertight.
The ergonomic shape makes it easy to carry and perfect for traveling, making it an ideal companion for any activity or occasion. With its durable construction and versatile design, the HPRC3600 will make your drone experience even more enjoyable.
LEKUFEE Hard Case Backpack For DJI FPV Combo
If you're looking for a safe and secure way to transport your DJI FPV combo, look no further than the Lekufee hard case backpack. This backpack comes equipped with a password lock that can be changed and added keyholes that can be padlocked if desired. Its durable construction ensures that your DJI FPV combo will be safe and sound while traveling.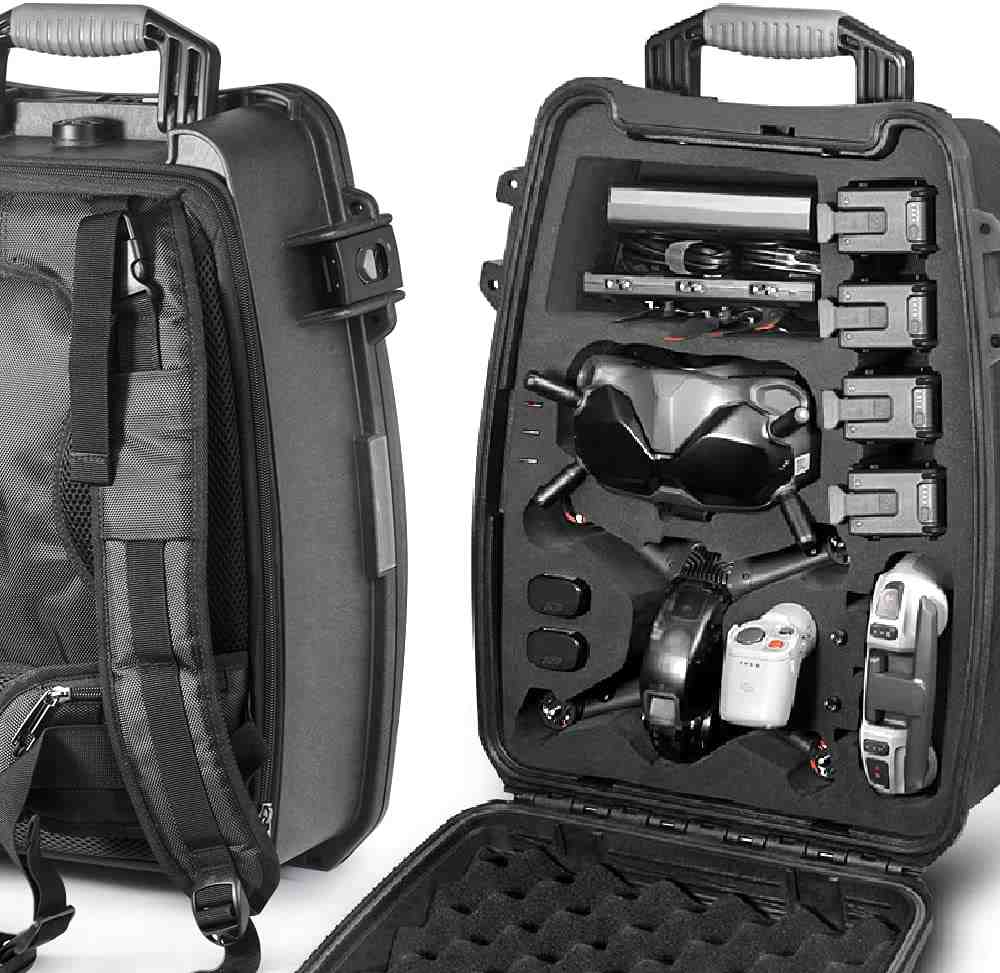 This backpack is waterproof and dust-proof, making it perfect for outdoor travel. Additionally, it has an anti-collision and anti-scratch design to protect your drone and accessories from bumps and drops.
In conclusion, these options are great for anyone looking for a backpack for their DJI FPV Drone. All bags have features that will make your life easier while going outdoors with your drone. These backpacks will help you secure and carry your drone easily. If you're in the market for a new bag, one of these options should be perfect for you!
Related