The BetaFPV Meteor75 Walksnail is probably the world's first 1S Whoop style FPV drone with an onboard HD digital transmission system. It is compatible with the compact Walksnail Avatar Digital HD FPV Goggles.
The 75mm carbon fiber frame is equipped with upgraded 1102 18000KV brushless motors and a protective injection molded canopy. The Walksnail Avatar Mini HD VTX board uses H.265 high-efficiency video coding, an industry-leading technology, providing 1080P@60FPS image recording with 22ms ultra-low latency. Thanks to the built-in 8 GB memory, the Meteor75 Walksnail can record HD video without interference from capacity and export video by USB cable.
#AD
Meteor75 Walksnail uses the latest BetaFPV F4 1S 5A flight controllers. It features Serial ELRS 2.4G instead of SPI ELRS 2.4G for the ExpressLRS version compared to the previous version. The Frsky version reserves two UART ports for the available external receiver to be used as PNP.
BetaFPV Meteor75 Digital features
Powerful propulsion capabilities combined with Walksnail HD VTX or HDZero VTX give pilots an immersive flight experience and impactful visuals.
Ultralight weight for 40.5g (Walksnail)/ 36.4g (HDZero). Using a BT2.0 connector, it effectively decreases internal connector resistance for good conductive performance.
Equipped with 40mm 3-blade props and upgraded 1102 18000KV motors. The upgraded motors not only take abilities as good as before to provide strong propulsion in 1S whoop drone but also come with a new look. And simultaneously, its black and red motor bell fully matches the Meteror75 frame.
Reserve two UART ports on F4 1S 5A FC(SPI Frsky) V3.0 board. The Frsky version also can be used as the PNP version. Therefore, pilots can connect the external receiver to it.
F4 1S 5A FC (Serial ELRS 2.4G) V2.0 is flexible in upgrading and has excellent potential. It supports being upgraded to ELRS V3.0 separately without flashing Betaflight flight controller firmware.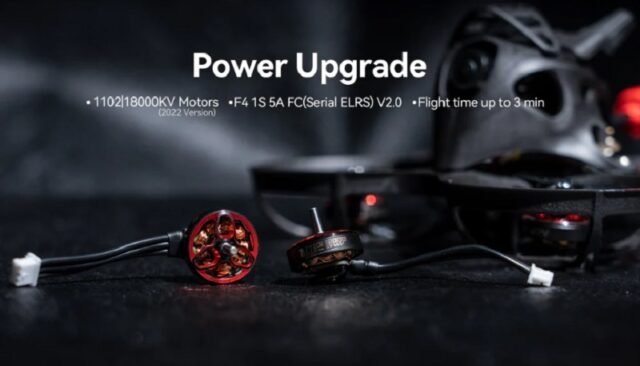 Technical specifications
Flight Time: 3.5 mins (HDZero)/3 mins (Walksnail)
Camera Adjustable Angle: 0-45°
Motors: 1102 18000KV Motor
Battery: BT2.0 450mAh 1S 30C Battery
Frame: Meteor75 Micro Brushless Whoop Frame
Propellers: 40mm 3-Blade Propellers (1.5mm Shaft)
Weight Without Battery: 40.5g (Walksnail)/36.4g (HDZero)
Receiver: Serial ELRS 2.4G/SPI Frsky/TBS
FC&ESC: F4 1S 5A FC (Serial ELRS 2.4G) V2.0/F4 1S 5A FC (SPI Frsky) V3.0
VTX Power Output: 350mW (Walksnail), 20mW/200mW (HDZero)
VTX: 1S Walksnail Avatar Mini HD VTX/HDZero Whoop Lite Bundle
Camera: Wanlksnail Avatar Nano Camera/HDZero Nano Lite Camera