Either the DJI Avata or Cinebot30, both fpv drones have impressive capabilities, but which one is better for you? Both drones offer high-resolution cameras that can create stunning images and videos, but the Avata has a longer battery life and more versatile features like head-tracking. If you're a drone pilot who wants more than the Avata can offer, specifically flying in an acro mode which is why most of us enjoy flying, the Cinebot30 is the better option.
Summary
The DJI Avata has cutting-edge transmission technology, propeller protection, and the ability to record 4K footage with extreme stability. When using DJI goggles and either the motion controller or the remote controller, flying an Avata is a breeze. Also, the GEPRC group has developed the most recent Cinebot30 HD O3 Air Unit after DJI released an updated version of their FPV high-definition video transmission technology. The Cinebot30 can also capture stabilized 4K 60fps videos and live-stream 1080p 60fps footage.
Specifications
| | | |
| --- | --- | --- |
| Specs | DJI Avata | GEPRC Cinebot30 |
| Weight | Approx. 410g( with battery) | 234.7g (excluding battery) |
| VTX | DJI O3 Air Unit | DJI O3 Air Unit |
| Camera | DJI O3 | DJI O3 |
| Video Resolution | 4K/60fps | 4K/60fps |
| Controller | DJI FPV Remote Controller 2/DJI Motion Controller | PNP, Frsky R-XSR, TBS Nano RX, ELRS 2.4G Compatible Controllers |
| Battery | DJI Intelligent Flight Battery | LiPo 4S 1100mAh-1300mAh / 6S 850mAh-1100mAh |
| Price | Amazon | GetFPV |
Features
The Cinebot30 has an upgraded top plate of the fuselage gimbal that works with the camera base fixed by four-hole screws and allows a full-sized GoPro or other action cameras to be mounted for flight. The camera's aluminum mechanism is made with TPU shock absorption, which can eliminate image jello caused by body vibration.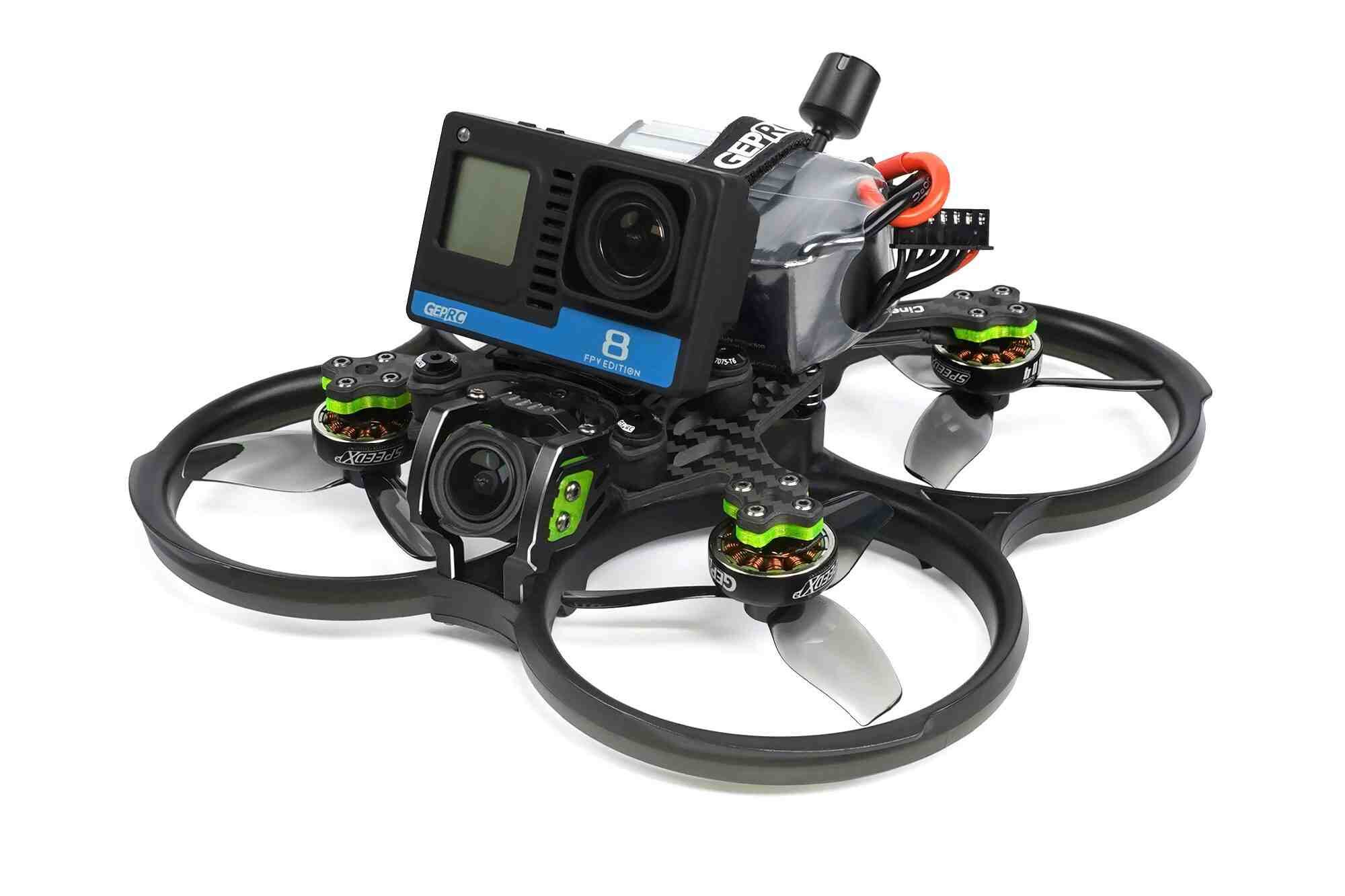 It has a ring-shaped cob light strip built into the props guard; the light effect can be seen clearly during the day and at night.
It is equipped with a powerful 1804 motor, which features surging torque to help it deal with flight at extremely low altitudes.
Given its compact form factor, the DJI Avata is simple to control in flight. Each of its unique capabilities was designed with one goal in mind: to inspire you to try new things. In the event of a collision, Avata can continue flying thanks to a protective guard placed over its propellers.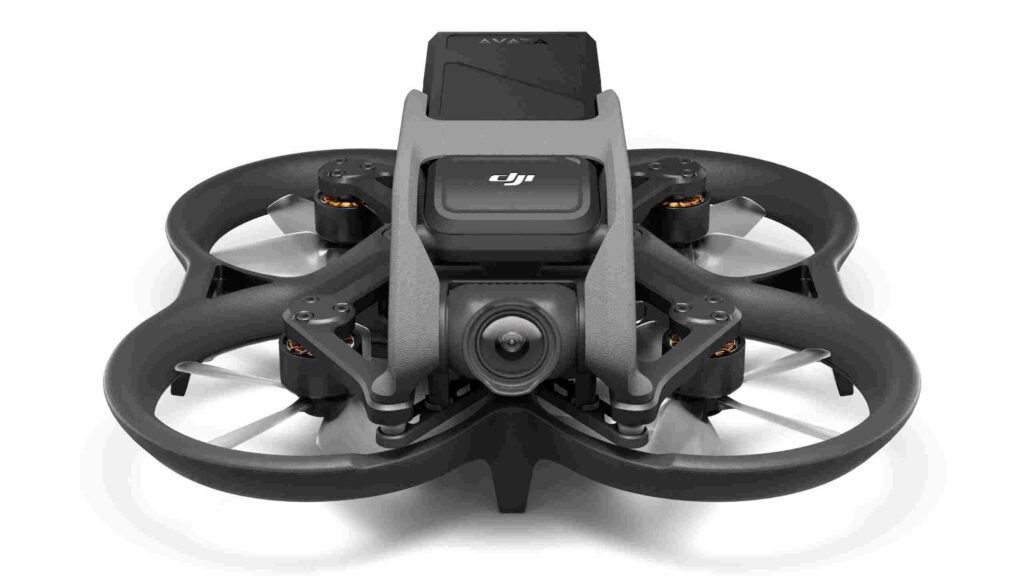 Not only does Avata come equipped with a propeller guard, but it also has downward binocular vision and ToF infrared sensing. Because of these sensors, Avata is able to fly at ultra-low altitudes or indoors without crashing into anything. You can quickly get Avata back up and running if it falls flat by switching it into Turtle mode.
Video Recording
Each cinewhoop is equipped with the most advanced O3 Air Unit FPV digital video transmission system available on the market. Both offer transmissions with a stabilized 4K ultra-high resolution video at 60fps. The maximum bit rate is 50Mbps, the minimum delay is 30 ms, and the highest image quality is 1080P 60fps.
Compatibility
The DJI Avata and the GEPRC Cinebot 30 utilize the DJI O3 Air Unit system. Additionally, both quads are compatible with the DJI FPV Goggles v2 and the DJI Goggles 2.
The DJI Avata can be flown with the DJI remote controller 2 and The Motion Controller. On the other hand, the Cinebot 30 can be flown with flight controllers that are compatible with Frsky R-XSR, TBS Nano RX, or ELRS 2.4G receivers, depending on your chosen version.
Flight Time
The Avata comes with a Li-Ion battery with 2420 mAh, and the manufacturer claims it can provide up to 18 minutes of flight time. This is a respectable amount of time compared to the Cinebot30, which only has 8-12 minutes of flight time, depending on the actual conditions.
It is important to note that most FPV pilots get less flight time than advertised depending on what type of flying they want(Normal, Manual or Acro, freestyle, and sport mode) and where they fly.
FAQs
Which one is better: DJI avata or cinebot30?
The DJI Avata is perfect for beginner pilots who want to learn how to fly a drone. It's easy to operate, which makes setting up your flights simple. You'll also appreciate the wide range of aircraft features available on this model – including downward obstacle avoidance, RTH, and GPS– making it perfect for learning about drones and flying them around your home or office.
On the other hand, if you are a solder fanatic and enjoy discovering new things about the world around you, then the Cinebot30 might be a better option for you. Your Cinebot30 can also be upgraded to include the capabilities of the DJI Avata. It can also carry your favorite action cameras like the GoPro Hero series or Insta 360 Go 2.
What are some pros and cons of each drone?
The DJI Avata is excellent for flying indoors, such as when making fly-through videos of real estate. This DJI drone is incredible in terms of its components and overall quality. The DJI Avata has a longer flight time and can be easily charged.
It is possible to do freestyle flying with the DJI Avata, but it needs more power because this particular whoop was not designed for that kind of flying. It can travel a few kilometers away from you and will still return even if the signal is lost. Although when compared to other first-person-view cinewhoops currently available on the market, this drone is on the pricier side.
The Cinebot30 is a cinematic fpv drone tuned by professionals from GEPRC. It flies just as well indoors as it does outside. The Cinebot30 opens up many creative options for your drone shots.
Cinebot30 has a powerful 1804 motor optimized for its magnetic motor circuit and surging torque. It uses a GEP-F722-45A AIO v2 flight controller, which features higher performance redundancy and simple management of unforeseen circumstances.
This whoop comes at a price almost identical to that of the DJI Avata. If you are starting as a pilot and want to upgrade components of this cinewhoop like the Avata, then you will need to brush up on your technical knowledge. This cinewhoop may present an experienced pilot with many opportunities they still need to consider.
What maximum speed is the DJI Avata capable of flying at?
Even though it's a lot of fun to fly, the Avata is slower than other first-person-view (FPV) drones on the market today. The sport and the normal modes have significantly lower top speeds than the manual modes, with 31 and 18 miles per hour, respectively. The maximum speed that can be reached using the manual mode is 60 miles per hour.
Can you fly a DJI Avata without goggles?
Yes, you can, but the DJI Goggles will give you the most immersive experience from the fpv camera.
Is the DJI Avata durable?
Yes. The DJI Avata is a fun little drone that can get great shots in all three flight modes. It's durable, the flight times are good, and it's a great experience to fly.
Does DJI Avata have obstacle avoidance?
Downward obstacle sensing only works with the DJI FPV Remote Controller or the DJI Motion Controller in N Mode or S Mode. DJI Avata does not have the ability to sense and avoid obstacles in front of it.
The DJI Avata and the Cinebot30 are excellent choices for a first drone, regardless of the user's experience level. The DJI Avata, on the other hand, has a more user-friendly interface for novices and more features tailored to those who are just getting started. On the other hand, the Cinebot30 is an excellent option for more advanced users interested in experimenting with new aerial videography and photography techniques.