Although it is one of the newest aircraft from DJI, the Mini 3 can display errors too. Those prompts are annoying, appearing from nowhere. It's tricky to deal with them.
The most problematic errors the DJI Mini 3 presents are aircraft activation failure, SD card recognition, signal loss, sensor out of calibration, RC buttons malfunction, firmware update failures, gimbal motor overload, and IMU calibration failure.
So, I'm going to explain why those errors happen and how to fix them here. Stay tuned!
You can tell an error is critical if the aircraft status indicator LEDs light up solid red. It can present other errors where this LED blinks red due to excessive sensor errors. But if you don't know how to deal with them, it's useless.
All errors a DJI drone presents have a code. DJI says they manage those error codes internally. There is yet to be a dedicated list from them on these error codes and what they mean.
The DJI Fly app prompts an error through your mobile device or DJI RC display. If you see one of these errors, you can go to the DJI help center or forum, type the error code with a description of the situation, and they will assist you.
It is far from being a fast process. And in most cases, it doesn't deliver a solution. Wouldn't it be better to have a detailed list of errors, their descriptions, and solutions?
Whatever the case, it is helpful for us drone pilots to know how to approach an error. But we need to understand them first.
1. Activation failure
You may encounter this error with a new DJI Mini 3 and an RC-N1.
It happens because your smartphone doesn't recognize the drone.
First, shift the network from WiFi to Cellular or vice-versa. Now, enable your device's DJI Fly app permissions. In iOS, go to settings and find the app to change it. In Android, go to "Settings," then press "Manage Apps" to find the app.
Then restart the aircraft.
If this doesn't solve your issue, try again with an Android device if you used an iOS device or vice-versa. Your device should be on the Supported Devices List (link).
You should contact support if it doesn't allow you to activate your drone.
2. SD card recognition
When you insert the microSD card into your Mini 3, the DJI Fly app may prompt an error with the card.
This error means that the microSD card isn't compatible with the Mini 3. Or it could be that the microSD card or microSD drone port is damaged.
The best solution is to check the microSD card. If you have another drone, insert it on it. You can try it on your laptop too. If it works on another device, it is probably a drone port issue or a damaged card.
To be 100% sure, follow the steps below.
Step 1: Damaged microSD card
A damaged card can mean it has broken or it is faulty. If it is obvious physical damage, it's better to replace the card.
But if you check it and it's in good condition, you can format it via the DJI Fly app. Read this article that explains how to format it.
» MORE: DJI Mini 3 Pro SD Cards: How to Insert, Eject, and Format (Video)
After formatting the card, install it and check if it works.
If this step doesn't work, go to step 2.
Step 2: Non Compatible microSD card
Get one of the cards shown below. This came from the DJI Mini 3 specs.
Or you can install another microSD card that you know is working correctly.
Once installed, you only need to power ON your drone. If that works, it was a card issue incompatible with your drone.
If this doesn't work, go to step 3.
Step 3: Damaged microSD drone port
Here you need to contact support. The Mini 3 port could be damaged, and a tech specialist needs to check it.
3. Signal loss during flight
The signal may become weak while flying your drone, disconnecting the RC from the drone. It is a momentary issue.
After the RC and drone pair again, a remote controller signal error prompt appears.
Step 1: RC Antennas not facing the drone
Maybe you are practicing freestyle maneuvers, and suddenly you lose the signal.
To avoid this issue, your RC must face the drone. This will depend on the type of antennas your controller has.
Below[1] is a view of how you should fly your drone to avoid signal loss: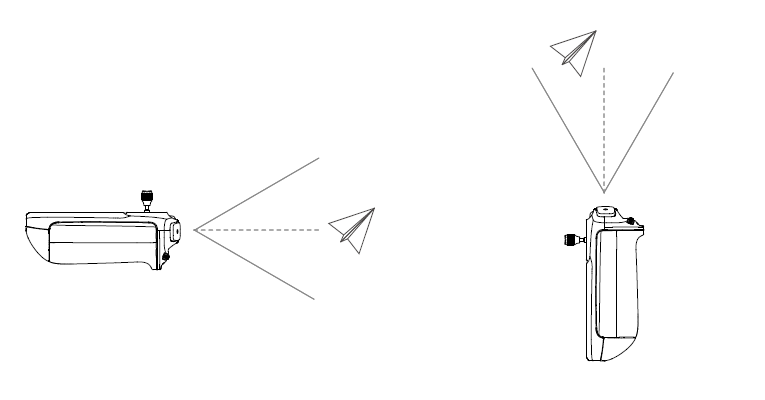 If you are flying your Mini 3 with the correct antenna orientation, and keep losing signal, go to step 2.
Step 2: Affected signal
A signal loss can happen due to an obstacle or interference in the wireless signal.
Before flying your drone, check the area you are in. Notice any significant obstacles and always fly above them.
Also, avoid scenarios crowded with people using devices as they interfere with the signal.
If you keep losing the signal, continue to step 3.
Step 3: Hardware RC error
Finally, a signal loss can occur because the controller isn't working correctly. It can be a software issue that only needs a firmware update.
These firmware updates display a message on the DJI Fly app. Please follow the on-screen instructions to install it before the flight.
The remote controller has a hardware issue if you keep experiencing signal loss after the firmware update.
To be sure, get another RC and fly with it. And if it keeps losing signal considering all the steps above, contact support.
4. Sensor Out of calibration
This one appears as a "Vision System Error" or "Calibration Required" prompt in the DJI Fly app. It is alarming as it tells you to contact DJI support.
However, we can test it first.
Step 1: Unremoved protective film or lens dirty
When getting a new drone, we tend to leave on the protective film. Please remove it, as it is indeed interfering with the vision system. Or, clean the lens with a clean cotton cloth dipped in alcohol.
Does it solve the problem? If not, please go to the next step.
Step 2: Vision calibration
Drones are delicate pieces when subjected to high vibrations. Plus, it is a device you should use regularly, or it will lose calibration, needing firmware updates to fix it.
Due to these two factors, you can face a calibration error during self-check. Using the DJI Assistant 2 app for Vision Calibration is the way. Read our article below about how to use DJI Assistant 2.
» MORE: How to Use DJI Assistant 2 with DJI Mini 3 / Mini 3 Pro (Step-by-Step Guide)
Does it solve the issue? If you still need to, you should contact support by filling out this Online Repair Request (link).
5. Firmware update failures
These are common errors and the reason why pilots hesitate to install new firmware updates. However, the issue is not the update itself but a failure during the update process.
To avoid failures during an update, please ensure the following:
Step 1: Enough battery level
You must conduct an update only if the drone and RC battery levels are above 50%. And better if it is above 75%.
You can tell the battery level by pressing the battery button once to display the RC LEDs. They should have at least three of them lighting steadily green.
If using the RC-N1, your mobile device must have a charge of at least 60%.
Were you able to complete the firmware update successfully? If no, go to step 2.
Step 2: Do not operate the drone
Please avoid using your drone when updating it. Leave it there until it completes the process successfully.
The progress bar can get stuck while updating. Here you should restart the drone and DJI RC. Then start the firmware update again.
If you keep seeing an update failure prompt, contact support.
If you are using the RC-N1, please restart your mobile device and try to update. If it doesn't work, use a device with another operating system to check. Ensure you are using a supported mobile device (link).
Did it let you complete the firmware update successfully? If negative, you need to connect the drone via USB-C to your computer and start the DJI Assistant 2 (link). Once connected, power ON the drone and follow the on-screen procedures.
6. Gimbal motor overload
The gimbal allows you to operate the camera to navigate and take footage. When stuck, it's better not to pilot your drone as you fly without good ground or obstacle reference.
Step 1: Gimbal cover removal
Ensure you have removed the gimbal cover and the protection sticker. Then unfold the arms.
Check if other objects are blocking the gimbal's free movement, such as a camera accessory. Please remove it. Now check if the prompt continues.
If there is still the "Gimbal Motor Overload" prompt, check the following.
Step 2: Sport mode
Check if your Mini 3 is in sport mode. If yes, push the control stick gently, and look if the prompt disappears.
If the "Gimbal Motor Overload" doesn't disappear, you must fill out this Online Repair Request (link). DJI needs to check your drone.
7. IMU calibration failure
Other common failures are the "IMU Calibration Required," "IMU Calibration Failed," or "IMU Cannot Be Calibrated." Essentially these errors say you must calibrate the IMU.
Here you need to follow these instructions:
Fold the drone arms.
Your Mobile device, RC, and drone must have at least 50% battery.
In the DJI Fly app, press Safety.
Tap in Sensor and then in IMU.
Press calibration and follow the on-screen instructions.
If this procedure doesn't solve the problem, please restart your mobile device, RC, and drone. Do the calibration again.
If it keeps failing, you must submit an Online Repair Request (link).
Can you find other errors?
Long story short, yes.
This list will grow as more users contact DJI to inform about their situations.
It is stressful and something you don't want face. But you and I can't help it.
The best we can do is to inform DJI so they can collect that information. Then they can fix these errors with firmware updates or detailed, easy-to-follow procedures.
References:
1. Image Credits: DJI