In terms of flight performance, the most important things are the motors and ESC. You can have the best flight controller, but the brain can't fly without muscles. This review will closely examine the Meps SZ2306 motors and Meps MINI SZ45A ESC. If you are looking to build a new racing FPV quadcopter, this tandem is an excellent option for a reasonable price.
An FPV brushless motor has two main parts: Stator (with a three-phase coil) and a rotor/bell (with the prop shaft and permanent magnets). In case you don't already know, the number 2306 represents the motor's stator size. The first 2 digits are the stator's width, and the last two digits are the stator's height. The second parameter of a brushless motor is the KV value, defined as the number of revolutions per minute (RPM) that the rotor will turn when one volt is applied to its terminals without any load (attached propeller). Higher KV options tend to be more aggressive and power-hungry, while lower KV options are conservative and efficient. For example, the 1750KV motor shown in this review on 4S (16.8v) has 29.400RPM or 43.100RPM on 6S (25.2V). The Meps SZ2306 motors are available with KV1750, KV1950, and KV2450. Your choice depends on your battery type (4S/6S) and flying style (racing/freestyling/cruising).
As its name suggests, an Electronic Speed Controller (ESC) controls the speed of the brushless motor. It is responsible for receiving signals from the flight controller and converting them into motor commands by adjusting the amount of power delivered to the motor's coil. Utilizing high-quality ESCs leads to a reliable and smooth flight experience. The MEPS MINI SZ45 is rated for 45A with a 55A burst current. It's suitable for both 4S and 6S freestyle and long-range cruising builds.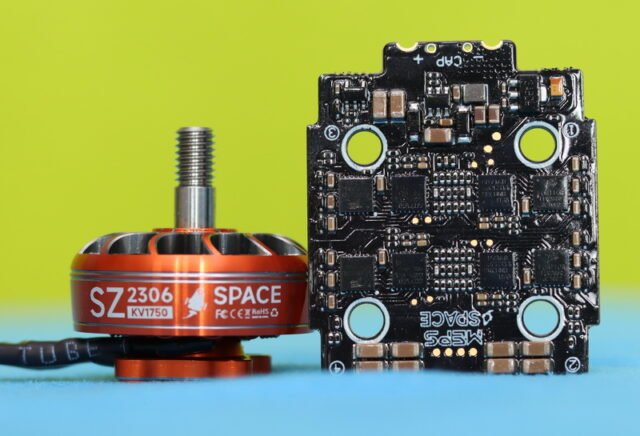 Meps FPV parts review
Disclosure: I received the motors and ESC as part of a product review collaboration with MEPS. Although the parts were offered for free, all opinions in this article remain my own, and the sponsor in no way influenced me. The rest of the accessories shown in this review were purchased and paid for by myself.
MepsKing is a relatively new FPV accessory provider. I heard about them for the first time in February 2023. At that time, they had only two motor types (2306 and 2207) in the product portfolio. Now, two months later, they also have three types of flight controllers (F722 Analog, Digital, and Mini Digital) and two ESC boards (45A and 65A).
I like that their website contains lots of high-quality photos, product presentation videos, detailed technical specifications, and installation recommendations. Some industry voices say that MEPS is somehow related to T-Motor, a well-established UAV and gimbal brushless motor brand.
My plan with this product review was to build a 5″ racer drone, but unfortunately, the flight controller I ordered from AliExpress on Mar 31, 2023, is still not shipped out. I contacted the seller, and they said they were currently out of stock, so I had to wait a few more days which turned into months. Yesterday, I got an automated message that my order was canceled and I will receive a refund in a short time.
Meps Space SZ 2306 brushless motors
The Meps SZ 2306 motors are intended for 5-inch FPV drone drones. There are three-speed versions: 1750KV (6S), 1950KV (6S), and 2450KV (4S). You can choose from four beautiful color options: Orange, Cool grey, Fluorescent grey, and Cyan. Each motor comes with 5mm propeller nuts, a spare shaft screw, and two sets of mounting screws (4xM3*7mm and 4xM3*10).
I know that not that important how the motor look, but these MEPS are beautiful. The sunflower-like bells should also provide good cooling of the coils.
The motors weigh about 32 grams and have 160mm long wires. As wire length is not critical between the ESC and motors in terms of power loss, I usually do not cut them just to look good on a specific frame. If, in the future, I want to transplant the motors on a larger frame, I could have an issue with the shortened leads. You can solder the motor wires to the ESC in random order and reverse rotation direction from BetaFlight configurator if needed.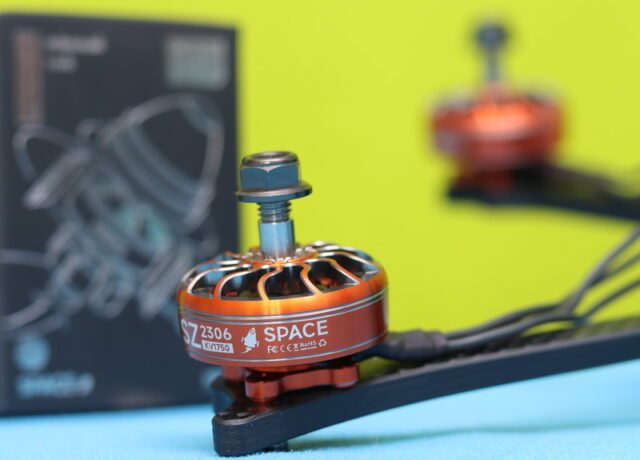 Using 6082 aluminum alloy and N52SH arc magnets increase efficiency and shorten motor response time, allowing the motor to run as smoothly as silk. MEPSKing claims that each motor is individually pre-factory tested to ensure quality and reliability.
Product specifications
| | |
| --- | --- |
| KV options | 175019502450 |
| Color options | OrangeCool greyFluorescent greyCyan |
| Rated voltage (LIPO) | 6S |
| Idle/Peak Current | 1.3A/36.9A |
| Max power | 910.9W |
| Internal resistance | 74mΩ |
| Configuration | 12N14P |
| Lead | 160mm/20AWG |
| Shaft Diameter | 5mm |
| Shaft Protruding Length | 12mm |
| Dimensions | 29.3*30mm |
| 32 grams |   |
2. Meps Mini Space 45A 4in1 ESC
The Space-Mini 45A 4in1 ESC board comes in a black cardboard box with the following accessories: an XT60 battery cable, four FC data cables, a 470μ/35V capacitor, and two sets of rubber grommets. No wiring manual was provided.
It has a 20*20mm mounting pattern and is suitable for 3.5-5″ FPV drones. The board itself measures about 33.5*39.8mm and weighs almost 10 grams. Its 6-pin connector has the following pinout: Telemetry, Current, ESC4, ESC3, ESC2, ESC1, BAT+, and GND. The large battery pads have solder holes for the low ESR capacitor. Above, I mentioned that you leave the motor-ESC wires as long as you want. My recommendation for the battery cable is the opposite. The LIPO wire length must be kept short to avoid damaging electrical components due to voltage spiking. If you run on 6s, I suggest replacing the stock capacitor with a 1000uF one.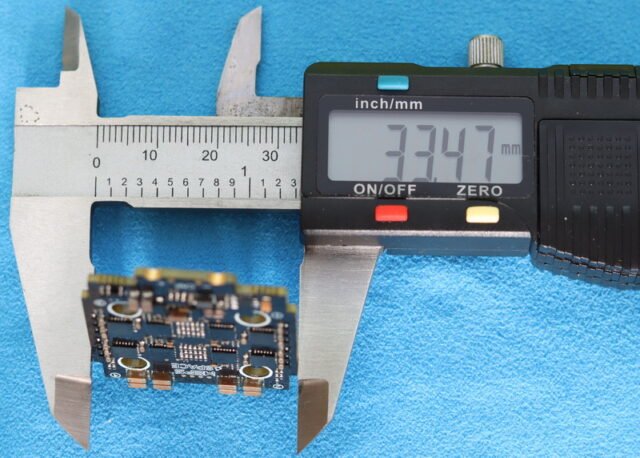 The board uses Onsemi High-end MOSFETs and is flashed with BLHeli_32 firmware.
When using a 4-in-1 ESC and flight controller from different brands, verifying the pinout before connecting them is crucial to prevent potential damage to the components. The Mini-Space 45A ESC comes with four FC cables -two of them can be easily customized according to your needs.
Product specifications
| | |
| --- | --- |
| Dimensions | 33.5*39.8mm |
| Mounting pattern | 20*20mm/Φ4mm |
| Weight | 9.5g |
| Battery compatibility | 2-6S lipo input |
| Low ESR capacitor | Yes, 470μ/35V |
| Max constant current | 45 Amps |
| Peak current | 55 Amps |
| Current sensor | Yes |
| Firmware target | BLHeli 32 |
Pricing, availability, and options
As I mentioned in the introduction part of my review, MEPS is a relatively new brand, and its products are available only on mepsking.com for now. The SZ2306 motors can be ordered for $21.90/pcs, and the MINI SZ45A ESC for US$99.90. Curiously the more powerful SPACE SZ60A ESC costs only $69.90. If you prefer 2207 motors that have a higher stator volume for more torque, you can also check the MEPS SZ2207 for the same price as the SZ2306.