I mostly printed drone parts in my last filament reviews, so I decided to try something else this time. Using Elegoo PLA filament, I printed a vertical modular hydroponic tower system for plants. My wife was happy to find out that she would always have fresh herbs at home.
Hydroponic tower gardens are becoming popular, especially among urban gardeners, due to the system's efficiency and small gardening spaces. While a ready-to-use system costs 500-1,000 dollars, a DIY 3D-printed hydroponic system can be made for way less. Depending on how many plants you want to grow in one tower, the project requires 2-5kg of filament. One spool of ELEGOO PLA costs only $13.99 during the spring sale. Besides the 3D-printed parts, you will need a small DC water pump, a programmable timer, a 30-50L water reservoir, and a few other accessories that should not cost more than $150.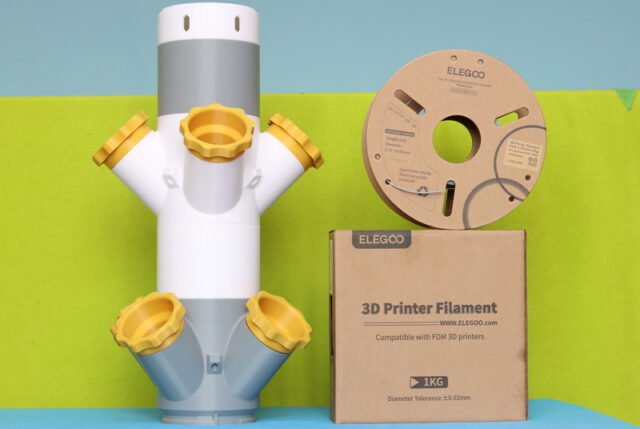 Thanks to their low weight and compact size, 3D-printed hydroponic towers are easy to move outdoors for the summer and inside for the winter. In theory, PLA filaments are not UV-resistive, so if you use them exclusively outdoors, you should consider using some kind of UV coating spray or PETG filament suitable for outdoor use. Also, white filaments are the wisest choice to be used under direct sunlight (objects printed with PLA can deform due to high temperatures).
Elegoo PLA filament review
Disclosure: I received these two PLA filaments as part of a product review collaboration with ELEGOO. Product specs and quality may vary according to the manufacturer's reliability, so I cannot guarantee that you will get the material that performs the same as seen in my article.
Last month Elegoo sent me two spools of their PLA filaments (white and grey). Both filaments were packed in the same type of recycled cardboard box. Elegoo also opted for environment-friendly cardboard spoolers. As it should be, the filaments were in airtight vacuum bags with small silica gel sachets inside. Printing nozzle temperature, color, and manufacturing batch identification are labeled on the bobbin. The spool has scaled windows showing the approximative remaining filament in grams -an ingenious feature I didn't see before. An unopened spool weighs 1182 grams.
The diameter tolerance of the filaments is +/- 0.02 mm. During my tests, I had no issue with spool tangling or unwinding. I used a 215℃ nozzle and a 60℃ bed temperature.
PLA (Polylactic Acid) is the most popular and widespread filament used in FDM 3D printing. It's affordable, easy to print, and, more importantly, safe (made from natural materials such as corn, sugar cane, sugar beet, or potatoes). PLA is also considered compostable and recyclable. PLA has a relatively low printing temperature compared to other thermoplastics (such as ABS), so it can be used with most FDM machines. PLA prints can be easily post-processed (polished and painted), allowing for an improved surface finish with no effort.
PLA absorbs water quickly, meaning it can become brittle over time if stored in a humid environment. To avoid this, you should keep the spool in the original package for the long term.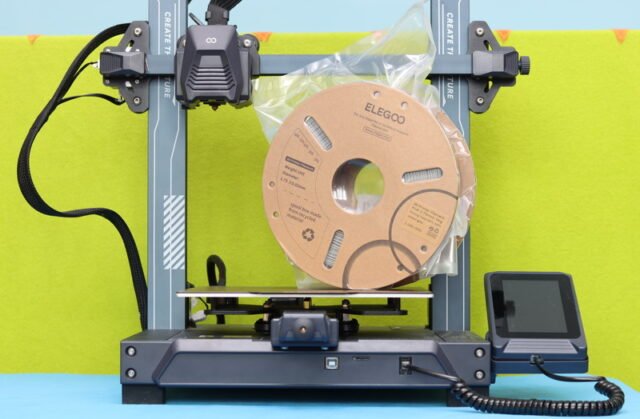 Using 1kg of Elegoo PLA filament, you can print three 4-way plating modules and a 10cm spacer or about twenty net pots.
Elegoo PLA: Key features
[High-Quality PLA Filaments] Made of high-quality PLA, a commonly used thermoplastic material features lower melting temperature and ease of use, low warp and shrinkage, is odorless during printing, and provides a glossy surface finish.
[Dimensional Accuracy & Consistency] Strict tolerances guarantee these PLA filaments of 1.75 mm diameter much smoother and more stable printing with the dimensional accuracy of +/- 0.02 mm; 1 kg spool (2.2lbs).
[Less-tangle and Easy to Use]Full mechanical winding and strict manual examination to ensure that the line is neatly arranged and less tangled and to avoid possible snap and line breaking. A larger spool inner diameter design for easy feeding.
[Clog-Free & Bubble-Free] Designed and manufactured with clog-free, superb layer bonding and great fluidity for smooth and stable extrusion. Complete dried for 24 hours before packaging and vacuum sealed with desiccants in the bag to protect the filament from moisture, with no clogging and bubbling problems.
[Wide Compatibility] Universal compatibility with most of the common 1.75mm FDM 3D printers on the market due to the high-quality standards in terms of manufacturing accuracy and a small dimensional tolerance of +/- 0.02mm.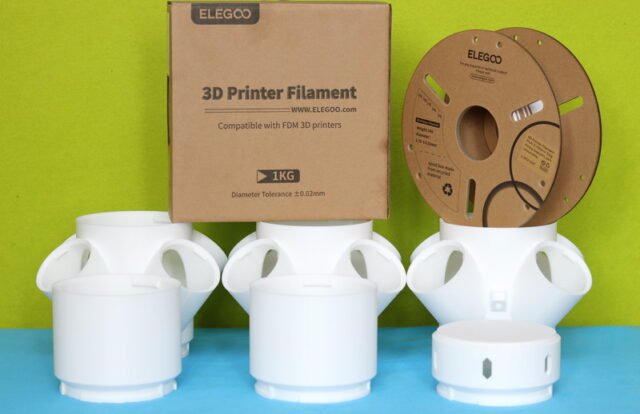 Elegoo PLA: Technical specifications
Mechanical proprieties
Dimensional Accuracy
+/- 0.02mm
Density
1.24 (g/cm3 at 21.5˚C)
Tensile Strength
44.2 ± 1.3 (MPa)
Elongation at Break
2.0 ± 0.4 (%)
Bending modulus
3100 ± 220 (MPa)
Bending strength
84.1 ± 2.2 (MPa)
Charpy impact strength
2.8 ± 0.21 (kJ/m2)
3D printing parameters
Extruder Temperature
205℃ – 220℃
Recommended temperature:215℃
Bed temperature
40℃
Fan speed
100%
Printing speed
30~100 mm/s
Layer thickness
0.1-0.2mm
Recommended build surfaces 
Masking paper, PVP solid glue, PEI
Pricing, availability, and color/package options
When I published my review, the Elegoo PLA filament was available for $13.99/kg with seven color options (black, white, grey, green, blue, red, yellow, orange, and silver). Ten black spools are available for only $99.99 ($9.99/spool). A pack of ten spools with four colors (6x black, 2x blue, 2x red, and 2x white) can be ordered for $109.99. Elegoo ships their PLA filaments from US West, US East, CA, UK, JP, AU, and EU warehouses.
3D printed Hydroponic Tower Garden using Elegoo PLA filament
From the many modular hydroponic tower projects available on thingiverse.com, I opted for the one designed and shared by Daniel Laszlo. His project seemed to be straight to the point, easy to print and well-documented. The first design was published in 2019 and has received more than 15th updates since then.
The project includes 1-5 way planting modules and three sizes of spacers (40m, 80, and 120mm) so you can customize your tower easily. You can freely mix planting modules with different numbers of pots and spacers. To test the Elegoo PLA filaments, I printed 4-way plating modules (3 in gray and 3 in white), and 40mm/ 80mm spacers. For the golden pots, I used PLA+ filament from a different brand.
I opted for a 5w submersible 12 DC water pump with a flow rate of 200l per hour. To save energy and add some resting time for the pump is recommended to use a programmable time. You can use WiFi programmable time for remote control. My current schedule is 10 minutes ON and 30 minutes OFF. You can test other combinations if your plants do not grow well.
Advantages of the 3D printed modular Hydroponic system
Modular structure, easily scalable, put modules together, twist & lock, done
Module adapter to be glued into water tank's lid
Filling module with cap
1/2/3/4/5-way planting modules (hollow version recommended)
Spacer modules (optional)
Internal/external water dispenser modules
Cone module for external water circulation systems
Lid
Custom net pot for Jiffy-7 41 mm grow medium (dry pressed dimensions: diameter 37 mm, thickness: 7.5 mm)
Custom net pot with 48 mm internal diameter for other grow medium (Rockwool + clay pebbles)
M3 screw points on planting modules for plant tagging and general fixture purposes
Almost any kind of water pump works with this system
2″ net pots fit into planting ports
Printing recommendations from the project designer
0.3 mm layer
3 wall count (0.4 mm nozzle = 1.2 mm)
15% infill
40 mm/s or more printing speed
no support
210×210 mm printing area required
Use wide brims whenever the surface touching the bed is small (filling module, hollow planting modules)
Printing times and filament requirement
Note that printing time is calculated using standard Neptune 3 Plus with standard speed settings and 20% infill. In the case of basic models such as the space modules, you can speed up things by 200-400%.
| | | | |
| --- | --- | --- | --- |
|   | Print time | Filament usage | Units required |
| 4-Way planting module | 27h | 226 grams | 6 |
| 80mm spacer module | 14h | 115 grams | 4 |
| 30mm spacer module | 8h | 68 grams | 2 |
| Lid with holes | 11h | 95 grams | 1 |
| Water dispenser | 12h | 102 grams | 1 |
| Water tank adapter | 4h | 35 grams | 1 |
| Plant pots | 7h | 50 grams | 24 |
| Total | 18 days | 3.5kg |   |
Estimated budget
| | |
| --- | --- |
| Four spools of Elegoo PLA filament | $13.99x4kg=$56 |
| Energy used during printing | $0.168*(0.3kW/h*18*24)~$22 |
| DC water pump | $15 |
| 12V timer and 12V AC/DC adapter | $15 |
| Nutrient water reservoir (30-50l) | $20 |
| Flexible Soft Silicone Hose Tube 19mm | 2mx2$=$5 |
| Liquid fertilizer 1l | $9 |
| Total cost | $142 |
What kind of plants can you grow in a hydroponic system?
Although almost any plant can be grown hydroponically, the most common are leaf lettuce, spinach, watercress, tomatoes, hot peppers, cucumbers, strawberries, watercress, celery, and some herbs (Basil, Mint, Oregano, Parsley, Sage, and more). When setting up the hydroponic tower, you should use plants with similar PH and nutrient requirements. Also, carefully wash the soil from the roots before transplanting them into your hydroponic system.