DJI's MINI series is a technology marvel. It produces outstanding video quality and remarkable flight performance in an ultra-light fuselage that weighs less than 250 grams (55 pounds). Can the new CFLY Faith MINI produce the same level of user experience for less than $200? Let's find out from this review!
Without any doubt, DJI is the undisputed market leader in the consumer drone industry. People tend to trust this brand because it comes with the best tech and continues improving its own technology. Unfortunately, like in the case of other tech gadgets, the biggest brands have their highest price too. FIMI, Hubsan, and C-Fly are only a few brands that try to offer friendly priced alternatives.
When it was revealed, one of the selling points of the Mavic Mini was its 249g weight, which meant it narrowly avoided the need to be registered with many civil aviation authorities. C-FLY's Faith MINI is even lighter, weighing just 239 grams. This allows it to stay under 250g, even with additional accessories such as landing-leg extensions or navigation lights.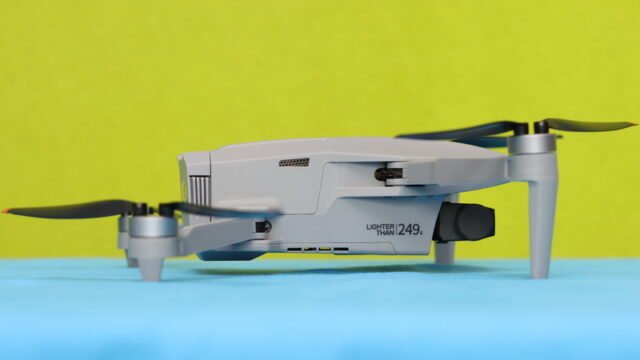 Key features
Compact size with folding arms. Weights just 230 grams;
Nanoscale resin fuselage with good fall resistance;
4K camera with a 3-axis mechanical gimbal;
Dual satellite positioning system (GPS+GLONASS);
Fail-safe return to home (RTH) on low-battery and RC signal loss;
DJI QuickShot-like autonomous shooting modes (Helix, Circle, Rocket, Drone, and more);
RC-downlink 720P long-range video transmission system.
C-FLY Faith MINI drone review
Disclosure: I received this quadcopter from RCGoing, to test it and do an in-depth review. Although the product was offered for free, all opinions in this article remain my own, with no influence from our partners.
The Faith MINI is the second C-Fly drone I have received for review and the manufacturer's fifth model. The company's vision is to make camera drones no longer a luxury but an everyday product that everyone can afford and experience.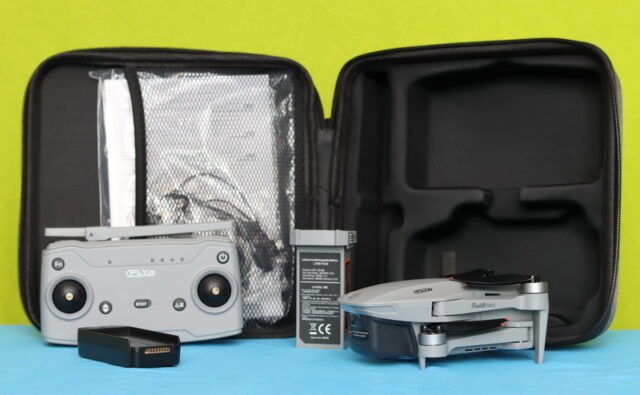 Like most similar compact drones, the Faith MINI also comes in a nice handbag that allows safely store your drone and carrying it all around. Besides the aircraft and its remote controller, the case can accommodate up to two spare batteries and other small accessories. It comes in the box with a pair of spare propellers (4leaf), a Charger, a micro USB cable, three RC to Phone data cables (micro USB, Type-C, and Lightning), and a user manual.
At a glance
This is no toy. It comes with a fully 3-axis mechanically stabilized 8-megapixel 4K camera, mounted in the nose, which can shoot video up to 4K in resolution. It has a compact remote control in the box, with a transmission range of up to 3km and a flight time of 27 minutes.
The Faith MINI looks very similar to the first-generation DJI MINI. It has very similar design lines. Even the vent holes are in the same location. With folded arms, it measures 142 X 84 X 57 mm and weighs 230 grams, including the battery.  It is truly compact, so it easily fits in the palm of my hand. You can stuff it in your backpack and still have room for plenty of other stuff. The micro SD slot and a USB Type-C port are on the tail, under the battery bay. Initially, I thought the Type-C port was for file transfer or firmware upgrade, but I read in the manual that it is for an external 4G GSM communication module.
It has stickers on each arm with unfolding instructions. The landing skids provide decent ground clearance for the camera. The unfold dimension is 165 X 188 X 59 mm.
This drone has no collision-avoidance sensors, just two tiny cameras on the belly that serve as optical flow sensors for indoor stability. There is something on the back that looks like went holes for a cooling fan or an ultrasonic positioning sensor. It has only one status indicator LED, which turns steady green when ready to take off.
The overall build quality is decent but not premium. The plastic fuselage feels cheap rather than high quality.
Pricing, availability, and options
With one battery, the Faith MINI can be ordered for $184.99 from RCGoing. This price includes all the accessories shown in this review, including the storage case. For extra 71 bucks, you can opt for the 'Fly More Combo' pack with two more batteries, which provides about 80 minutes of a fun time. As charging the battery takes more than two hours, I recommend the 3-battery pack.
Faith MINI: Camera and image quality
The C-Fly MINI's camera is surprisingly sophisticated, offering incredibly smooth, stabilized video even in windy conditions. It has a 3-axis mechanical gimbal usually found only on more expensive models. The angle of the camera can be adjusted remotely within 0-90°.
Quality is what you'd expect from a camera with an 8MP sensor: pretty decent without being outstanding. The humble 25Mbits video bitrate becomes obvious when you look a little more closely. The videos look washed and lack details. This camera fails at the limited frame rate (15fps at 4K and 25fps at 2.7K). Some of its contenders have 60fps at 4K and even more at 2.7K.
The Faith MINI can take 3840*2160 (8MP) photos in JPEG (compressed) image format without RAW capabilities.
Faith MINI: Battery life
According to CFly, the 7.7V 2100mAh LI-ION battery (D01018B) should provide about 27 minutes. The battery pack has four charging level indicator LEDs and an On/Off switch.
I got an average battery life of 21 minutes during my hovering tests. Wind and temperature will be factors in how long you can fly, and most of my testing was done in windless conditions and temperatures ranging from 18 to 23 degrees. Lithium batteries do not like cold weather, so you can expect about 2-4 minutes less flight time during winter.
Faith MINI: Remote controller and Range
The C-Fly MINI has an entry-level but comfortable controller with a retractable smartphone mounting system. The same transmitter is included with its bigger brother, the Faith 2 Pro.  It is powered by a 2600mAh LiION 18650 that ensures more than two hours of continuous usage. The front panel has five buttons (RTH, Take-off/Land, Pause, Sports mode, and Power). It has one shoulder button on each side. While the left allows taking photos, the right starts/stops video recording. Additionally, a dial-knob allows changing the 4K camera's angle. The controller can be toggled between mode 1 (US) and mode 2 (Japan) stick layouts using a secret key combination (described in the product's user manual).
On paper, it can reach 800 meters (2625 feet) in altitude and 3000 meters (9842 miles) from you. It has two foldable antennas with wires inside, proving they are not fake (just design elements). Maybe does not have the range of the latest DJI MINI 3, but that's still  far enough to lose sight of it because it's so small. LoS is the only safe way to fly, in my personal experience. Relying on first-person view with 200-500ms latency is a great way to lose your quadcopter.
I made the flight range test for every drone I reviewed in the same place -an unpopulated open field without obstacles and too much RF noise. The control distance variates widely depending on the flight altitude. At 70 meters, I flew 2050 meters far from me when the low battery fail-safe was triggered. I still had a stable FPV signal, so the advertised 3000-meter range could be achieved without issue.
CFLY-GO Mobile APP
As with other drones, the most advanced flight and camera features can only be accessed via the accompanying C-Fly GO app, which is available on Android and iOS. You connect via your phone USBLightning and dock it with the remote control by loading between a pair of arms that fold out from the bottom of the controller. Once the remote is paired with the quadcopter, you can see the live images from the drone on your phone's screen.
This APP was released on May 3, 2023, and there are only 100+ downloads on Google Play, so you can expect some bugs. In addition to basic configurations and firmware upgrades, the APP offers automated flight modes to help you create more dramatic shots without being an expert pilot.
In Rocket mode, the drone flies straight up to a preset altitude, with the camera keeping you in the middle of the frame. Choose Circle mode, and the drone will fly around you in a smooth circle, again keeping you front and center. If you select the Dronie mode, the Faith Mini flies back and away from you, rising into the sky as it does so, while in Helix mode, it flies in a corkscrew pattern around you with an increasingly broad radius. Remember that this drone has no collision avoidance system, requiring large open spaces without obstacles when playing with these autonomous features. I have not had time to test the active tracking (follow me) yet, but I read in another review that this feature does not work as it should.
Initial setup and flight experience
Before your first flight with the C-Fly MINI Faith, you must create an account in the APP and activate the aircraft. A similar procedure is required by all consumer DJI drones, including the MINI series.
My first flight almost ended crashing. I forgot about the initial gyro and compass calibration. The drone started to fly unpredictably. It changed its horizontal position randomly by a couple of meters. Luckily I was in a vast open space, and I managed to land quickly without hitting anything.
After calibrations, it worked well, providing an outstanding flight experience for such a budget drone. It's nimble and responsive. C-fly's app isn't quite as nice as what you usualy get with the DJI's drones, but it works well enough. As expected, being so light, I do not recommend using it in windy conditions -especially landing in tight spaces will be difficult. When "Sport" mode is enabled, it becomes pretty agile, but it is still not a racer drone.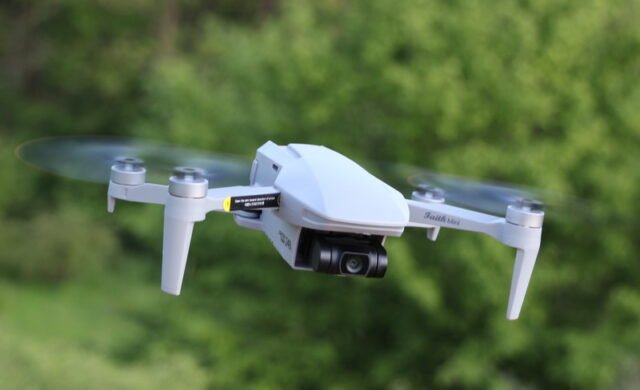 GPS-based safety features mean that if the drone's flight battery is near empty, it will autonomously return to the take-off point. If the aircraft loses the connection with the transmitter, it will return to you. At least 7 satellites require GPS lock before take-off to use this feature. GPS positioning in consumer drones does not have cm-accuracy, so it can miss your landing pad by a few meters when performing RTH. Auto-lading is initiated when the battery level reaches 15%.
I was impressed by the range of this little drone. I expected to lose the video signal after a few hundred meters but had no issue flying 2KM far. It clearly uses a more advanced and reliable communication technology than the standard 5Ghz WIFI most budget drones adopt.
Is this a reliable DJI Mini alternative?
Let's be honest, budget is always a deciding factor in choosing something other than DJI. If you don't have the money for Mini 3, the Faith MINI is an excellent option for beginners. It is small, stable, and easy to use. For sure, in image quality-wise, the C-Fly is far behind DJI, so if you need the absolute best camera performance, there is no real DJI MINI 3 Pro alternative right now.