A few weeks ago DarwinFPV introduced their new BabyApe Ⅱ drone with basic waterproofing and other nifty upgrades, including a more durable frame structure. Our review covers unboxing, features and technical specifications, initial setup, and flight performance.
3.5″ FPV drones, such as the DarwinFPV BabyApe Ⅱ, are considered more suitable for beginners or those who are new to flying drones than 5″ ones. They are often used for indoor flying with blade protectors, close-quarters maneuvering, and learning basic flight control. In theory, smaller drones tend to be more agile and responsive in flight due to their compact size and lower weight. They can change direction quickly and perform acrobatic maneuvers with ease. With 3.5″ drones, you can stay under 250 grams and fly without registration, the weight limit in most countries.
Despite its compact size, the BabyApe Ⅱ promises up to 13 minutes of battery life, a 1.5km range, and a maximum flight speed of 92km/h. In addition to the onboard FPV camera, it can be equipped with a GoPro Bones-like 4K action camera. Furthermore, it comes with an IP54 rating, which means that is protected against contamination from limited amounts of dust and other particles.
Technical specifications
Dimensions
Wheelbase: 156mm
126*150*50mm
Weight
Analog: 135.4g
HD Digital: 151.4g
Flight controller
F411 AIO with 30A Bluejay ESC
Motors
4S:1504-3600KV
6S:1504-2300KV
Propellers
HQProp T3.5x2x3GR-PC
FPV system
Analog: Darwin FPC camera + 600mW VTX
HD Digital: RUNCAM LINK Wasp Digital
Radio receiver
PNP or ELRS 2.4Ghz
Battery
650-1100 mAh (4S/6S)
DarwinFPV Baby Ape V2 review
Disclosure: I received this 3.5″ freestyle FPV drone in a product review collaboration with DarwinFPV. Product specs and quality may vary according to the manufacturer's reliability, so I cannot guarantee that you will get a drone that performs the same as seen in my article.
DarwinFPV has always been committed to designing cost-effective FPV drones. Based on pilots' feedback, they constantly improve their products to solve the problems that users are most concerned about and bring better products to everyone who uses it.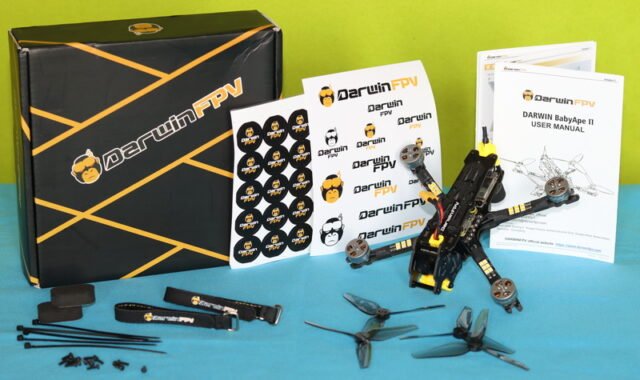 The second iteration of BabyApe comes exactly in the same type of black/yellow box as the other two DarwinFPV drones I reviewed before. They sent me the PNP version without a radio receiver and battery. In addition to the drone, the box includes a set of HQProp T3.5 propellers, two spare landing dumpers, two battery velcros, and two sheets of brand stickers. The included user manual is fairly detailed and covers the FC wiring diagram, basic BetaFlight settings, and propeller installation.
At a glance
Compared to a full-size 5″ FPV drone, the DarwinFPV Baby Ape Ⅱ is much smaller and lighter. It fits in your palm with ease. It adopts Wide-X (Hybrid-X) frame structure that takes the best of the H and X frames and joins them together. The 3.5mm arms are in a sandwich of 2mm bottom and 1.5mm middle plates. The 1.5mm top plate has anti-slip rubber padding for secure battery installation.
The BabyApe V2 3.5″ frame has a wheelbase of 156mm and measures about 126*150*50mm. It can accommodate two 20x20mm stacks. In the front part has an F411 flight controller and a 30A 4in1 Bluejay ESC with waterproof coating. The FC features two UART ports and a buzzer out. It has a built-in barometer and SD card slot for black-box data logging. Out of the box, it comes with BetaFlight 4.3.2 firmware and a pre-wired SBUS radio receiver connector. The 25-600mW VTX and its mini dipole antenna are on the back. Inside the frame, behind the FPV camera, is a tiny but load buzzer and a low ESR capacitor.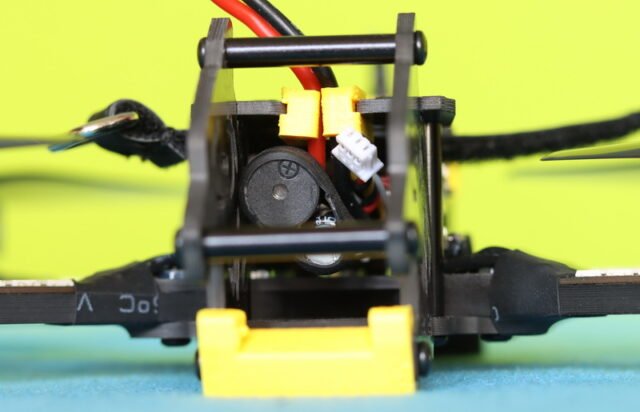 It has six status LEDs on each arm. Clear white on the front and yellow on the back. The light intensity changes on the throttle level and the drone's flight direction. The XT30 battery connector is located in front instead of the tail to avoid interference with radio antennas. The TPU bumper in the front can also be used as a T-type ELRS antenna mount.
The 1504-type brushless motors are equipped with HQProp 3.5″ 3-leaf propellers. While the 4S version comes with 3600KV, the 6S edition with 2300KV. The motors are protected during a collision by two "fingers" on the end of the arm.
To install my Insta360 GO 2 camera, I had to print a TPU mount. The STL file was sent to me by DarwinFPV, and they said that is not officially available yet.
Pricing, availability, and options
The analog BabyApe 2 is available in many package options with a starting price of $139.99 for the analog version without a radio receiver and flight battery. On the opposite side, for the fly more combo digital edition (RunCam Link Washp) with an ELRS radio receiver, four packs of propellers, and four 850mAh batteries, you will need to pay $412.94. Both options are available with 4S and 6S power options. If you want to build a custom build, the bare frame (w/o TPU parts) is available for $29.9.
BabyApe Ⅱ FPV system
The BabyApe V2 has two FPV system options: analog (shown in this review) and digital (RunCam Link Wasp). Analog FPV is still an excellent option for those on a tight budget. Maybe does not provide the same immersive user experience as digital FPV but is more cost-effective, easy to set up, and has wider compatibility. In terms of latency, analog FPV is still better than digital FPV, which is essential if you are a freestyle pilot.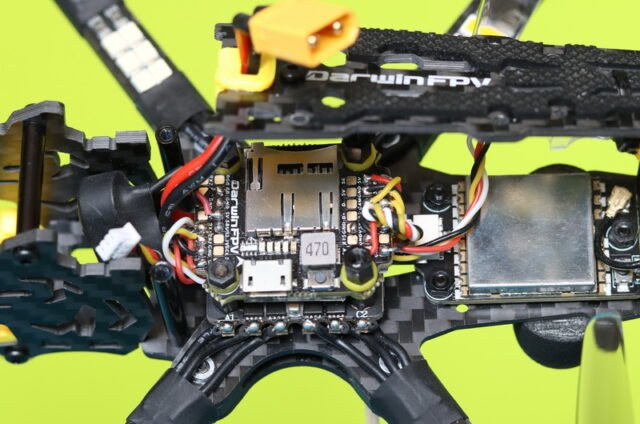 The camera mount allows angle adjustment, but the wires are super-short, and when I tried to lower the angle, the connecter disconnected. To put it back, I had to take it apart. When I removed the screws, I noticed they don't have any thread locker glues, so you can lose them midflight.
Besides the poor color reproduction and slow exposure change to lighting conditions, the biggest problem with the camera is the narrow field of view (160° FOV). The "Cement" 1200TVL camera features a 1/3″ CMOS sensor, 2.1mm lens, and IP67 waterproof rating.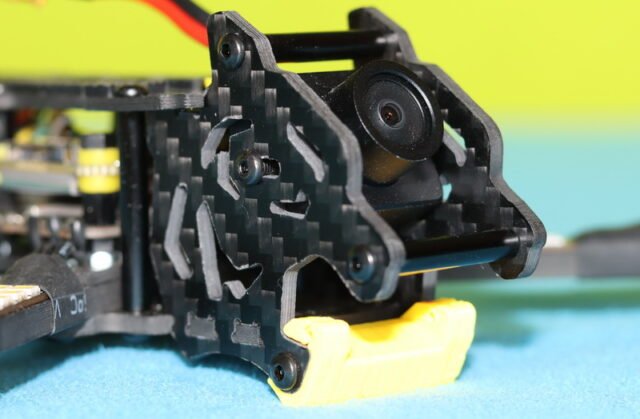 The VTX output power can be toggled between 25, 200, 400, and 600mW. Power and channel adjustments can be made via the onboard control button or remotely using BetaFlight, thanks to the SmartAudio feature.
Initial setup, BetaFlight configuration, OSD, and binding
As I received a PNP kit, the first thing I had to do was to install a radio receiver. As with all my recent FPV drones, I opted for an ELRS receiver. I used UART1 pads for wiring the RX module. Remember that FC's TX1 pin goes to RX pin on ELRS, respectively FC's RX1 goes to the TX pin on the radio module. To enter the binding mode, you must plug/unplug the drone's battery three times.
Next, I connected the Baby Ape II with BetaFPV configurator through the micro USB port and checked the motor layout and direction. I changed the receiver mode from SBUS to CRSF and assigned motor arm/disarm and flight mode switches. Lastly, I customized the OSD screen with my usual telemetry data and layout.
Using Blackbox Explorer and PIDToolBox you can analyze the flight logs recorded on the micro SD card for fine tunning filters and PIDs. Blackbox gives you a complete insight into what's really going on with the drone midflight, what signals are collected from the sensors, and what response gives to the ESC, allowing you to unleash its full potential.
When everything seemed configured correctly, I installed the propeller on the motors. From unboxing to the first hovering test, took me only 30 minutes, which included soldering the ELRS module as well.
Flight experience
If you find 5″ quad too powerful and scary to fly in urban parks, this 3.5″ might be a better option. It's quieter and handles very much just like a 5″. Anyway, hovering at 50% of the throttle is not exactly what you would expect from a freestyle drone.
I crashed it on my first flight due to the stock aggressive camera angle. Mostly I only saw the sky and a dark ground due to the poor exposure control. The mount allows you to adjust the camera angle depending on your flight style and the surroundings where you're flying the drone, but the camera wires will need to be replaced (at least in my case). The navigation LEDs on the arms are visible after sunset, but they are barely noticeable in strong daylight. The loud buzzer helped me find the crashed drone in the high bush.
The 13 minutes battery life proved to be too optimistic. During my tests, I got 5-6 minutes of flight time with a 4s-650mAh pack and 6-8 minutes with an 850mAh LIPO. If you take it easy, having just a relaxing flight cruising around the house, it might give you 9-11 minutes of flight time on 4S 1000mAh.