After being on the market for over five years, Torvol upgrades its popular Quad PITSTOP product line, including backpacks, cases, and organizers. Torvol PITSTOP range features a dedicated workspace for quick and effortless adjustments and modifications to quadcopters, allowing pilots to spend more time in the air. Torvol's PITSTOP range includes the Quad PITSTOP Backpack PRO, the Quad PITSTOP Backpack, the Quad Transmitter case, and the fire-resistant LiPo Safe Pouch.
The Torvol LiPo Pouch is a significant innovation in drone accessories. The pouch is made of fire-resistant and explosion-proof material that helps contain any potential fire or explosion if the batteries are damaged or short-circuited. The material also provides a degree of thermal insulation, helping to prevent the spread of heat or flames. The pouch is available in several sizes to accommodate different battery sizes and quantities.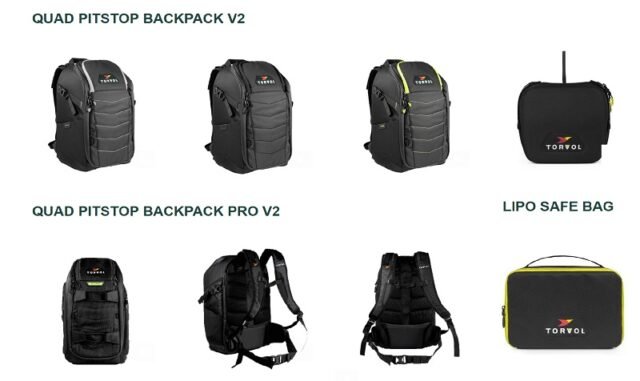 Urban backpack for drone and photo enthusiasts from Torvol
As Torvol did for FPV racing, they looked at the two other main categories in the droning landscape. For freestyle drone pilots, Torvol has designed products that cater to the high-speed and agile demands of this type of flying, including backpacks and cases that hold freestyle drones, batteries, and other accessories.
The Torvol Urban Backpack is a high-quality and versatile backpack designed for urban adventurers. It has a sleek, modern design that is stylish and functional, with durable and weather-resistant material construction.
The backpack features a spacious main compartment with adjustable dividers, allowing you to customize the interior layout to fit your needs. It also has multiple organizational pockets, including a dedicated laptop compartment that can fit up to a 15-inch laptop and a front pocket with convenient top access for easy and quick storage of your essentials.
In addition to its ample storage space, the Torvol Urban Backpack has comfortable and ergonomic straps and a padded back panel for all-day wear. It also comes with a rain cover to protect your gear from the elements during wet weather conditions.
Torvol MINI EXPLORER BACKPACK
Lastly, Torvol designed Mini Explorer for Imaging enthusiasts, a compact and versatile backpack for carrying small drones and their accessories. Made of durable and water-resistant materials, this backpack can withstand tough outdoor conditions while keeping your gear protected.
The backpack features a customizable main compartment with adjustable dividers for your drone, batteries, remote controller, and other small accessories. The dividers are removable, allowing you to adjust the space according to your needs.
In addition to the main compartment, there is a front pocket with several elastic loops to store small items like cables, adapters, and memory cards. There are also side pockets for water bottles or tripods and a top pocket for storing sunglasses or other fragile items.
The backpack is designed for comfort with a padded back panel and shoulder straps. The adjustable chest strap provides additional support when carrying heavier loads. The backpack also has a rain cover to protect your gear in wet conditions.
Overall, the Torvol Mini Explorer is an excellent option for drone pilots needing a compact, portable backpack to carry their gear. It's also suitable for photographers or other professionals who need a reliable and versatile backpack for carrying small electronic equipment and accessories.