When it comes to soldering small electronic components, TS101-like pen-type soldering irons are the most popular. These compact, lightweight welding tools resemble a pen in shape and are designed for small-scale soldering tasks. They generally have fast heat-up times, allowing you to start soldering quickly. Furthermore, the MiniWare TS101 offers dual power input and precise temperature control, allowing you to adjust the heat settings according to your specific soldering needs.
A soldering iron is a must-have in any RC enthusiast's toolbox, whether want to repair, maintain, upgrade, or build a custom drone. If they need to perform some field work, a soldering station can be quite challenging to carry around, and it occupies a lot of space, don't mention that they usually require an AC outlet. The MiniWare TS101 can be powered from any 4S or 5S drone LIPO battery with no issue, allowing the replacement of a broken motor or a damaged camera right on the flight field. Officially does not support fully charged 6S (25.2V) LIPO batteries, but I use it this way with no issue.
For a long time, the TS100 portable soldering iron was the most popular and highly regarded soldering iron among hobbyists and professionals alike. Its successor, the TS101, promises to be smarter and even more powerful.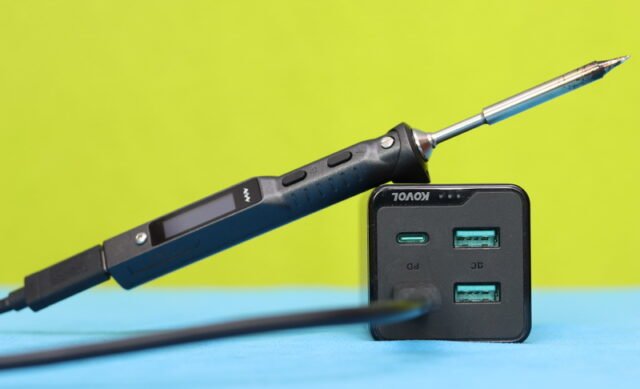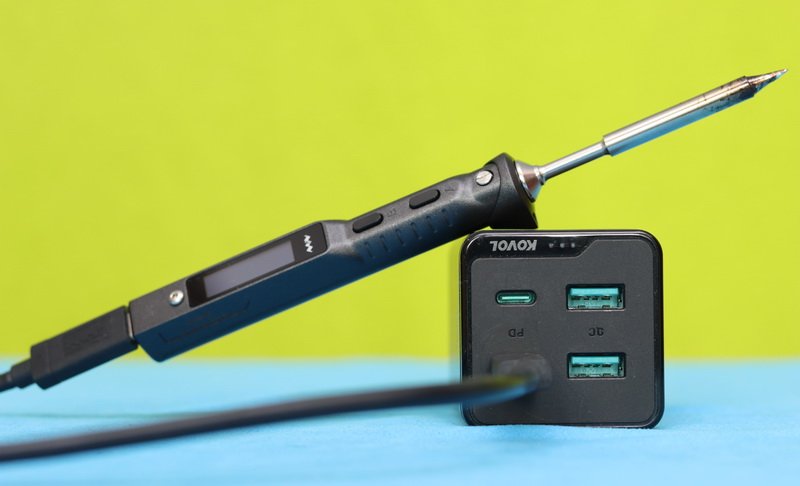 What's new in the TS101 compared to the TS100?: Nine innovative upgrades
Brand new look
Dual DC + PD Type-C power input
Wide voltage input DC 9-24V or PD 9-28V
Boost mode
50-400°C temperature control
Wider screen
New settings menu
Multipurpose anti-slip cap
Compatible with TS100 tips
TS101 soldering iron review
Disclosure: I received this soldering iron from MiniWare to test it and do an in-depth review. Although the product was offered for free, all opinions in this article remain my own, with no influence from my sponsor.
Guangzhou e-Design Intelligent Technology (MiniWare) was established in 2000 in Guangzhou, Southern China, and claims to be a leading technical service enterprise that integrates product design, technology development, independent production, and sales, meanwhile offering customized production service (OEM and ODM). The company's first smart mini soldering iron was launched in 2015 and had great success.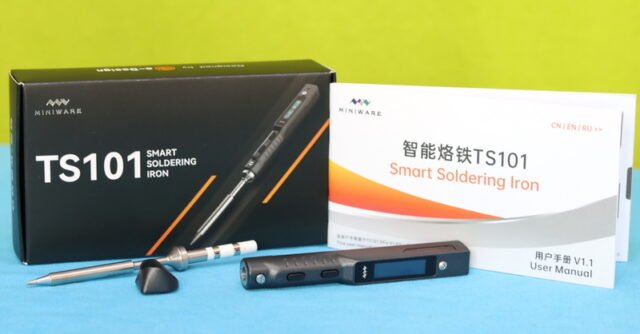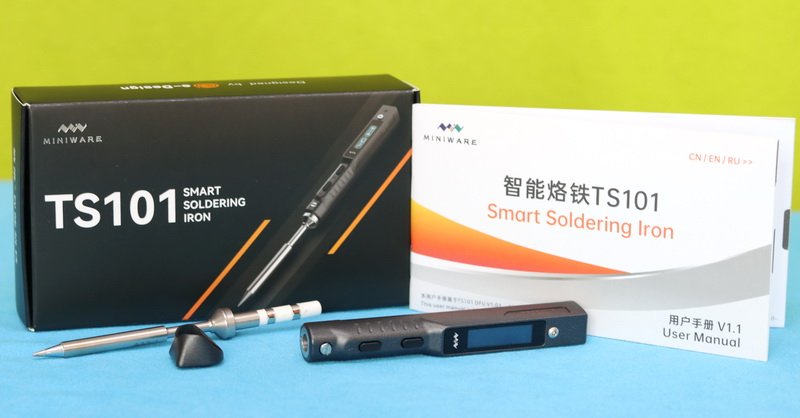 MiniWare sent me a basic TS101 kit with only one soldering tip (TS-B2). The box includes the stand ring (anti-slip cap) and a silicone USB Type-C PD cable. A short instruction leaflet is also provided.
At a glance
As you can see in the picture below, there is not much change in terms of design and size between the TS100 and TS101. Both have two buttons (A and B), two screws (tip-locking and grounding), and a status screen. A small removable ring with anti-rollback features prevents the soldering iron from rolling across the table. This micro stand is the most noticeable design upgrade from its predecessor.
The TS101 measures 98 x 16.5 x 16.5mm and weighs 33 grams (without a soldering tip installed). The charcoal-black plastic body has a slight texture designed to provide a better grip during soldering. Both buttons are comfortably placed, and the larger 128 x 32-pixel OLED screen is easy to read regardless of the light conditions. Pressing the "A" button (lower, close to the tip) starts heating up the iron to your preset temperature. Through button "B" (upper, nearest to the power inputs), you can access the main menu that includes custom soldering temperatures, sleep timers, and tweaking the power settings.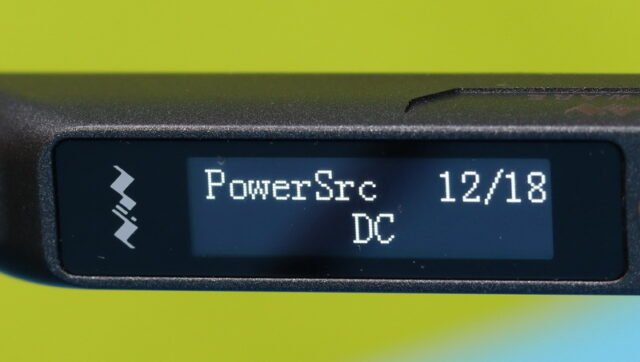 Like its predecessor, the new TS101 also uses direct drive cartridge tip technology. Actually, the TS100 tips are 100% compatible with its successor. According to your needs, you can choose from nine different tips (K, KU, ILS, I, D24, C1, C4, B2, and BC2). The heating element and the temperature sensor are integrated within the tip, giving instant heating and deadly accurate temperature control. Swapping the tip is easy. Use a small flat screwdriver to loosen the screw, slide out the soldering tip, insert a new soldering tip, and tighten the screw back. Remember to do this when the iron is cold!
TS101: Mighty powerful
These days, almost everything is powered or charged through a USB Type-C port. All my tech devices use this kind of power input, from my laptop, handheld gimbal, and action cameras, to my DJI drones. PD 3.1 USB chargers can deliver up to 240W on a single output port. Thanks to the latest TS101 firmware, the power is increased from 45w to 90w when the input is 28V.
The soldering iron can also be powered through a standard 5.5mm x 2.5mm size input interface using a 9V to 24V (65W) power source. So, you don't need to order another charger if you have one from your old laptop or other electronic appliance. Using an XT60 To DC DC5525 cable, you can power the TS101 from a 4-5S LIPO battery on the field operation.
TS101: Firmware upgrade and Config file
Flashing new firmware on the TS101 is an easy job. All it requires is a DFU file from the Miniware forum. Plug the TS101 into your PC via the USB C connector, and it will appear as a removable drive. Copy the DFU file, and in a few seconds, your soldering iron is running the latest firmware. Unfortunately, the TS101 is not supported by the popular IronOS – Flexible Soldering iron control Firmware. Customizing the TS101 can also be done through the config file stored on the root of its internal flash drive.
Default config.txt
T1_Temp=400 #(C:50~400 F:122~752)
T2_Temp=330 #(C:50~400 F:122~752)
T3_Temp=350 #(C:50~400 F:122~752)
SlpTemp=250 #(C:50~400 F:122~752)
BoostTemp=380 #(C:50~400 F:122~752)
SlpTime=180 #(Sec:60~999)
IdleTime=240 #(Sec:60~999)
Backlight=3 #(1~10)
TempUnit=0 #(0:C 1:F)
DisplayDir=1 #(1:Right 2:Left)
TempStep=10 #(1~25)
PowerSrc=0 #(0:DC 3~6:3~6S)
MinVolt=3500 #(mV:3300~4000)
LowCurrent=0 #(0:OFF 1: ON)
PDPwMax=0 #(0:OFF 18~45:18~45W)
MsenUnit=3 #(1~5)
User experience
After unboxing and verifying on my computer that it comes with the latest firmware, I inserted the tip into the central unit, connected a 4S battery, and powered it on. Then, after pressing the lower button, the temperature got up. I set the desired temperature and could start soldering. It can reach up to 400℃ and works like a charm.
Soldering is about more than just fusing metals. It gives you an understanding of electronics, enabling you to see how drone components and parts work together to make flying possible.
I used the MiniWare TS101 Smart soldering iron for my last three FPV drone builds. Welding the battery cable to the ESC board is the most challenging part. Despite the large gauge wires and the large ground plane sucking up the heat, the TS101 did a beautiful job. Setting the temperature to 400℃ and using lots of flux on the soldered joint is essential. Also, remember that a clean, freshly tinned soldering tip helps with better heat transfer and gives you clean joints. Only supply heat for the minimum required time. Prolonged heating and pulling on solder joints before molting tin can lead to pulling pads off the PCB. Once you have soldered everything, meticulously review all the solder joints to ensure there are no shorts, especially between the battery pads. You can also do continuity tests between the motor pads; there should be no continuity.
The TS101 is also great for sensitive and small drone components. Using the right soldering tip (TS-I or TS-ILS ) is delicate with the flight controller's tiny pads. It has a "boost" feature that can increase the temperature to 400 degrees Celsius in a few seconds. Press and hold button A for as long as you need the higher temperature.
Price, availability, and options
The TS101 can be found on Aliexpress and many hobbyist online stores with many package options. The base kit shown in this review has a starting price of $70. Combo kits, including six types of welding heads, a 65W power adapter, a mini stand, a ground clip, and a tin tube, can be ordered for $130. The TS101 is sold under various brands such as GoBuying, YANHUNING, TOOLSAVING, NovelLife, CROSS MARS, JUJNE, YUMIN, Dfhellla, and many more. Of course, all claim to be the "original" one 🙂
Technical parameters
Material: metal and plastic
128x32px OLED display
Input power ports:

DC 5525 Jack
USB-C (PD3.1)

Input voltage range and power:

DC Jack 9-24V, up to 65W;
USB-C (PD3.0) 9V-28V, maximum 90W with the latest firmware

Temperature control ranges: 50-400℃ (stability +/-2%)
Soldering bit to ground resistance: <2Ω
Size: 98 x 16.5 x 16.5mm
Weight: 33grams