If you want cinematic-like smooth footage with natural motion blur, you must slow down the DJI AVATA or O3 Air Unit shutter speed. In order to do this, you will need a good set of ND filters. By reducing unwanted reflections, a CPL filter can enhance your video quality when you fly over water surfaces. K&F Concept's Avata filter kit includes four ND values (4, 8, 16, and 32), a CPL, and a UV filter to protect your camera's lens from scratches during flight and storage.
The KentFaith NANO-X filters are made from high-quality Japanese optical glass with 28 layers of nano-coating to minimize light reflections, repel water, and be scratch-resistant. Using aircraft-grade aluminum alloy frames, the filters weigh just half a gram and are compatible with the DJI Avata CineWhoop-style FPV drone and the O3 Air Unit HD digital FPV system. Both DJI products allow 4K@60fps recording with RockSteady stabilization.
DJI's Avata FPV drone lets you experience what it's like to fly through the air, and whether you do that on cloudy to bright, sunlit days, you can use these filters to manage the exposure of the videos you capture. The test videos in this review were recorded using a custom build 6″ FPV drone with an onboard DJI O3 Air Unit.
Key features
[Avata UV/CPL/ND Filter Set] Specially designed for DJI Avata, 6pcs: ND4, ND8, ND16, ND32, CPL, UV Filter. This filter set reduces light by 2/3/4/5 f-stops, suppresses reflections, blocks UV rays, and protects the lens. This filter set meets your all-day needs.
[Multi-Coating] Made of high-quality Japanese

AGC

glass with 28 layers of nano-coating to reduce reflections, waterproof, scratch-resistant, mildew-proof, and oil-proof to ensure high-definition images.
[Ultra-Light Filter] The filter frame is made of aircraft-grade aluminum alloy. Each filter weighs only 0.5g, which does not affect the drone's performance.
[Blackened Surface] The filter surface is painted black to minimize reflections and reduce image impact.
[Quick Release Design] Easy to assemble, fit well for gimbal, sturdy and firm.
K&F Concept DJI AVATA & 03 UVNDCPL filters review
Disclosure: I received this Avata/O3 filter set as part of a product review collaboration with K&F Concept. Product specs and quality may vary according to the manufacturer's reliability, so I cannot guarantee that you will get products that perform the same as seen in my article.
The K&F Concept's NANO-X DJI AVATA Filter Set comes in a nice transparent case with foam padding and includes 1x Clear UV, 4x ND, and 1x CPL. The box has four logos showing the filters' main features: 8K Ultra HD, Multi-Layer coating, Water Proof, and Anti-Scratch coating. The filters are designed with a quick-release feature for easy attachment and removal from the camera.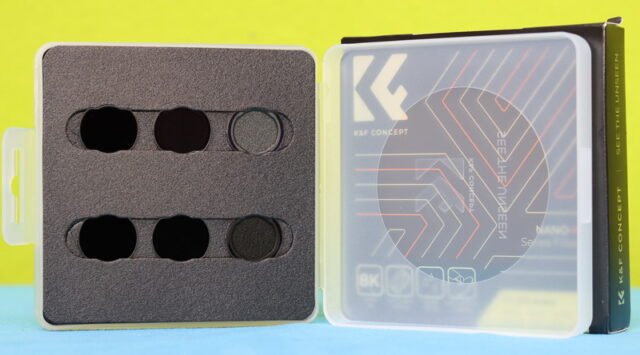 1. DJI AVATA / O3 Air Unit Neutral Density filters (ND4, ND8, ND16, & ND32)
In a nutshell, Neutral Density (ND) filters reduce the amount of light entering the camera sensor, allowing you to adjust the shutter speed to a desirable level. A lower shutter speed has a "side effect" that helps reduce jello, making your footage smoother.
Neutral Density filters are characterized by their ND values, representing the amount of light they block from reaching the image sensor. ND values are denoted in stops and provide a standardized measurement to compare the light-reducing capabilities of different filters. Each stop reduction in light corresponds to halving of the light entering the camera. For example, an ND2 filter reduces the light by 1 stop, an ND4 filter by 2 stops, and so on. Selecting the appropriate ND value depends on the shooting conditions and desired creative outcome. It is essential to consider factors such as available light, the desired depth of field, and the effect of motion blur.
ND4 (2 f-stops): Minor reduction in brightness
ND8 (3 f-stops): Mostly cloudy days or morning/late afternoon sunlight
ND16 (4 f-stops): Partly cloudy days or early to mid-morning
ND32 (5 f-stops): Designed for very bright days
2. DJI AVATA / O3 Air Unit CPL filter
Circular Polarizing filters (CPL) selectively block certain polarized light waves, allowing photographers to capture vibrant and dynamic scenes with improved clarity and contrast. Commonly CPL filters consist of two layers of glass with a polarizing film in between. The front glass can be rotated to achieve the desired effect. Instead, the K&F Concept CPL filter seems to have only one glass with a polarizing coating.
Flying over water, this CPL filter gave me the best results. The blue sky is nicely reflected on the lake's surface.
3. DJI AVATA / O3 Air Unit UV protection filter
Besides managing the amount of ultraviolet light that passes into a camera, photographers highly appreciate UV filters because they protect the camera's lens from dust and scratches that can occur from small contact with rough surfaces. Being made from very thin glass, they break easily during a crash losing their protective purpose. Anyway, I will keep the UV installed on my DJI O3 camera when no other type of filter (ND or CPL) is required.
While statistically, UV filters can reduce the amount of light let into a camera between 0.5% to 5%, the reduction in quality is almost unnoticeable or at least can be fixed when editing.
Price, availability, and options
KentFaith has a wide range of DJI AvataO3 filters, including this comprehensive kit. The Avata 6pcs filter set shown in this review is priced at $53.99. The ND64 filter can also be ordered for $17.99 if you need a higher ND value. Most of these M3Pro filters are also available on their Amazon store.