At first look, the Hawkeye 4K Thumb camera is an excellent choice for those that find the GoPro too big or expensive but still what to record stabilized UHD videos. Weighting just 15.5 grams, it can be installed on almost any drone size. In the case of micro FPV drones, Gyroflow stabilization is a real alternative to built-in electronic image stabilization (EIS) such as Hypersmooth and Rocksteady.
Gyroflow is a free post-processing video stabilization tool, which uses gyro data for accurate motion compensation. With the help of precise lens calibrations, rolling shutter correction, and tweakable stabilization algorithms, it can produce gimbal-like stabilization with no or minimal weight penalty. The fact that it is a time-consuming process, is a major disadvantage of gyro stabilization technology.
Most standalone 4K action cameras tend to be heavy due to their large sensor, LCD screen, battery, and additional components. Instead, "naked" cameras, such as the Hawkeye 4K Thumb, have inside only the minimal hardware required to record videos. To be as light as possible, their cases are also minimalist, making them more vulnerable to damage from water, dust, and physical impacts.
Hawkeye FireFly 4K Thumb review
Disclosure: I received this 4K drone camera from Hawkeye FPV to test it and do an in-depth review. Although the product was offered for free, all opinions in this article remain my own, with no sponsor's influence.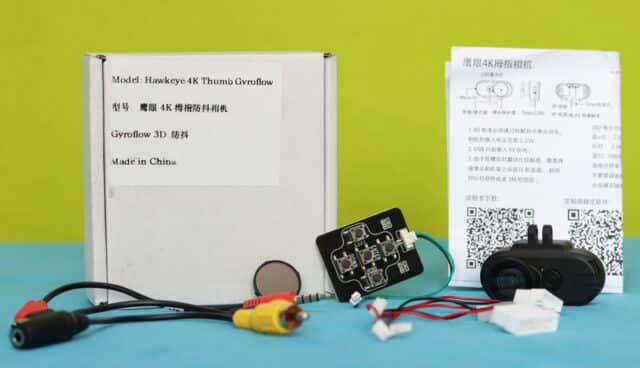 Hawkeye's Thumb 4K camera is packed in a blank not too fancy cardboard box with the following accessories: three video cables (USB Type C to 3.5mm RED, USB Type C to 3.5mm Black, and 3.5m female to RCA), three balance power cables (3, 4 and 6s), two filters (ND16 and UV), and 5key control board.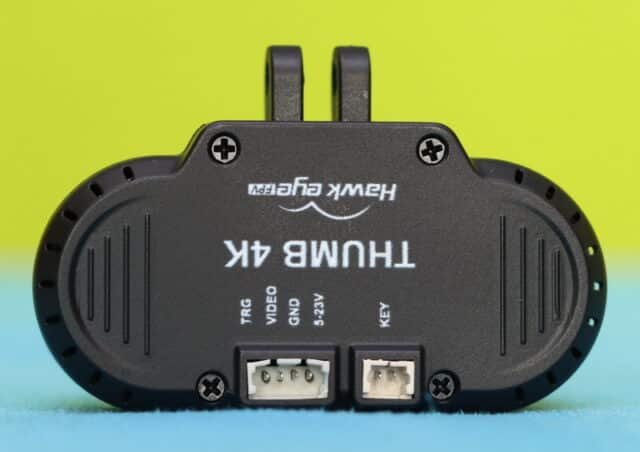 The tiny thumb-size camera measures 49×22×13.5mm and weighs almost 16 grams. On the front, there is a super-wide angle F/2.0 lens, power/mode button, and status LED. It has two ports on the back:
4pin for power, video out, and remote control
2pin for control keyboard
The red USB – AV cable with the "DJI" label can be connected directly to the Goggles V2 video-in port. Thanks to its low latency, you can connect a VTX for FPV flight flights via the video-out pin.
On the left is a multi-purpose Type-C socket with power, video-out, file transfer, and WEB camera features. Data transfer is pretty fast at 27MB/s. Downloading 1GB (4 min flight video) takes just about 30 seconds. It records the videos on a micro SD card and the gyroscope data in a separate file (*.gsv), which can be loaded directly into Gyroflow software.
You can use Micro SD cards with a size of up to 64GB. Make sure it is a Class 10 UHS 3 card that can handle 4K resolution. The Micro SD card is accessible from the right and has a safety flap that prevents ejecting the card during a crash.
Two lens covers are included, one with transparent UV glass to protect the lens and the second with an ND16 filter for bright sunny days.
Mounting options
The FireFly 4K Thumb camera has an integrated mini 3mm GoPro mount that allows you to install the camera horizontally on your drone. If you need a different mounting solution, on Thingiverse you can find lots of 3D printable (horizontal and vertical) project files.
Power options
It's amazing how HawkeyeFPV made a 15.5-gram camera that can record 4K video with gyro data. Unfortunately, the lightweight design has a huge compromise. Without a built-in battery, the Hawkeye 4K Thumb can't be used as a standalone action camera like the Insta360 GO 3.
The Hawkeye Thumb 4K camera is intended to be powered by the drone's main battery.  It can be powered by anything between 5V and 23V. The manufacturer includes 3S, 4S, and 6S balance LIPO power cables. As a fully charged 6S LIPO has 25.2v, the manufacturer modified the 6S connector into a 4S one.
Be aware when powering via USB, make sure to use a dedicated charging cable from a PC or power bank. If data lines (RX/TX) are connected, it will automatically go into "Mass storage" mode and you cannot record.
Controls and configuration
As I previously mentioned, the Thumb 4K has only a single button that allows to start/stop recording and toggle between four resolutions -each mode is confirmed by different LED color: 
4K/2.5K@50fps (4:3) : Red + Blue
2.5K@50fps Red
1080P@50fps Blue
4K@30fps LED off
To activate the "Webcam" mode, you must press and hold the power button for 8 seconds. Windows OS will automatically detect the camera, and 1080p@30fps video resolution will be selected.
The Thumb 4K does not have a display, but it has a video-out that makes a great tandem with the Hawkeye Little Pilot Master monitor when the advanced configurations are made. Furthermore, thanks to the built-in playback feature, you can review your flights right on the flight field. Using the included 5D keyboard, you can adjust parameters such as Exposure, WDR, Sharpness, Contrast, ISO, FOV, and more. Image rotation for upside-down installation, auto-recording, and audio on/off can also be configured via the OSD menu system. The camera has a "trg" input for remote control via Betaflight. The complete instruction guide can be downloaded from here.
Hawkeye 4K Thumb: Image quality
Out-of-camera, the videos are too "natural" with lots of motion. You need to post-process them in the Gyroflow app to make them smoother. On my i5 computer, the processing speed was 4 frames/second. Therefore a 3-minute 4@30fps footage (180sec*30fps=5400 total frames ) will require about 23 minutes to apply stabilization. The APP crops in the video to obtain the desired result, so the FOV will be narrower than in the "RAW" video. Audio is present but pretty much useless for flight footage.
As you can see in the video above, there is a lot of jello due to the TPU mount that flexes a lot. For further tests, I will use a more rigid camera mount hoping it will fix the jello.
Stabilized 4K videos can be recorded only at 30fps. The camera also supports 50fps at 3840 x 2160 pixels, but the image format is 4:3 (square), not 16:9.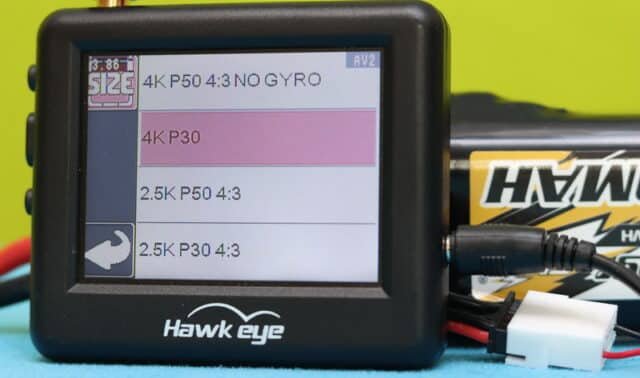 The image quality isn't outstanding, especially if you are used to GoPro cameras. Practically you get what you pay for. The footage is not too sharp and has problems with dynamic range. Instead of a beautiful blue sky, one often sees only a washed-out white. Even using H.265 codec, the average 30 Mbit video bit rate does not provide videos rich in detail.
Pricing, availability, and options
The FireFly Thumb 4K camera can be ordered via platforms like Aliexpress and authorized retailers like Makerfire. The advanced kit with included ND16 filter, shown in this review, is priced at $87.22, and the standard kit at $82.10. Additionally, the 3D-printed camera mount can be ordered for $10.23.
FireFly 4K Thumb: Technical parameters
| | |
| --- | --- |
| Image sensor | SONY 12MP |
| Field of View (FOV) | 170° |
| Video Resolution | 4K 50/30FPS, 2.5K 4:3 50/30FPS, 2.5K 16:9 50FPS, 1080P 50/30FPS |
| Video with gyro data | 4K 30FPS, 2.5K 4:3 50/30FPS, 2.5K 16:9 50FPS, 1080P 50/30FPS |
| Video format  | .mp4/H.265 |
| Storage | SD Card 8-64G(U1 or above) |
| Connectivity | USB Type C |
| Video out | PAL/NTSC |
| Input voltage | DC 5-23V |
| Dimensions | 49×22×13.5mm |
| Weight | 15.5 grams |
Firmware upgrade steps:
Delete all the files and folders in the SD card(suggest:8G/16G).
Download the latest

Thumb 4K firmware

and copy the *.bin file to the micro SD card.
Insert the SD card into the camera.
Power on the camera. The update process will start automatically. When updating, the LED will continuously flash.
When the update process is finished, the LED will stop flashing.
The camera will reboot again.