F722 flight controllers like the MEPS SZ F7 Mini find applications across various FPV drone platforms, from racing and freestyle quadcopters to professional aerial cinematography rigs—the precise flight control, advanced features, scalability, and configurability suit novice pilots and seasoned professionals.
The flight controller (FC) is a critical component of an FPV drone responsible for controlling and stabilizing the aircraft during flight. It acts as the brain of the drone, processing sensor data, receiving user inputs and adjusting the motors to maintain stability and control. FCs often offer various flight modes such as stabilized mode, acro mode, or GPS-assisted modes, allowing pilots to switch between different flight characteristics and behaviors. Additionally, flight controllers may support extra features like OSD (On-Screen Display), black box recording, voltage monitoring, and telemetry, enhancing the pilot's situational awareness.
The difference between "NormalAnalog" and "HD digital" flight controllers is the presence of a dedicated 6pin connector that is compatible with DJI digital VTXs (Air Unit, O3 AU, Caddx Vista, and RunCam Link Wasp). The MEPS SZ F7 Mini FC has an onboard 10V/2A BEC (voltage regulator, aka Battery Elimination Circuit) to power the digital VTX.
MEPS SZ F7 Mini FC key features
[Smaller Shape and Lighter Weight] It takes up less space and adds less weight to the drone, which can improve its overall performance and maneuverability.
[Faster Calculation and Stable Operation] Boasting faster calculations, the flight controller can precisely adjust the drone's flight path in real-time.
[Plug-in-Play DJI HD VTX Support] With plug-in-play compatibility, you can easily stream high-quality video from your drone without the need for additional wiring or setup.
[Precise and Rigorous PCB Layout] Clear interface layout to minimize wiring difficulties and electrical interference to improve signal transmission.
[Integrated 5V/2A 10V/2A dual BEC] Ensure that the drone's electronics receive a stable and consistent power source, improving performance and reducing the risk of component failure.
MEPS Space F7 Mini review
Disclosure: I received this digital flight controller for a product review collaboration with MEPS. Although the FC was offered for free, all opinions in this article remain mine, and the sponsor did not influence me. They didn't have any special requirements about how to write my review or access to it prior publishing.
The SZ Mini F7 flight controller comes in a cardboard box with a DJI Air Unit cable, two types of ESC cables, and two sets of silicone grommets (height of 4 and 7 mm). One of the ESC cables has two 8-pin connectors (intended for MEPS ESCs), and the second cable has only one connector, which gives customization flexibility with an 8 or 10-pin plug.
At a glance
The FC board is based on an STM32F22 CPU and measures 37x37x8mm. It has 20x20mm mounting patterns and is suitable for 2.5-5″ FPV drones. USB Type-C port, ESC connector, Digital VTX port, boot button, and all the soldering pads are on top of the flight controller. It has five UART ports, and dedicated Buzzer, and LED pads. For GPS modules, there is a group of 6 pins (GND, 5V, RX3, TX3, SDA, and SCL) next to the Type-C port. It has 10V and 5V pads for powering the VTX and other external modules. On the up/left corner, a group of 3 pads named "VTX switch" allows convenient control of the analog FPV transmitter, preventing overheating during bench operations.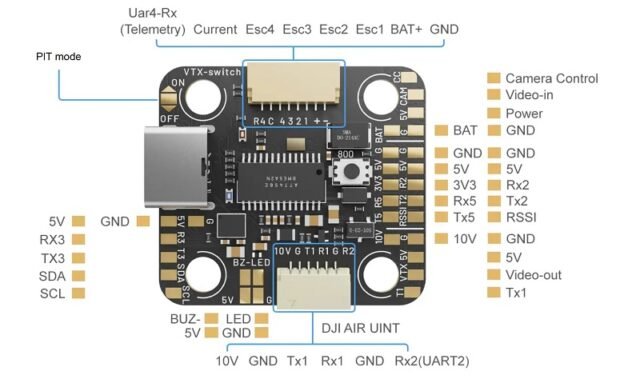 Usually, an arrow on top of the FC should indicate the installation orientation on the frame. MEPS made this mark on the bottom of the FC, and is not visible during the installation.
By default, the flight controller comes with BetaFlight V4.3.1 – Target TMOTORF7. Many voices say that MEPS is related to T-MOTOR, a well-established brushless motor company, but MEPS never confirmed this rumor. Using the same software indicates that these two companies are cooperating somehow. After I did a configuration backup, I updated the firmware to the latest v4.2.2.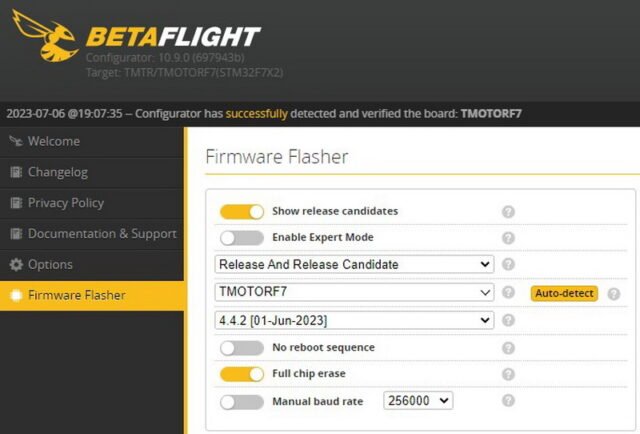 The 16MB BlackBox lets pilots record and store flight data for further analysis and fine-tuning.
I matched the SZ MINI F7 in a 5″ freestyle frame with an ELRS radio receiver, Walksnail Avatar HD Pro FPV kit, MEPS Space SZ 45A ESC and SZ 2306 KV1750 motors. Test videos will be added to my review after I finish the build.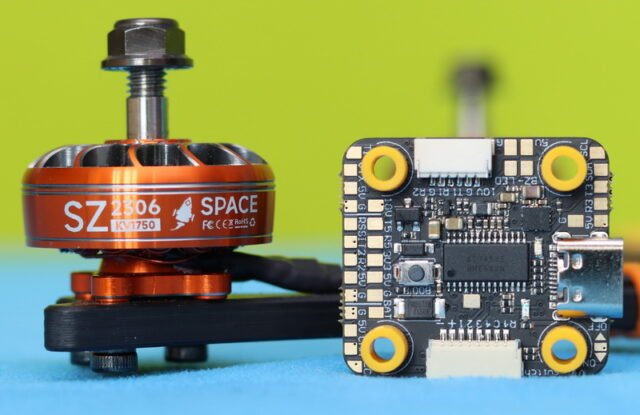 Pricing, availability, and other options
The SZ Mini F7 is priced at $52.9 on MEPS' website. This price includes ESC and DJI VTX cables. If you prefer the 30x30mm mounting pattern, MEPS has two other flight controllers priced at US$50.9.
Technical parameters
| | |
| --- | --- |
| MCU | STM32F22 |
| Target | TMOTOR F7 |
| BARO | BMP280 |
| BLACKBOX | 16MB FLASH |
| BEC | 5V 2A and 10V 2A |
| PORT | 5 UART |
| OSD Chip | AT7456E/HD |
| Size | 37x37x8mm |
| Mounting holes | 20x20mm ⌀4mm |
| Weight | 5.2grams (without cable) |