Micro CineWhoops, like the Pavo Pico, have gained immense popularity due to their small size, agility, and ability to navigate tight spaces while recording 4K footage. Choosing the right LiPo (Lithium Polymer) battery for your drone is crucial for achieving optimal flight performance and duration. This review will look closer at the BetaFPV 450mAh 2S LIPO pack.
When choosing the right LiPo battery for your micro FPV drone, you should consider the following:
[Dimensions] Micro FPV drones are typically smaller and lighter than their larger counterparts, and every gram counts. Choosing a LiPo battery that fits within your drone's frame's physical size and weight constraints is essential. The Pavo Pico's battery bay is 14x15mm.
[Connector type] Typically, micro Whoops utilize JST-PH 2.0, BT2.0, or XT30 connectors. The Battey plug needs to be matched with the drone's connector.
[Voltage Number of cells] Voltage is a crucial factor to consider when selecting a LiPo battery for your FPV drone. If, by mistake, you power your 2S (7.4V) drone with a 4S (14.8) battery, it can damage one or more electronic components or even set your drone on fire. It is essential to check your drone's specifications to determine the appropriate voltage, respectively number of cells.
[Capacity] It determines a LiPo battery's energy storage and is measured in milliampere-hours (mAh). Higher capacity batteries generally provide longer flight times but may add extra weight affecting flight performance.
[Discharge rate C-rating] This parameter represents how quickly a battery can release its stored energy. Typically, smaller-capacity batteries have a 20-75C discharge rating. A higher C-rating ensures power for acrobatic moves and responsive control.
BetaFPV 450mAh 2S battery review
Disclosure: I received these batteries in a product review collaboration with BetaFPV. Although the LIPO packs were offered for free, all opinions in this article remain mine, and the sponsor did not influence me by any means.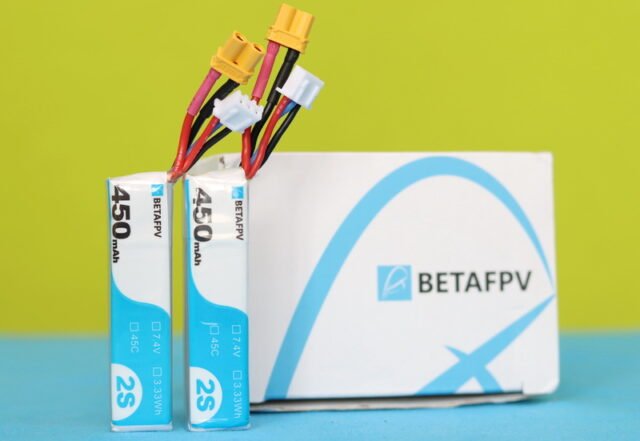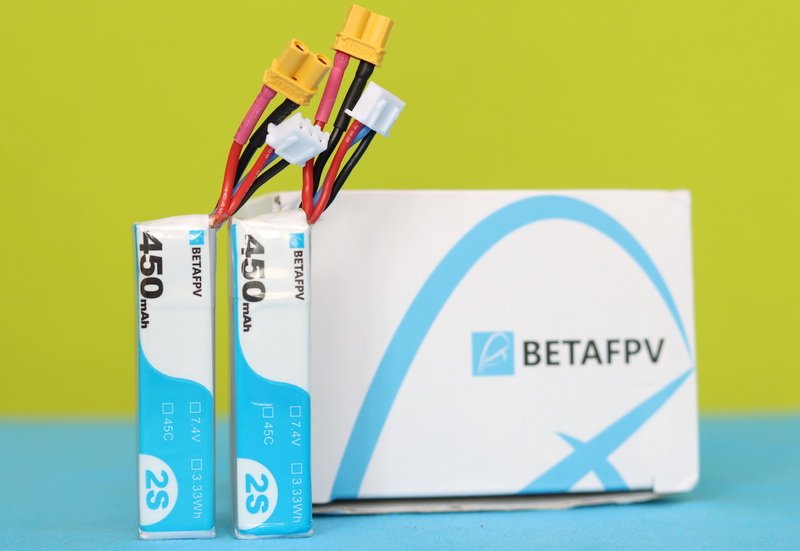 The 450mAh/2S batteries are sold in a pack of two and come in a cardboard box. For extra protection, the LIPOs are individually loaded into a bubble bag. The battery pack measures 14.5×15.2×60.8mm and weighs 28.2 grams. It has two 450mAh 3.7V cells connected serially with a total power of 3.33Wh. The discharge (drone) cable uses 40mm long AWG16 wires and has an XT30 plug. BetaFPV's tests show that the 45C rating can provide a max 20.25A continuous discharge rate.
In addition to the Pavo Pico, these BetaFPV 450mAh 2S 45C batteries are also compatible with the Meteor85, Meteor85 HD, Beta75X, Mobula 7, and other 2S brushless Whoop drones in the market. 
Pricing and availability 
A pair of 450mAh/2S LIPO batteries can be ordered from BetaFPV's website for $19.99. The company has other micro FPV drone batteries, including 1S, 2S, and 4S packs if you need a different capacity or form factor.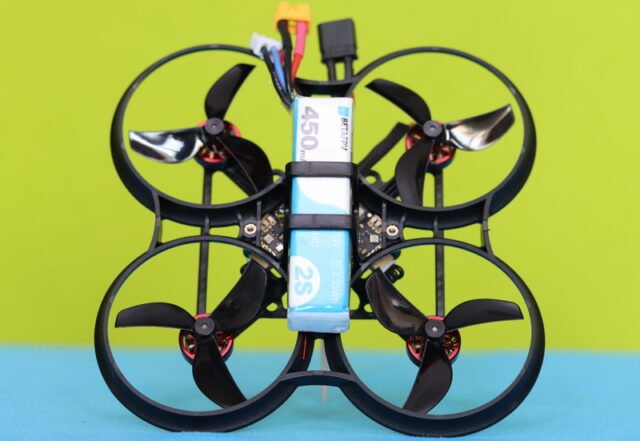 Technical specifications
| | |
| --- | --- |
| Capacity | 450mAh |
| Voltage | 7.4V / 2-Cell |
| Power | 3.33Wh |
| Discharge rate | 45C Continual |
| Charge rate | N/A |
| Output connector | XT30 (AWG16 cable) |
| Balance connector | JST / XH |
| Size | 60.8×15.2×14.5mm |
| Weight | 28.2 grams7 |