Jumper-RC just revealed their new full-size radio transmitter with a built-in ExpressELRS module of up to 1W. The Jumper T20 was announced with two gimbal options (Hall Sensor or RDC90) and two ELRS frequencies (915MHz or 2.4GHz).
The Jumper T20 controller suits all remote-controlled machines, including RX helicopters, Multi-axis drones, RC boats, RC cars, and Fixed wing planes. It runs on popular open-source EdgeTX firmware that can be upgraded with a USB port or micro SD card.
Two 21700 LiIon batteries power the transmitter for a longer operation time. It has an XT30 connector to power an external TX module.
Jumper's new T-20 controller measures 185x188x68mm and weighs almost 500 grams w/o batteries. It has anti-slip padding on both grips and a metal handler for easy manipulation. 
Key features
Suitable for RC helicopters, Multi-axis drones, RC boats, RC cars, and Fixed wing planes
Popular opensource EdgeTX firmware
ExpressELRS (915MHz/2.4GHz) long-range transmission protocol
Replaceable antenna
Optional Hall Sensor or RDC90 Gimbals
External heatsink for powerful ELRS modules
Centrally designed control interface with auxiliary throttle channels, metal CNC rollers, and OLED screen
Universal expansion bay for external radio modules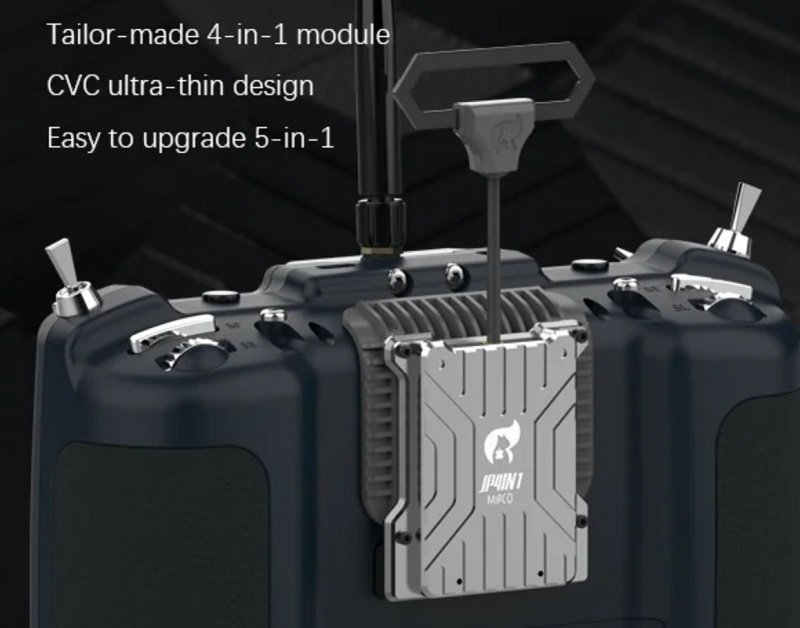 Technical specifications
MCU: STM32F407ZET6
Screen: OLED 1.3″ (resolution 128*64)
Rocker Stick Size: Standard
Hall Sensor gimbals: Hall sensor / RDC90
Built-in RF: ELRS (915MHz/2.4GHz)
Transmission power: max 1000mw
Antenna interface: SMA
External module interface: reserved (1.25mm-SP)
External module power supply: XT30 (2S2A output)
TF card: built-in chip (officially recommended by E0GETX)
Working voltage: 6-8.4v
Battery: 2pcs of 21700
Size: 185x188x68mm
Weight: 448g (w/o battery)