Thirty years ago, when I first started wandering around the Apuseni mountains, the only electrical device I carried with me was a flashlight that needed two batteries. Now, I have a smartphone, a drone, a DSLR camera, an action camera, and who knows what else. Solar generators like the Bluetti AC180 and the Anker 757 (SOLIX F1200) can power (charge) all of this gear for a couple of days without the noise of a gasoline-powered generator.
Medium-sized (1000-2000W) portable power stations like these two rivals are also great for powering your critical household equipment during short power outages.
Bluetti and Anker are two major brands in the portable solar power industry. Both brands have become popular, providing power stations that are affordable, dependable, and lasting. Offering five years of warranty, you can have trust in their products. To achieve this long operation time, the latest generation portable power solutions use LiFePO4 batteries with lithium iron phosphate (LiFePO4) as cathode material and a graphitic carbon electrode with a metallic backing as the anode. LiFePO4 batteries are lightweight, environment friendly, have a long life span, have no memory effect, and are incredibly safe.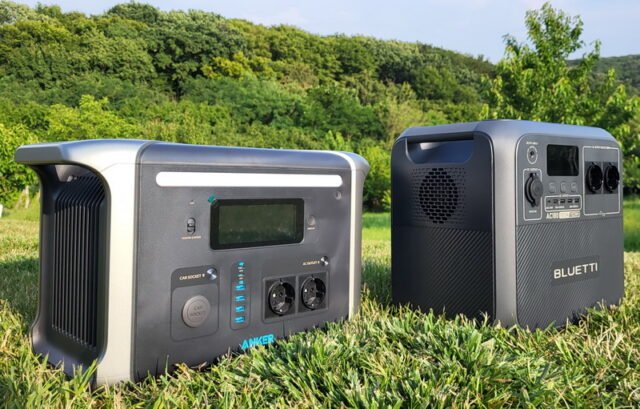 Bluetti AC180 versus Anker PowerHouse 757
In this in-depth comparison guide, I put these two power stations through their paces and considered factors such as design, portability, battery life, power output, and input charging options, as well as output options for juicing up my equipment.
1. Battery capacity
The Anker 757 comes with a pack of 1229Wh LiFePO4 batteries inside, and the Bluetti AC180 with 1152Wh capacity. The difference is less than 10%, giving you a slightly longer operation time. For example, a 220V 1KW water pump will work for about 53 minutes with the Anker and 50 minutes with the Buetti power station. The expected runtime considers the power loss due to the efficiency of the DC to AC inverter.
2. Total output power
The total power output of a power station refers to the total electrical power it can generate and deliver to your devices. The Bluetti AC180 has 1800W, and the Anker 757 has 1500W max output power. Both units feature sine wave AC out and can handle larger electronics, power tools, and some low-power household appliances during short power outages. Furthermore, the Power Lift mode enables the use of specific AC devices (inductive-load appliances) up to 2700W with the AC180 and 1800W with the PowerHouse 757 (SOLIX F1200).
3. Charging time
Both portable power stations are advertised with ultra-fast charging capabilities. With 1440W AC input, the Bluetti can be charged from 0 to 80% in just 45 minutes. With 1000W AC input and HyperFlash technology, its rival can be charged in 60 minutes from 0 to 80%. This is roughly a 25% charging speed difference in favor of Bluetti.
4. Solar input
Both solar generators can be charged from a solar panel and come with included solar panel cable in the box. The two brands offer compatible foldable solar panels for those who like to camp or are looking for a power source for their RV. The Anker has 300W input (11-30V), and the Bluetti AC180 500W (12-60V). The AC180 can accept 12/24/36/48V panels thanks to the broader DC input voltage. You also have the freedom to put in series two 12V or 24V solar panels. With 60% higher solar input, the AC180 can be charged with free solar energy almost twice faster than the SOLIX F1200 (Anker 757).
5. Outputs
The European versions of these two power stations have two 220v/50Hz AC outlets and a standard 12VC/10A car cigarette lighter socket. The difference comes in the number of USB ports, which is essential if you have many gears (cameras, phones, drones, etc). As you can see in the comparison photo above, the Bluetti AC180 has one 100W Type-C port and four 5V/3A USB-A ports. The SOLIX F1200 also has four 5V/3A USB-A ports, a 100W Type-C port, and an extra 60W Type-C port.
6. Extra features
Bluetti offers remote control and monitoring via Bluetooth connectivity for most of its products, including the AC180. The Bluetti mobile APP allows turning ON/OFF AC and DC outputs, toggling Powerlifting, and configuring charging mode. Battery level, PV input (solar panel power), Grid (AC) input, DC, and AC consumptions are displayed at a glance. Another great extra feature of the AC180 is the built-in 15W wireless charger on top of the unit.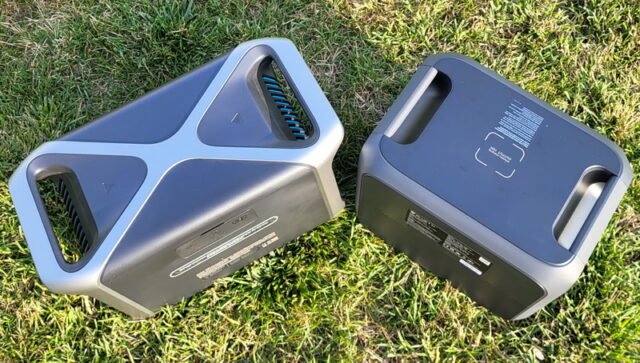 Of course, Anker's PowerHouse 757 also has its own unique feature. If you like to camp, you will be happy to know that it incorporates a bright LED with three light levels and SOS mode.
7. Design and portability
Design is probably the last factor you should consider when choosing between the Bluetti AC180 and the Anker 757. With portability in mind, both have two handlers for one or two-person manipulation. Personally, I like better the Anker 757's design; it is more high-tech and futuristic, so I give 9/10 points for Anker and 8/10 for Bluetti. The Bluetti AC180 weighs 16kg, and the Anker 757 PowerHouse is 19.9kg. If you need to carry it a few meters, your arms will definitely feel the extra 4kg weight.
Bluetti AC180 vs Anker 757: Side-By-Side comparison table
I compared the most important specs and features of both power stations in the table below. I highlighted red where the Bluetti AC180 excels and blue where the Anker 757 shines.
 
Bluetti AC180
Anker 757
AC Output

1800W

1500W
Capacity
1152Wh

1229Wh

Surge

2700W

1800W
Solar input

500W

300W
Battery type
LiFePO4
LiFePO4
Battery life span

3500+ Cycles

3000+ Cycles
UPS switching speed
20ms
20ms
Charging speed

45 minutes 0-80%

60 minutes 0-80%
AC outlets
2x220V
2x220V
DC out
Car Charger Output 12V⎓10A
Car Charger Output 12V⎓10A
USB ports
1x Type-C 100W
4x USB-A
1x Type-C 100W


1x Type-C 60W


4x USB-A
Built-in light
No

Yes

Wireless phone charging

Yes, 15W

No
Bluetooth connectivity

Yes

No
Mobile APP

Yes

No
Size
340×247×317mm
13.39×9.72×12.48in
463x288x237mm
18.2×11.3×9.3in
Weight

16kg / 35.27lbs

19.9 kg/ 43.9lbs
Design
8/10

9/10

IP rating
NO
NO
Warranty
Five years
Five years
Price

US$899.00

$1,099.99
Conclusions
If only budget counts for you, the latest price drop of the AC180 makes it the true winner of these two solar generators. Being on sale, you can order it right now for only $899. With a saving of $200, you can buy a portable solar panel to complete your outdoor power kit. Besides the lower price, Bluetooth connectivity, control via mobile APP, and wireless phone charging are also great features that you should consider before pulling the trigger. 
On the other hand, if you prefer the slightly higher battery capacity or the built-in camp light, Anker's SOLIX F1200 is also an excellent power station that will not disappoint you.