The MINIWARE ES15 electronic screwdriver has a cool design that reminds me of the Neuralyzer from the Man in Black movie. It is made from shiny stainless steel, and it has about the size of the epic memory eraser tool from MiB.
As an avid DIY enthusiast who builds and repairs drones with weekly regularity, I can confidently say that the MINIWARE ES15 eScrewdriver has been a game-changer in my toolkit. From its compact design to its powerful performance, this nifty tool with 24 included bits has surpassed my expectations and became an indispensable part of my electronics repair endeavors.
The ES15 is the successor of the ES120, and it comes with many improvements, including a larger battery, a bigger OLED screen, selectable torque, and more.
MINIWARE ES15 smart screwdriver review
Disclosure: I received this mini eScrewdriver from MiniWare to test it and do an in-depth review. Although the product was offered for free, all opinions in this article remain my own, with no influence from my sponsor.
Guangzhou Intelligent Technology (MiniWare | e-Design) was established in 2000 in Guangzhou, Southern China, and claims to be a leading technical service enterprise that integrates product design, technology development, independent production, and sales, meanwhile offering customized production service (OEM and ODM). Besides cordless screwdrivers (ES15, ES120, and ES121), the company also has a wide range of soldering irons (TS80, TS100, and TS101), mini oscilloscopes (DS213, DS212, DS211, DS203, and DS202), and other kinds of tools.
The MINIWARE ES15 precision electric screwdriver comes in a nice compact box with 24 bits and an instruction guide. It has one protective foam padding for the screwdriver and a second for the 4mm hex-bits.
Included S2 alloy bits:
PH000/PH00PH0/PH1 | SL1.5/SL2.0/SL3.0 | T2/T3/T4 | T5H/T6H/T8H/T9H/T10H
P2/P5 | Y0.6/Y1 | W1.5 | U2.6 | H1.5/H2.0 | 2.3 Triangle
For FPV drone builders, more hexagon (H2.5 and H3) bits would be welcomed.
I know it's not a beauty pageant, but this screwdriver looks superb in every detail. The full stainless steel pen-shaped body has a length of about 15cm (5.9″) and a diameter of a max 9mm. The honeycomb texture on the lower part is beautiful and has a good anti-slip effect providing a better grip. Weighting 120 grams is heavier than other mini electric screwdrivers, but the slightly heavier design enhances handling. 
The "Set" button and Type-C charging port are on top. On the opposite side, six SMD LEDs around the bit holder illuminate the work area shadowless. The device is powered by a built-in 800mAh battery that provides up to 8 hours of working time.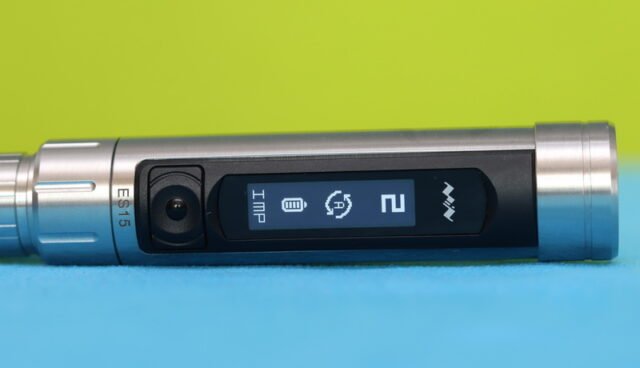 On the front panel, under the 128×28 dpi OLED display, is a single push button that activates the de screwdriver and allows you to change settings.
Setting Menu
| | | |
| --- | --- | --- |
| Parameter | Options | Description |
| Torque | 1/2/3/4/5 | Set screwdriver electronic torque; a bigger number indicates a higher torque. |
| Mode | Auto/+/- | Set working mode as smart motion directional forward(+) / directional reverse(-) |
| Speed | 220/360/470(RPM) | Toggle rotation speed |
| Sensitivity | L/M/H | Set smart motion control sensitivity as Low, Medium, or High |
| Impact | ON/OFF | When this function is turned on, the screwdriver will make a torque impact on the screw every time tightening a screw) |
| Retreat | ON/OFF | Toggle Anti-stuck function for hexagon screws |
| Light | ON/OFF/Delay | Work light mode |
| Backlight | 1/2/3/4/5 | OLED backlight brightness level |
| Beep | ON/OFF | Beeper |
| Language | Chinese/English | Menu language |
| Battery management | ON/OFF | Intelligent battery management; it is suggested to turn ON for long time storage. |
All the above parameters can also be set through the configuration text file stored on the ES15's internal memory.
MINIWARE ES15: User experience
I used the ES15 mini motorized screwdriver for my last two DIY FPV drones. The included bits covered all the screw types used in the projects. Practically, it replaced the 12-screwdriver set that I used till now. Thanks to its small size is also a great option for field maintenance.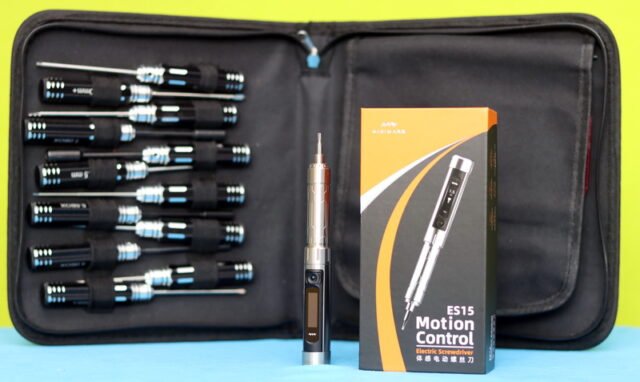 It has nice touch and grip, but the "action" button could be in a different way – it's not comfortably accessible in all positions. The work light is a real help, especially for older persons like me :). Direction (screwing/unscrewing) can be changed in three ways. By somatosensory sensor (by rotating the tool in the direction you want to work), manual mode (setting clockwise or counterclockwise), or the device can automatically detect by a few test attempts if there's a a need to screw or unscrew. The cool somatosensory control is perfect for repetitive disassembly and assembly operations.
You can adjust five levels of torques and three-speed rates according to how delicate your work is.
For stubborn screws, if the 0.16Nm torque and the emulated impact mond are not enough, you can still manually tightenuntighten screws up to 2Nm. For small screws, the ES15 has sufficient power, but for well tighten screws used on computer hard drives, for example, you will need manual power. Screws secured with thread locker glue also need to be unscrewed by hand.
The built-in 800mAh battery never left me without energy. Its predecessor, the ES120, had only a 300mAh battery, so it needed to be charged three times as often. As the battery is not replaceable by the user, you should avoid over-discharge and the battery management feature should be activated when you do not use it for a longer period.
Pricing and availability
For mass orders and B2B cooperation, you can contact the manufacturer directly here (scroll down to the contact form). Hobbyists can order the e-Design ES15 precision screwdriver set from platforms such as Aliexpress and Amazon. The base kit shown in this review has a starting price of $108 (with 30 off). Combo packs are also available with included charging cable, storage bag, and a wider range of bits.
MINIWARE ES15: Who's and What's for
If you are working with screws only occasionally, a few times a year, or you expect the power of an 18V cordless drill, the ES15 mini electric screwdriver probably isn't for you. Instead, if you have lots of DIY projects that involve screwing or you are working in a phone/laptop/camera repair center, the ES15 will be your best friend, saving lots of time and effort comparing using classic (manual) screwdrivers.
MINIWARE ES15: Key features
[Dual Modes & 4 Working States] It easily adapts to your needs to solve various tasks. The ES15 eScrewdriver supports Smart Motion Control Mode and Directional Mode. In Smart Motion Control Mode, it only takes a small wrist turn to engage forward or reverse freely. You also can switch between Forward or Reverse in Directional Mode. In addition, if the screw cannot be unscrewed in the electric mode, you can unscrew it manually.
[Small and Mighty] It has a coreless motor, a fast start brake, and reliable operation stability. The highest speed is up to 470rpm/min, electronic torque up to 0.16Nm, and manual torque up to 2Nm. It has Three-speed rates (High-470RPM, Medium-360RPM, and LOW-220RPM) and five torque gears. Compact and powerful, perfect for daily tasks and projects.
[Long working time] A Built-in 800mah large capacity battery ensures this electronic screwdriver can work continuously for up to 6 hours (no-load). The Intelligent Battery Management System allows monitoring of battery power and protects the battery from over-discharging.
[Torque Impact & Anti-Stuck] Customized impact function simulates the working mode of a tru impact screwdriver. Ensure that each screw is accurately in place. Anti-Stuck Function is specially designed for hexagon socket screws. The bit automatically makes fine adjustments, preventing the stick from being too tight.
[Built-in shadowless 360° LED Light] Six SMD LEDs around the bit holder provide intense light to increase the work area's visibility.
[Intuitive user interface] The display area OLED Screen increased by 30%, which is clearer and more vivid. It has only two buttons to efficiently operate the eScrewdriver.
[Dual purpose bit holder] The ES15 is compatible with a 4mm hexagon and 800 bits to cover different applications.
Technical specification
| | |
| --- | --- |
| Size | Length:146mm, Diameter: 19mm |
| Body material | 304 stainless steel |
| Screen | 32*128dpi OLED |
| Battery Capacity | 800mAh |
| Charing Time | 50 minutes |
| Working Time | 6 hours (No load) |
| Connectivity | USB Type-C |
| Bit specification | 4mm hexagon and 800 bits |
| Manual torque | 20kgf.cm |
| Electronic torque | 1.6kgf.cm |
| Idling Speed | 470rpm |
MINIWARE ES15: Firmware
The ES15 is a smart tool based on a microprocessor that runs on upgradable software. The firmware files and update instructions can be downloaded from here.
Firmware V 1.09 (2023.02.17):

The safety lock function has been added. After the safety lock is turned on, pressing the side button will not start the motor so as to prevent false touch.

Firmware V 1.08 (2022.12.2):

Fixed the problem that the U disk comment was misspelled
Fixed the problem that the rotation direction of the screwdriver cannot be saved
The drive letter name of the APP will be automatically restored if the setting is modified

Firmware V 1.07 (2022.05.24):

Fixed the problem that the motor has a chance to shake when running at a low speed in the 1st gear torque
Fixed the problem that some machines were misjudged as low battery power when they were turned on
Modified the sensitivity gear. When the sensitivity is high (H) in the somatosensory mode, you can start up to the highest speed.
Added option to adjust screen brightness
When working, the animation of the screw icon on the screen changes with the speed of the screwdriver.