The Radiomaster Pocket is a compact yet powerful radio controller that comes in two versions, the ExpressLRS and CC2500, both preloaded with EdgeTX firmware.
The Radiomaster Pocket is designed to be compatible with 18650 batteries, ensuring a lightweight feel and providing long-lasting battery life, allowing for hours of uninterrupted FPV flying fun. In this review, I'll delve deeper into what makes the Radiomaster Pocket a must-have tool for those seeking precision, portability, and power in their FPV adventures.
The Radiomaster Pocket Specs
Dimensions: 156.6*65.1*125.3mm (Folded size) /156.6*73.1*154.8mm (Unfold size)
Weight: 288 grams
Operating frequency: 2.400GHz-2.480GHz
Internal RF Options: CC2500 multi-protocol / ELRS 2.4GHz
Operational voltage: 6.6-8.4v DC
Operating system: EdgeTX
Control channels: Maximum 16 (Receiver dependent)
Battery: 2pcs 18650 batteries (Not included)
Charging: Built in USB-C QC3 Charging
Upgradable Firmware: Via USB or the included SD card
Gimbal: Hall-effect
Module bay: Nano size (Compatible with RadioMaster Nano-size modules, TBS Nano Crossfire / Nano Tracer )
The Radiomaster Pocket Features
The Radiomaster Pocket has been making waves in the FPV community for a good reason. It boasts a compact design that's even smaller than the Boxer, making it incredibly portable. Its compactness is a game-changer for FPV pilots like me, who are always on the move.
Design & Portability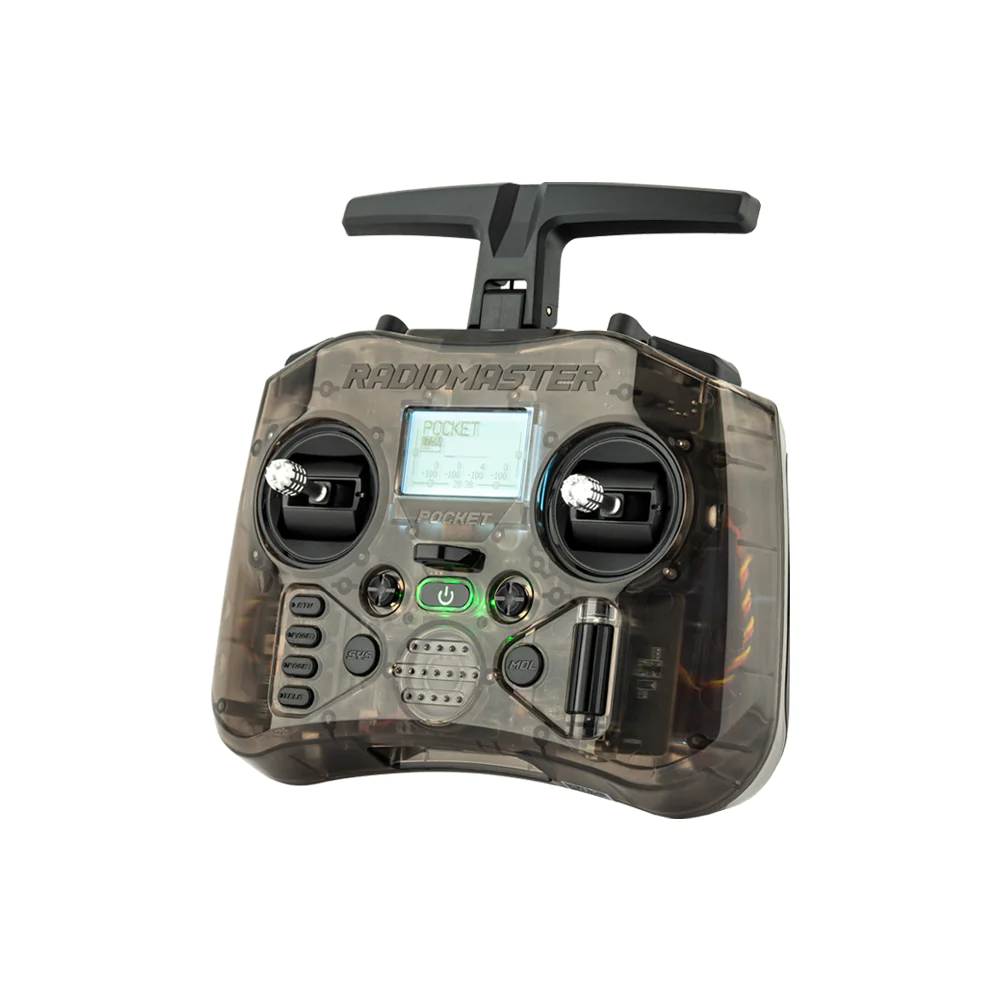 The Radiomaster Pocket's design and portability are a testament to its user-friendly and functional approach. Its compact and lightweight build, coupled with the convenience of removable stick ends and a foldable antenna, make it a go-to choice for those who are always on the move. The built-in LED lights are a thoughtful addition, providing visual cues for switch inputs and enhancing the overall user experience.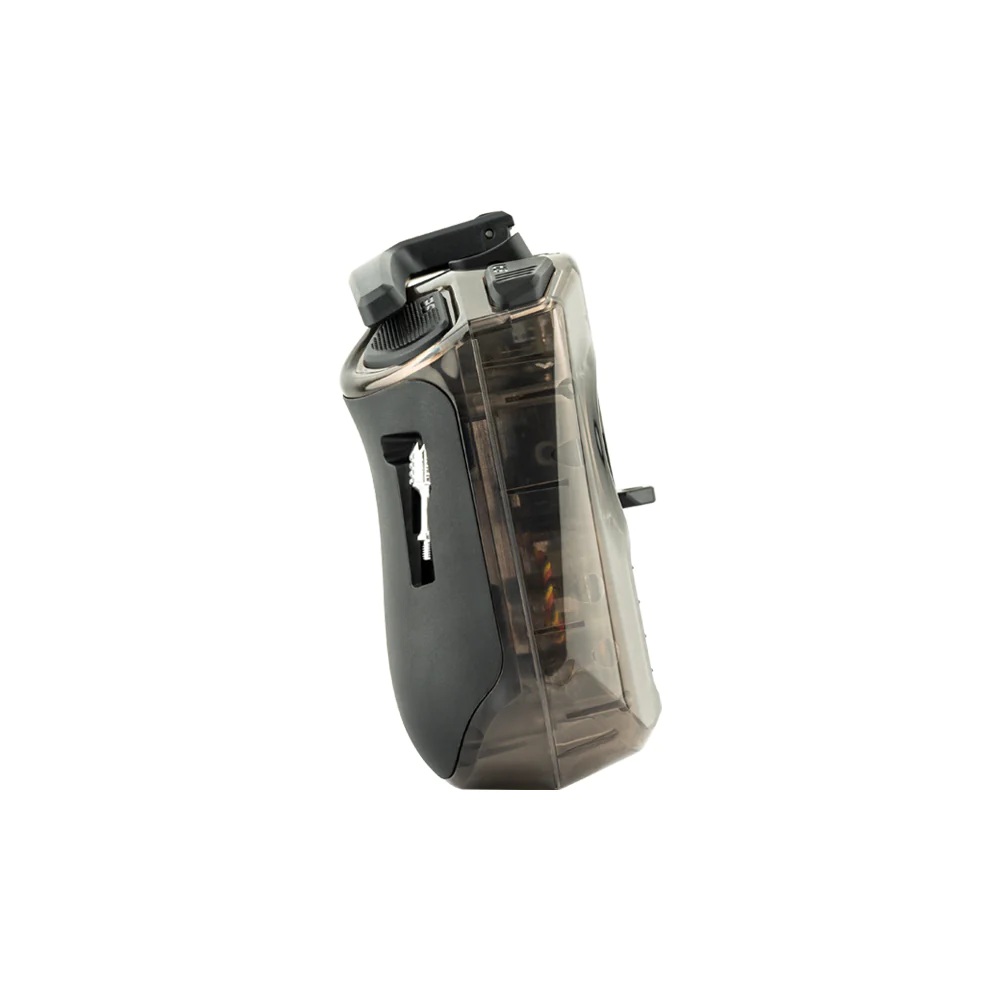 One of its design highlights is the backlit LCD screen, which strikes a perfect balance between size and functionality. This feature ensures that you can easily read and interact with the display even in varying lighting conditions, a crucial aspect for FPV pilots who often find themselves in outdoor environments.
Radiomaster offers a choice of two stylish colors – Charcoal and Transparent – for those who prefer classic aesthetics. Additionally, if you're looking to add a personal touch to your radio, there are optional case colors available in Blue, Pink, Green, and Orange, allowing you to match the radio to your unique style and preferences.
Furthermore, the external module bay's compatibility with RadioMaster Nano-size modules and TBS Nano Crossfire/Nano Tracer expands the radio's versatility and functionality, making it a comprehensive solution for FPV enthusiasts seeking both performance and aesthetics in one package.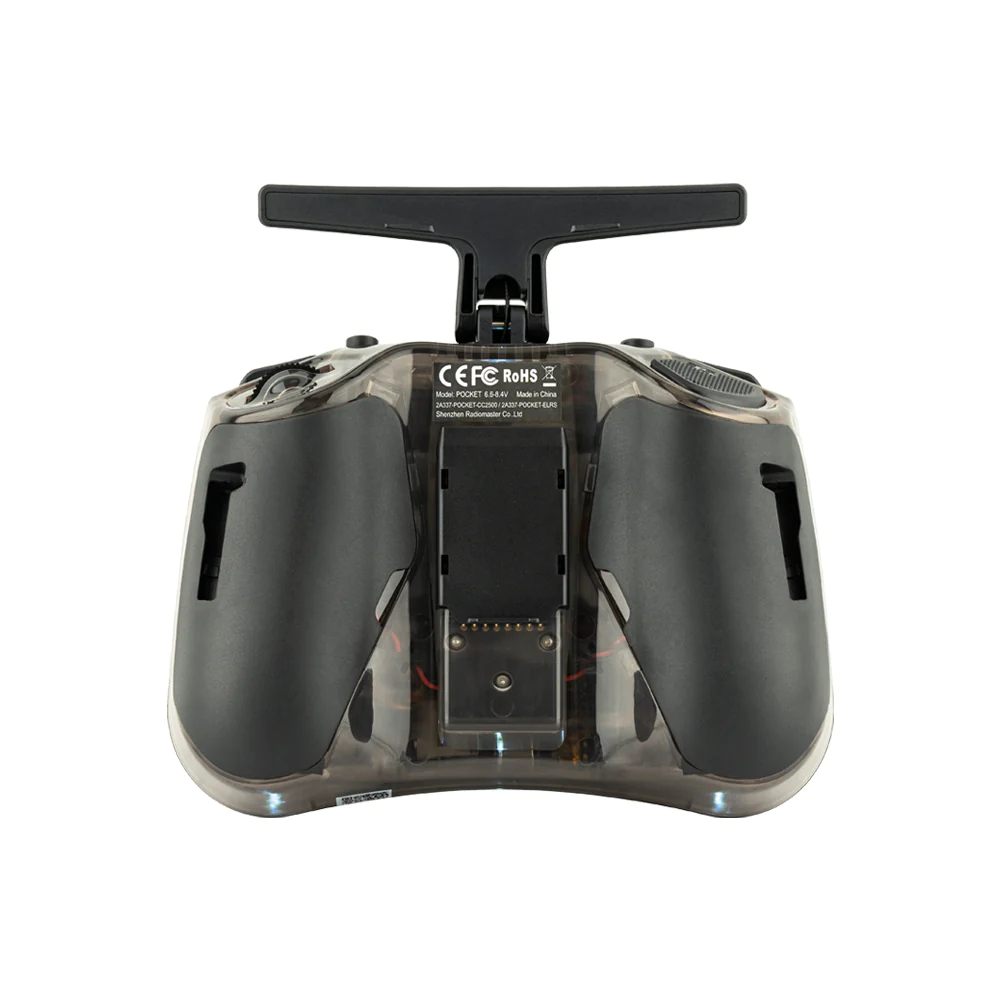 The Anatomy of Control: Buttons, Switches, and Gimbals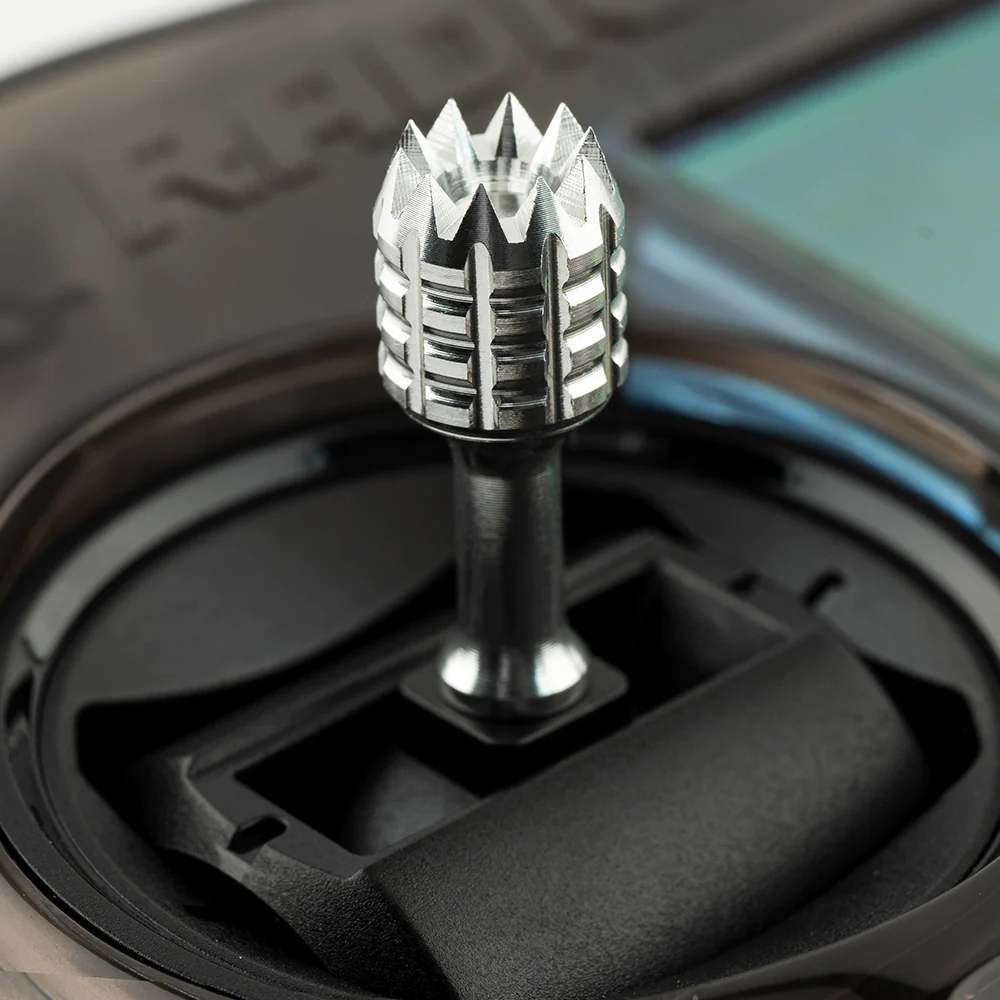 The Radiomaster Pocket doesn't disappoint when it comes to controls. It offers a wide range of buttons, switches, and connectors, making it incredibly versatile for a compact radio. Here's a detailed breakdown to help you get acquainted with its interface.
Hall Effect Gimbals: The Real Game-Changer
The Radiomaster Pocket's hall effect gimbals are a standout feature, providing smooth centering and precise response, setting it apart from other radio controllers. These gimbals come as a standard feature, enhancing the user's control experience and ensuring that every movement is both accurate and reliable.
Compact Gimbals, Limitations Imposed
It's important to note that the gimbals on the Radiomaster Pocket are relatively small due to its compact design. While this does contribute to its portability, it means that the radio isn't compatible with AG01 Mini gimbals, as they won't fit inside. This limitation might be a downside for those who prefer larger gimbals for extended stick travel.
Powering Up: Battery Requirements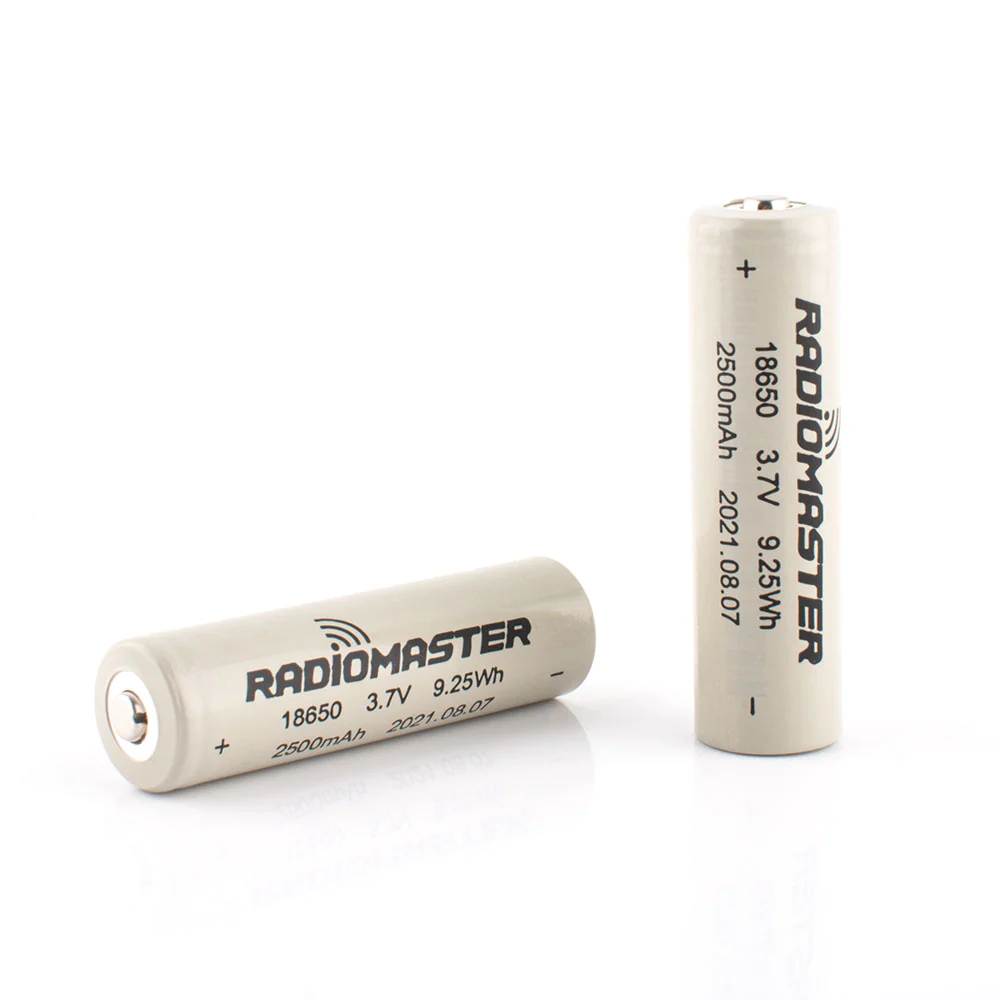 The Radiomaster Pocket requires two 18650 Li-ion cells to function, but here's the catch—they aren't included with the radio. To access the battery compartments, you need to remove the back grips, revealing the slots for the batteries. While it might seem like a small inconvenience, it's something to consider when budgeting for your FPV setup.
Connecting to Simulators: Plug and Play
For those who love to practice in FPV simulators, as I do, you'll be pleased to know that the Radiomaster Pocket is a breeze to set up. It's plug-and-play with popular FPV simulators like Uncrashed, Liftoff and TRYP.
Radiomaster Pocket Diagram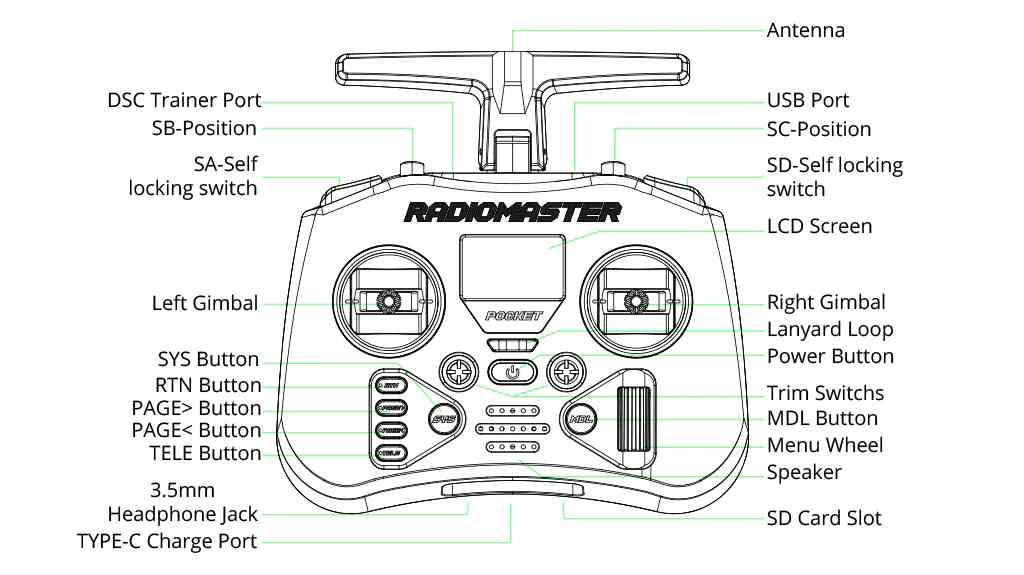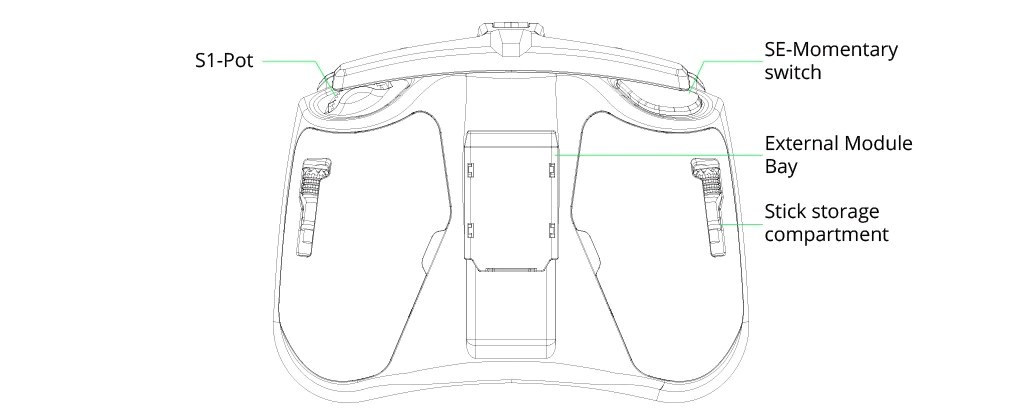 Radiomaster Pocket or Jumper T Lite v2?
Choosing between the Radiomaster Pocket and the Jumper T-Lite V2, assuming both are equipped with ExpressLRS, boils down to your preferences and priorities as an FPV enthusiast. 
The Radiomaster Pocket has a clear advantage regarding power output, offering a maximum output of 250mW compared to the T-Lite's 100mW. This increased power can be advantageous in situations where you require a more vital radio link for your FPV flights.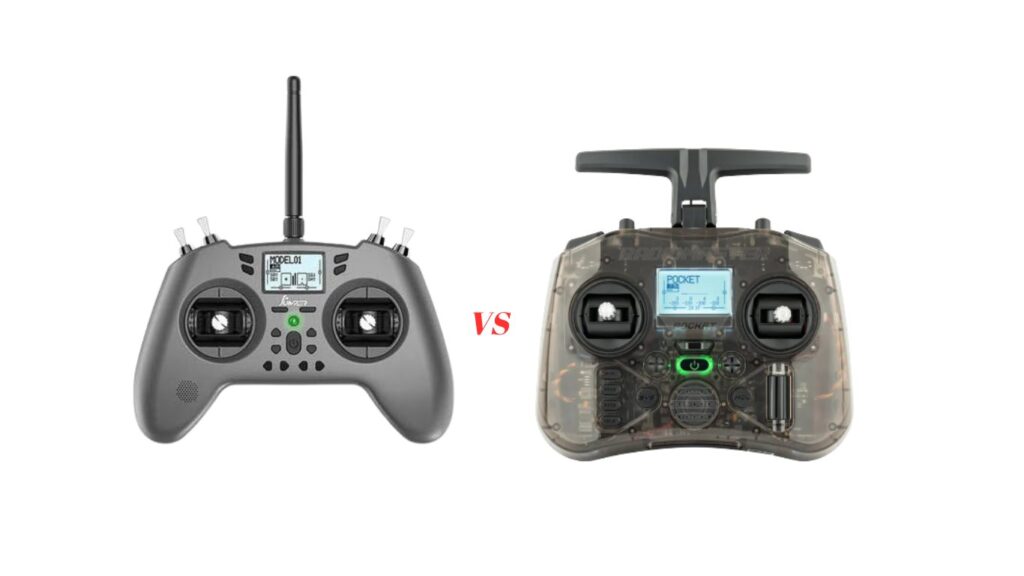 However, the choice isn't solely about power. The Jumper T-Lite V2 stands out with its comfortable grip, providing a familiar gamepad-like feel that some pilots prefer. It's worth considering if ergonomics and comfort are high on your list.
On the other hand, if portability is a key factor for you, the Radiomaster Pocket excels in this department. Its smaller form factor and foldable antenna make it incredibly travel-friendly.
Additionally, the Radiomaster Pocket boasts longer battery life, ensuring that your flying sessions can last longer without frequent battery changes.
Ultimately, the decision hinges on your specific needs and preferences. If power and portability are top priorities, the Radiomaster Pocket might be the better choice. However, if comfort and grip matter most, the Jumper T-Lite V2 offers a compelling alternative. Consider your FPV style and requirements carefully before making your decision.
In conclusion, the Radiomaster Pocket is a pocket-sized powerhouse that is changing the game for FPV enthusiasts. Its compact design, hall effect gimbals, and versatile control layout make it a top contender in the market. While it may have a few limitations, such as stick length and gimbal adjustment accessibility, these are minor trade-offs for the level of portability and performance it offers.
Whether you're a seasoned FPV pilot looking for a travel-friendly radio or a beginner on a budget, the Radiomaster Pocket has something to offer. Its compatibility with popular simulators and ease of use make it an excellent choice for those starting their FPV journey.
So, consider adding the Radiomaster Pocket to your FPV arsenal. Absolutely. It's a testament to how technology advances in the FPV world, bringing premium features to a broader audience without breaking the bank. If you're ready to unleash your FPV potential, the Radiomaster Pocket might be the key to taking your flights to the next level.