BetaFPV's second-generation Pavo25 V2 has some revolutionary improvements compared to the original Pavo25, reviewed here on FirstQuadcopter last year. The F405 AIO 20A flight controller has replaced a more versatile and powerful F722 35A AIO V2 FC. The propulsion system is also upgraded from 1404-4500KV motors to bigger 1505-4600KV ones. It has a wheelbase of 112mm and GF D63 propellers.
In terms of design, the new Pavo25 V2 has a black and blue color scheme, while its predecessor had black and red. The 360° duct blade protector can now be padded with a COB LED strip instead of a basic foam. It has a built-in XT30 battery port and can be powered by 4S 650mAh~850mAh LIPO packs. The expected flight time is around 8 minutes.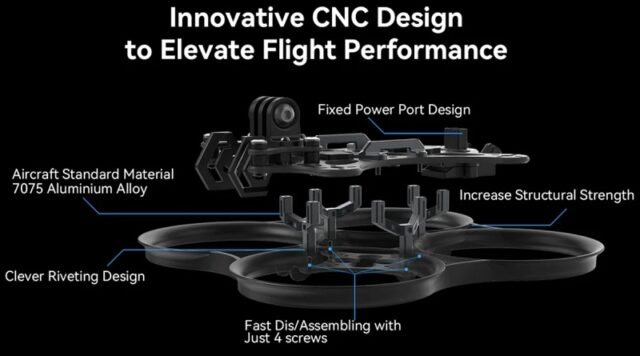 The BetaFPV Pavo25 V2, as a Cinewhoop, boasts compatibility with a wide range of FPV systems from various brands. It supports DJI O3 Air Unit, Walksnail Avatar HD, RunCam Link, and 5.8GHz analog systems. Additionally, it comes in front with a GoPro-compatible mount that allows the installation of a "naked" or ultra-light action camera.
During the winter, the Pavo25 V2 will be an excellent choice for indoor practice, and when the spring comes, you can fly outdoors as well.