Stringing is a common 3D printing problem that can be annoying when you want quality results without post-finishing. To solve the root of the problem, SUNLU came on the market with the first AntiString PLA filament, an upgraded version of the regular PLA filament.
Stringing occurs mainly when the extruder moves between two different locations; during that move, the filament drips out of the nozzle. If you print models that have lots of ups and downs due to stringing, it will look like everything is covered in cobwebs. To check if the SUNLU APLA filament can get rid of the stringing problems without tweaking with retraction and other parameters, I printed a couple of test models from Thingiverse.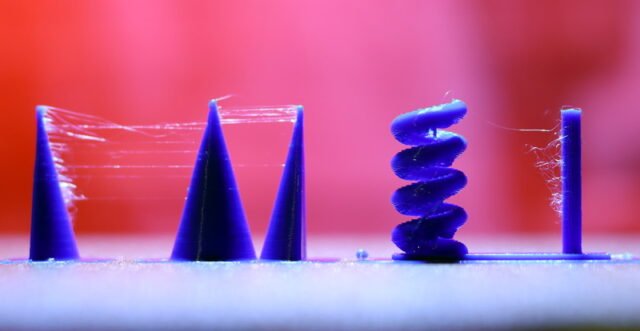 Sunlus' AntiString PLA is an option only if you want to print rigid products, but if you want flexible parts using TPU or other similar materials, you will need to fine-tune machine parameters such as retraction distance, retraction speed, and nozzle temperature. Finding the balance between cooling and heating can significantly reduce stringing. Printing at low speed (under 50mm/s) is also important in getting rid of stringing and other quality issues.
SUNLU APLA filament review
Disclosure: I received these AntiString filaments in a product review collaboration with SUNLU. Product specs and quality may vary according to the manufacturer's reliability, so I cannot guarantee that you will get the material that performs the same as seen in my article.
Last week, SUNLU sent me two spools of their latest "Antistring" PLA filaments (dark grey and Light Blue). I like the matte shade of both filaments. Black, Cream, and Grey options are also available. Both filaments were packed in the same type of recycled cardboard box. SUNLU still uses plastic spools instead of environment-friendly cardboard. As it should be, the filaments were in airtight vacuum bags with small silica gel sachets inside. A filament holder clip is also provided in the box.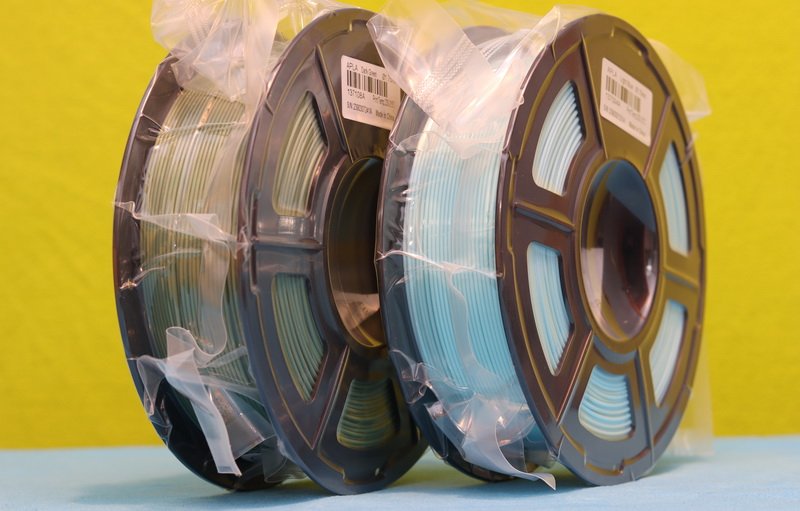 Recommended nozzle and bed temperatures, color, manufacturing batch identification, and serial number are labeled on the bobbin. An unopened spool weighs 1245 grams.
The diameter tolerance of the aPLA filament is +/- 0.02 mm. During my tests, I had no issues with spool tangling or unwinding. The accuracy of the filament thickness is crucial for good printing results. The extrusion width will also change if the filament's thickness changes within a spool, resulting in an unsightly 3D print.
SUNLU AntiString PLA: Performance and test results
To test the SUNLU APLA filament's performance and compare the results with PLA Plus, I opted to print three stringing test models (a spiral and a column, three cones, and a  calibration vase). Additionally, I printed a bionic hand art with a mesh pattern.
As recommended, printing settings for both PLA Plus and PLA Anti String filaments are identical (210℃60℃), I used the same g-code file to compare the results for both types of filaments. Both filaments were freshly opened from their original packaging. As you can see in the comparison photo below, the APLA filament is less hairy than the PLA Plus filament. There is still minor stringing, but not as much as using PLA+.
My Neptune 4 Max 3D printer has a PEI sheet; until now, I didn't need additional glue. I noticed that the AntiString PLA sticks less than normal PLA to the sheet. One of my test prints failed because the model detached from the platform during printing.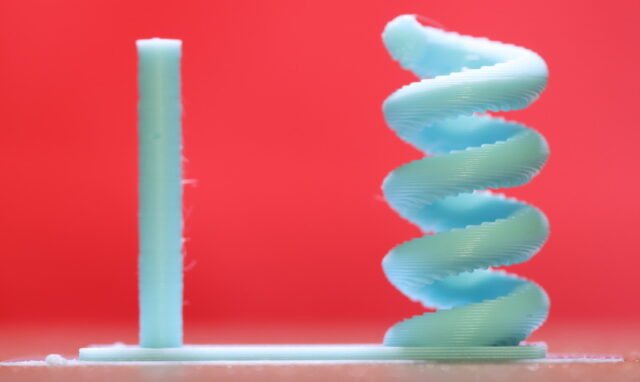 Pricing, availability, and color options
When I published my review, the SUNLU PLA Plus 3D filament was available starting from $20.99/kg with five color options. There are also available 6KG bundles for a more friendly price ($14.99/kg) – you can combine colors as you like.
SUNLU APLA: Technical specifications
Mechanical proprieties
Dimensional Accuracy
+/- 0.02mm
Elongation at Break
9.6 (%) at 50mm
Young's Modulus
4780 (MPa)
Bending Strength
61 (MPa)
Tensile Strength
50.5 (MPa)
Impact Strength
40 (J/m)
HDT
0.45 (MPa)
3D printing parameters
Extruder Temperature
205-215℃
Plate temperature
50-60℃
Printing speed
50~100 mm/s
Retraction Distance
5mm
Retraction speed
50mm/s
How to remove stringing from 3D printed objects?
The SUNLU APLA isn't perfect, and a few wispy strings on the model's surface still need to be removed. Most of the filament residue can be removed manually with a knife or pliers. Using sandpaper is another way to remove stringing residue, especially tiny protrusions that cannot easily be removed manually.
Many hobbyists use a hairdryer or heat gun to remove the plastic residue, but I avoid this technique because the heat treatment could deform the 3D-printed object.